Archive: February, 2011
Michael Klein, Philly.com
Valentine's Day's being on a Monday creates a three-day weekend for restaurateurs, and with no snow in the forecast, they will stop their carping till at least Tuesday.
The National Restaurant Association said 70 million Americans are expected to celebrate Valentine's Day at a restaurant this year, making Feb. 14 the second most popular holiday for dining out behind Mother's Day.
Enough romance. Let's look at hard numbers.
Michael Klein, Philly.com
Pico de Gallo has ended its seven-year run as a BYOB at the northwest corner of 15th and South Streets. The operation is now consolidated across the street at Michael Ortega's liquor-licensed Baja Room.
---
Marc Plessis has left the chef de cuisine's post at Nineteen (aka XIX) at the Hyatt at the Bellevue. The French-born, Kentucky-raised chef says he wants to open his own place (20 to 30 seats) in town. The Hyatt's executive chef, Richard Hebben, now oversees the restaurant. His own menu starts this weekend.
Michael Klein, Philly.com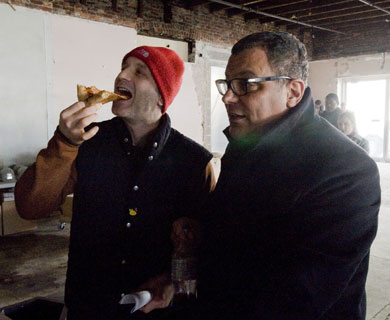 At Tuesday's lunchtime groundbreaking of a project at 600 N. Broad St. that will include restaurateurs Marc Vetri and Stephen Starr and caterer Joe Volpe, someone put out Tastykake, soft pretzels, and pizza for the attendees.
Starr and Vetri noticed the pizza boxes, grabbed slices, and commenced snarfing.
Some fancy-schmancy pie from Starr's Pizzeria Stella or from Vetri's Osteria up the block?
Michael Klein, Philly.com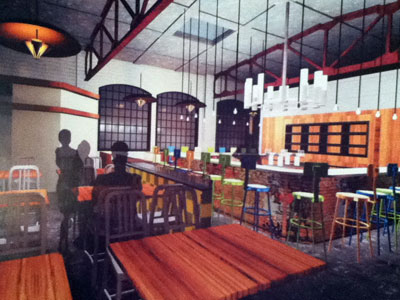 Four months ago, developer Eric Blumenfeld gathered Marc Vetri, Stephen Starr, and Joe Volpe for a photo op at the former Wilkie car dealership at 600 N. Broad St. Vetri and Starr would open restaurants as part of his mixed-use development, and Volpe was on board for a catering operation.
Today (2/8), the project, including about 100 rental apartments at 16th and Mount Vernon Streets, moved a notch closer to reality.
With the financing in place, Blumenfeld had another news conference, this time with Mayor Nutter and local officials. The $43 million project will be publicly funded to the tune of $18 million.
Michael Klein, Philly.com
When last heard from last summer, Jose Vargas and Jennifer Brennan-Vargas were in New Hope with a restaurant called Thyme. That lasted a New Hope minute, you might say. Landlord issues.
The couple, who met years ago while working in the front of the house at the Palm, have surfaced in bosky Chalfont, Bucks County, where they're running the Restaurant at Nostalgia, set up in a circa-1720 farmhouse on the grounds of Nostalgia, the wedding and banquet facility on Route 202.
Their restaurant debut in 2007, a BYO in Northeast Philly called Rylei, received two bells from The Inquirer's Craig LaBan. They moved shortly thereafter to Richboro, where Nostalgia owners Joe and Gail Morosky were customers.
Michael Klein, Philly.com
It's been 30 years since I've eaten food from the Tsiouris family -- during college, I loved Efthimios Tsiouris' diner, The Continental, across from what was then known as the Bridge-Pratt El terminal (now the Frankford Transportation Center) at 5231 Frankford Ave. The Continental is long gone (it's a sneaker store now), and he's retired, but his children George and Vasiliki have picked up in the restaurant business.
The Continental, with its fabulous breakfasts? Not quite.
Opa (1311 Sansom St., 215-545-0170), a modern Greek restaurant-bar, opens Thursday, Feb. 10, adding to a block and neighborhood bursting with new spots (Time, Bar, Zavino, Barbuzzo, Sampan). It's been in the pipeline for 14 months.
Michael Klein, Philly.com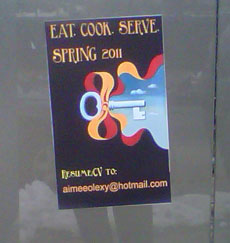 Employment prospects:
Aimee Olexy is looking for talent for her forthcoming Starr partnership at 210 W. Washington Square, as a posting on the door proclaims. She's preparing to announce a job fair for next week and the week after.
---
Also in the hunt is Jose Garces, who wants upwardly mobile folks for Guapos Tacos, his food truck.
Michael Klein, Philly.com
Heading to South Philly...
The relocated branch of the Paesano's sandwichery at 1017 S. Ninth St. is up for a Wednesday, Feb. 9 opening, says Peter McAndrews. Its old spot is now Monsu, a Sicilian BYOB.
---
943, which has spent two years in planning and many weeks in city-permitting limbo at 943 S. Ninth St., has set Thursday, Feb. 10 for its opening. Owner Pascual Cancelliere will do lunch and dinner Thursday and Friday, then Saturday and Sunday brunch and dinner. After a few weeks, Wednesdays will be added.