Archive: February, 2011
Michael Klein, Philly.com
The "Dennis & Michele" midday show on WKXW (NJ 101.5) will revert to the "Dennis & Judi" show, effective Feb. 21.
The station announced today that Michele Pilenza, who delivered her second child last year, has chosen to become a full-time mother (though she will do fill-in work).
The station is bringing back Judi Franco, who left two years ago, to share the mic with Dennis Malloy.
Michael Klein, Philly.com
A couple recent closings to note:
Society Hill Hotel, which has held down Third and Chestnut Streets for a decade, closed over the weekend. I have been unable to contact management, but I will note that state records indicate that its license expired back on Oct. 31.
---
What's probably the city's only traditional Filipino restaurant, Manila Bay on Castor Avenue in Oxford Circle, pulled the plug recently, according to Jersey Foodies. My messages have not been returned. Where do you go for a mechado fix? How about Taste of the Tropics in Phoenixville. (Know any others? Email me at mklein@phillynews.com.)
Michael Klein, Philly.com

What's the best mascot in pro sports?
The Milwaukee Bucks' Bango?
The Phoenix Suns' Gorilla Go?
Michael Klein, Philly.com
Just announced: Oprah Winfrey's planned sit-down with Eagles QB Michael Vick has been canceled.
Vick backed out. The show said: "Michael Vick was scheduled to be a guest on 'The Oprah Winfrey Show' for an episode airing next Thursday, February 24. Mr. Vick's representatives called last night to cancel his appearance for personal reasons."
Vick's rep issued this statement: ""After careful consideration, I will need to postpone the taping of the Oprah Winfrey interview scheduled for February 22. I admire and respect Oprah and hope to be able to participate in an interview in the future."
Michael Klein, Philly.com
CBS3 has dotted the i's, crossed the t's, and made the announcement that Lesley Van Arsdall has been named weekend sports anchor.
She's been doing the job since last year, replacing Don Bell.
Michael Klein, Philly.com
Houston Texans running back Steve Slaton, the Levittown-raised Conwell-Egan grad who set all kinds of records at West Virginia, married longtime girlfriend Kimberly Sierra, also a Levittowner, at the Bellevue Saturday night.
Their two sons -- Julian, 4, and Brennan, 2 -- were ring-bearers.
Former Eagles linebacker Reggie Wilkes was a guest. Wedding planner Gina Sole turned the ballroom into a vintage vibe with dusty blues and gold/silver, augmented by flowers by Hana & Posy of Old City. Afterparty was at Alfa on Walnut Street.
Michael Klein, Philly.com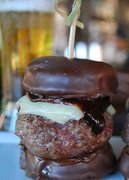 Matt Levin, chef-owner of Adsum in Queen Village and creator of a Four Loko meal recently, decided to mix sweet, salty, bitter, and sour, and came up with the TastySlider -- plump burgers tucked between "buns" made of Peanut Butter Kandy Kakes. He said it's also his small way to help the financially troubled Tasty Baking Co.
He said his attempt to put hot dogs on buns made of Jelly Krimpets failed.
I put the sliders out for a field test last night at the restaurant's bar.
Michael Klein, Philly.com
Raw-foods lovers, vegans, and juice fans will have a destination this spring at 111 S. 12th St. in the White Building space that was Blue Lotus, a rug company. JAR BAR -- that's J-A-R, as in "juicy and raw" has the backing of raw chef Joel Scott Odhner (who worked for Dr. Oz) and partner Jennifer Richmond, who plan to offer blended drinks based on green kale, apple, and cucumber, to which "super foods" are added. The menu also will include raw foods, such as lasagna, collard wraps, and even raw desserts. For the last two years, they've been selling a juice cleanse called Catalyst. (Hence the confusion in PhillyChitChat.com's post on the project Thursday.) Richmond says the White Building will host its production kitchen, now in Huntingdon Valley. Target opening is May 1.
---
Friday (2/11) is Ben McNamara's last day at St. Stephens Green at 17th and Green Streets, as he's yielding the stove to David Shuman, his sous chef of three years. McNamara says the parting was amicable, Sounds like cost-cutting.