Archive: February, 2010
Michael Klein, Philly.com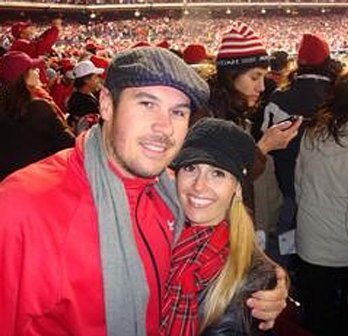 Former Eagles QB A.J. Feeley, 32, and soccer star Heather Mitts, 31, are headed to the altar on Saturday in Cabo San Lucas, Mexico.
A source says the resort town is inundated with attendees -- football players and, as he describes them, "hot soccer chicks. And plenty of tequila."
The couple started dating in 2002 but cooled it off several years ago.
Michael Klein, Philly.com
From a business perspective, Valentine's Day is to an upscale restaurant as Super Bowl is to a sports bar.
But on the morning of Feb. 11, three days before, you would never know it, based on their reservation books.
As of 10 a.m., 58 percent of the 400 Philly-area restaurants that book seats through OpenTable.com were showing availability for tables of two at 7 p.m. on Sunday, OpenTable says. This makes sense, the company says, as 45 percent of OpenTable's 2009 Valentine's reservations were booked within the week leading up to the holiday.
Michael Klein, Philly.com
I know that publicity only emboldens Tom Cipriano, the Howard Stern prankster known as Captain Janks, but ...
He struck again.
Posing as "Gene Lasker of New Jersey Emergency Management," the Lansdale goofball was put on CNN live this afternoon with anchor Ali Velshi to discuss the snow-related closing of Newark airport.
Michael Klein, Philly.com
Matzo balls are due to start rolling again late next week at 703 Chestnut St., which was Kibitz in the City until it closed in November.
Newcomer is simply called Delicatessen, and the guy behind the counter is Elkins Park native Michael Spector, 32, who describes the concept as Modern Jewish Deli (think bagel and lox meet wasabe cream cheese and tobiko roe, mini-matzo ball soup, and the "Benny Rubinson," a sandwich that weaves eggs Benedict into a Reuben).
(How about the name of the "Jubano," a sandwich that has pastrami, spicy brown mustard, half sour dill pickles and American cheese pressed on challah.)
Michael Klein, Philly.com
I-95 drivers near the Walt Whitman Bridge are being treated to a billboard that appears to show a baby elephant in restraints being poked by guys with hooks.
The ad is the work of People for the Ethical Treatment of Animals, which is targeting Ringling Bros. and Barnum & Bailey Circus. The elephants are coming to the Wachovia Center from Feb. 24 to 28.
PETA says the photo was taken by a longtime circus worker who, shortly before his death, came forward to allege that Ringling routinely mistreated elephants at its center in Polk County, Fla. PETA lays out the allegations at www.ringlingbeatsanimals.com.
Michael Klein, Philly.com
Jake's Philadelphia Cheesesteaks in the Shops at Liberty Place is closed today because of the snow.
When owner Gary Dorfman reopens tomorrow (Thu), he will match the snowfall, inch for inch, with the size of his cheesesteaks and chicken cheesesteaks.
Ordinarily, he charges $8, tax included, for a 12-inch sandwich. If today's official snowfall at the airport totals 18 inches, $8 will buy a cheesesteak and a half. If it snows 24 inches, it will be a two-for-one deal.
Michael Klein, Philly.com
Tom Cipriano -- who as Howard Stern sidekick "Captain Janks" built a career out of prank-calling TV programs -- has cut a deal with Montgomery County court to settle charges that he stiffed numerous bar owners out of appearance fees.
Cipriano pleaded guilty to a charge of deceptive business practices. He blamed his problems on drug addiction.
In a deal before Judge Steven O'Neill and brokered by Assistant District Attorney Brad Richman and public defender Carol Sweeney, Cipriano was sentenced to eight years' supervised probation and ordered to pay $5,926 in restitution to 13 bar owners. Richman said that if he repays within three years, Cipriano can petition to have the remainder of the probation terminated.
Michael Klein, Philly.com
Citizens Bank Park, Feb. 9, 2010