Archive: February, 2009
Michael Klein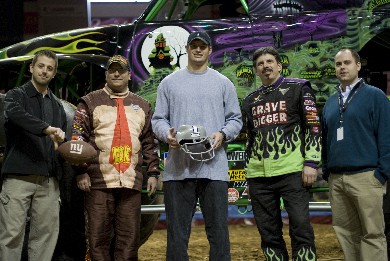 Monster Jam, featuring 10,000-pound trucks zooming through dirt and crushing things, is at the Spectrum, marking its final appearance at the doomed arena.

On Friday, Eagles TE Brent Celek got in the cockpit of Gravedigger, but show promoters didn't let him drive it.

The real driver of the beast (Charlie Pauken) crushed a Dallas Cowboys helmet and a New York Giants football for a future show on ETN. The final shows are at 2 and 7:30 p.m. Sunday.

Michael Klein
Last month, Joe Krause of Jenkintown took Jon Bon Jovi to Common Pleas Court, accusing the rocker and his partners at the Philadelphia Soul Arena Football League team of not paying him nearly $125,000 in wages and commissions after the league went on hold.

Yesterday, Bon Jovi's lawyers went to U.S. District Court to claim that Krause, the Soul's former sales manager, used the Soul trademark for himself -- even making and selling his own version of Soul championship rings, allegedly infringing on a design that Bon Jovi himself copyrighted.

JBJ's suit says Krause organized events last month in Reading to sell rings to Soul fans for $275 a pop. The unauthorized events had been advertised first under the name "Lost Souls" and later as "A Night to Remember," the suit says, adding that appearances by a coach and cheerleaders had been advertised.

The suit attached renditions of both designs:

Bon Jovi's ring design includes the familiar Soul logo with such inscriptions as "Philadelphia Soul World Champions," "Arena Bowl New Orleans XXII 2008," "Soul 59, Cats 56" and "Boom" (a team cheer).

Krause's design, which does not include the logo or even the word Soul, is inscribed "World Champions," "PHL," "ABXXII," "07-27-08," "PHL 59, SJS 56," "16-3" and "BOOM."

Krause's attorney, George Bochetto of Bochetto & Lentz, called the suit a "laughably, sick act of retaliation against Mr. Krause for filing a lawsuit — nothing more or less."

"We disagree," Bon Jovi attorney Camille M. Miller of Cozen O'Connor told me. "His client used the Philadelphia Soul trademark in connection with marketing and promoting an event. It looked like the Soul was sponsoring the event."

Meanwhile, if you're a Soul season ticket-holder, please e-mail me at mklein@phillynews.com.
Michael Klein

CBS3 tech reporter Stephanie Abrams has given notice. She will be leaving the station next month after nearly five years. Her father, who lives in California, has been ill and she has decided she wants to move back home to help her mother take care of him.
Michael Klein
Step One in the James Beard Awards: Make it to the semifinals list.

The foundation released the 2009 list this morning of 20 nominees per category. Voting among members will result in a list of five nominees per category, to be released March 23 in Chicago. Winners will be announced May 4.

Among the Philly highlights:
Stephen Starr as outstanding restaurateur
Marc Vetri as outstanding chef
Distrito, Zahav and Izakaya (AC) as best new restaurant
Jonathan McDonald of The Pub & the Kitchen, Chip Roman of Blackfish and Michael Solomonov of Zahav as rising-star chef of the year
Fred Ortega of Lacroix and Kate Honeyman of Buddakan for pastry chef
Lacroix for wine service
Vetri for service
Jim Burke of James; Steven Cameron of Blue in Surf City, NJ (and soon at Noble); Michael DiBianca at Moro in Wilmington; Jose Garces of Amada; Chip Roman of Blackfish; Michael Solomonov of Zahav; Marcie Turney of Bindi -- all for best chef/mid-Atlantic region
Douglas Rodriguez, still a partner at Alma de Cuba, is up for best chef of the South for Ola in Miami.
Michael Klein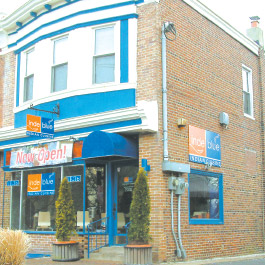 Less than a week old: Rakesh Ramola, who cheffed at both Tiffin locations in Philly, has opened IndeBlue in Collingwood (618 Collings Ave., 856-854-4633). It's right across from Blackbird.
It's a modern Indian BYO, open nightly with a refined, moderate-priced menu.
Ribbon-cutting is at 11:30 a.m. Friday.
Michael Klein
Union Trust, the steakhouse at 717 Chestnut St., is revising its much-revised opening date. Partner Ed Doherty says the plan is to open soft on Friday (2.13) -- walk-ins only, don't fill the dining room, take it easy -- and to go full steam on Saturday -- Valentine's Day.

Luca Sena, owner of the Penn's View Inn and Ristorante Panorama, is awaiting building permits for his plan to transform the humble Snow White diner at Second and Market Streets, smack across from The Continental and next door to Cube Libre, into something new. And something he steadfastly refuses to talk about. (Ah. Snow White. The eighth dwarf must be named Cagey.) All I've heard is that it will have a second floor and outdoor deck. Sena recently ordered the removal of those ugly billboards from the roof (see below). Meanwhile, Sena says that with the economy, business has never been better at the Snow White. So why tinker with it? He chuckled.

Sunday (2/15) will be the last day of Abbraccio (847 S. 47th St.) as Roger Harman and partner Vincent Whittacre have sold to Benny Lai, owner of the Vietnam Cafe and Fu Wah grocery store next door and Vietnam restaurant in Chinatown. Vietnam Cafe's expansion into the rest of the space, which will come with a liquor license, is months out. Harman and Whittacre are opening The Gold Standard Cafe at 4800 Baltimore Ave., hopefully by mid-March. It'll be a BYOB/coffee shop with breakfast/lunch/coffee (in a front room -- real cooked breakfasts, seven days a week) , plus comfort-foot dinners in a rear dining room Wednesdays through Sundays. (The Gold Standard was the name of the popular Penn campus eatery that Harman and his late partner Duane Ball ran for many years.)
View Larger Map
Michael Klein
TV meteorologists fret over snow all winter. Today, on what may be the warmest February day in some time, see how they call what may be a record high.
The forecasts for today on the morning shows:


6ABC: 64


CBS3: 65


NBC10: 67


Fox29: 72


The National Weather Service says 66 and Accu-Weather says 64
Michael Klein

While visiting the Water Club at the Borgata in Atlantic City the other day, Jimmy Fallon whipped out his iPhone and tweeted a shout-out:
"Water Club - sickest room (rooms?) ever!"
Fallon, who has more than 35,000 followers on Twitter, was with his "Late Night" writers. In the Gypsy Bar, Fallon got up on stage with the house band and sang "Roadhouse Blues" by The Doors.