Archive: February, 2009
Michael Klein, Philly.com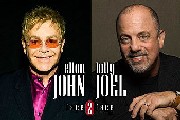 Took but 15 minutes this morning for 45,000 tickets to vanish for the Aug. 1 "Face 2 Face" show at Citizens Bank Park.
Last Saturday, the 45,000 seats for the July 30 date went in 20 minutes.
This will be the second and final date at the ballpark. The tour starts March 2 in Jacksonville, Fla., and is expected to run, on and off, for two years. The two started touring as a duopoly in 1994 at the old Veterans Stadium.
Michael Klein, Philly.com
Mio Signo, at 15th and Oregon for six years, will close after dinner Saturday. It's expected to resurface in a Southwest Philly gentleman's club. Try the strip steak.
Michael Klein, Philly.com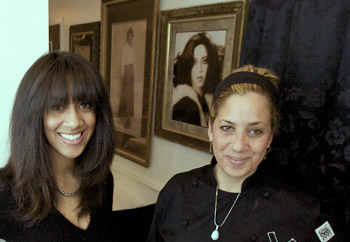 Samantha Johnson and chef Angie Brown, who opened Soul restaurant on Germantown Avenue last fall, will be contestants on NBC's "Chopping Block."
The eight-episode reality show, in which eight two-person teams compete for a $250,000 grant to open their own restaurant, premieres in prime time March 11. The cranky antagonist is British chef Marco Pierre White, who could be the love child of Gordon Ramsay and Simon Cowell.
How did they do? See Sunday's INQlings column for more, and check out Inquirer critic Craig LaBan's review of Soul in Sunday's Arts & Entertainment section.
Michael Klein, Philly.com
Chef's Market, the gourmet shop/off-premises caterer at 231 South St. since 1985, is closing Sunday.
"It got very difficult, to be quite honest," said Peter Georgiou, whose father, George, is an owner. "The streetscape project hurt us for six, seven months and immediately after that, they raised parking [meter] prices. The farmer's market didn't help. Every little thing took its toll."
Georgiou says the market will give back two-thirds of its space, and will be left only with a display showroom for its catering operation.
Michael Klein, Philly.com
The week-old Union Trust steak house has issued a new dinner menu, and a side-by-side comparison shows a dip in prices. (Instead of stratospheric, they're merely sky-high.)

Among the changes:

The "vertical steak tasting for four," in which they serve four 18-ounce dry-aged long-bone ribeyes (aged 56, 49, 42 and 35 days), has been dropped to $500 from $550.
The 10-ounce Wagyu strip has gone to $100 from $150.
The 16-ounce prime, bone-in filet is now $60, not $80.
The "smokin', Colorado range rack of lamb" is now $41, not $51.
The reason? Typos, says Terry White, one of the owners, blaming a quickie print job. He says that customers have been charged the correct prices all along because they were programmed into the computer.

Here's the new menu.
Here's the old one.


(This post was edited after White called.)
Michael Klein, Philly.com
Little Italy is the name of a pizzeria/specialty sandwichery under construction in the storefront on Ninth Street just above South that was home to Mimosa and ChrisStevens. Owners are Claudio Sandolo from Old City's Spasso and South Jersey restaurateur John Talamo. They hope to open the first week of March.

Soon as the ventilation system is upgraded (probably next week), Sakura Mandarin will be the new occupant of the southeast corner of 11th and Race Streets in Chinatown, the former's Ong's. The owner, a New Yorker, says it will be a Shanghai-style Chinese and Japanese restaurant with award-winning chefs.

Firecreek, the Downingtown grill backed in part by 333 Belrose's Carlo deMarco and Rob Donaldson, is looking at a mid-March opening. Here's a recent press release.

Also hoping for mid-March is Smokin' Betty's at 116 S. 11th St., Susan Schlisman's casual cross-town companion to Devil's Alley.
Ladder 15 at 1528 Sansom St. is aiming for "the second or third week in March."
Lots of buzz about chef Patrick Feury, part of the team at Maia in Villanova. His brother Terence left the fold to become chef at Fork in Old City. Patrick is now doing four days a week at Maia and two days at sibling restaurant Nectar. Maia, which has been rocked by the economy and not in a good way, is boosting the dining area of the ground-floor bistro (60 seats), expanding into the coffee bar was up front. The coffee service will be integrated into the market in the rear.
Michael Klein, Philly.com
Robert Legget, executive chef of Cuba Libre's Old City Philadelphia location, swept to a win last night at John DeBella's second annual Comfort Food Fest.

The contest, at the Cescaphe Ballroom in Northern Liberties, featured local chefs making comfort food in hopes of winning the "John DeBella Golden Spoon" -- a massive trophy.

Legget scored a perfect 10 in all categories for his dish: Heladode Aguacate -- and that's avocado ice cream with smoked tuna-coconut ceviche served in a squid ink ice cream cone with a drop of sweet soy sauce on top. He piped the avocado out of an ice cream machine, but as cool as that looked, I just could not bring myself to try it.

Legget got to make the dish again this morning on DeBella's radio show on WMGK (102.9).

Other competitors/dishes:

Julio Rivera of Cescaphe at the Curtis Center – Crispy Cheesesteak Tortilla
Michele Mazza of Il Mulino NY (Trump Taj in AC) - Seafood Eggplant Rollatine
Mark McKinney of Cantina Dos Segundos - Spam "al Pastor" Tacos
Todd Fuller of Tangerine – Pad Thai salad
Peter McAndrews of Modo Mio - Lasagna Nobleo (with fried egg on top)
Brian Duffy of Kildare's Pub – Grilled Meatloaf on a bun w/ chipotle ketchup and potato sticks
Terrance Clarke of Lucky Strike Lanes - Savory Mac-n-Cheese with Sausage
Evan Seplow of Belgian Café – Vegan Meatloaf
Michael Klein, Philly.com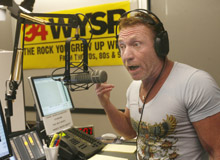 L.A.'s KLSX (97.1 Free FM) will cease to exist after tomorrow, and the entire lineup of talkers (including WYSP morning man Danny Bonaduce) will be on the pavement. The station is adapting an contemporary-hit-radio format as it goes up against Ryan Seacrest's radio home.

Bonaduce had been doing his one-hour show from 5 to 6 p.m. Eastern from WYSP, employing his morning producer Metro.

Bonaduce almost certainly will be paid through the end of his L.A. contract, which runs out next year.

See my recent profile of Bonaduce here.