Archive: February, 2009
Michael Klein, Philly.com
Good grief. Even moderate-priced restaurants are feeling the pinch.
The Charlie Brown's Steakhouse on Swedesford Road in Devon (Tredyffrin Township) has closed after a little more than five years, its manager confirms. Other locations, including Springfield (Delco) and Langhorne, remain.
Michael Klein, Philly.com
Can you spot the Philly sports fan in this photograph by Michael T. Regan taken at Mahaneh Yehuda market in Jerusalem? A print of the photo hangs over the bread oven at Zahav restaurant in Society Hill.
For the answer, click to the second photo.
Michael Klein, Philly.com
"Law Abiding Citizen" shot street scenes in Center City Thursday night. Gerard Butler, who was not working, showed up anyway.
See more details/photos on photog HughE Dillon's site, www.phillychitchat.com
Michael Klein, Philly.com
A sale is imminent for the Tony Luke Jr.-Leo Rossi drama "The Nail: The Story of Joey Nardone," Luke tells me.
Fox has been identified as the potential buyer.
The film, which will have its world premiere in March as part of the Philadelphia CineFest, was shot here over 18 days last June.
Michael Klein, Philly.com

In a piece in the New Republic, former Inquirer reporter Michael Schaffer explores the growing small-town obsession with their local news reporters, profiling the Larry Mendte and Alycia Lane scandal to argue that these many U.S. cities "outside Los Angeles, New York, or Washington" lionize their TV anchors in the absence of "real" celebrities.
(Yes, Philadelphia is a small town.)
Michael Klein, Philly.com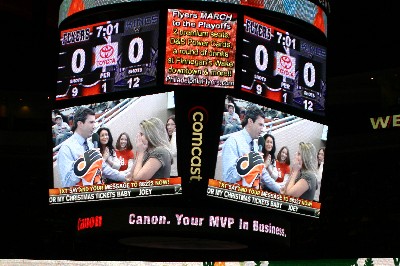 WOGL/CBS3 traffic guy Bob Kelly chose the quietude of the Wachovia Center to propose -- on the Jumbotron at the Flyers game during his traffic "hit" last night -- to Carrie Wilson, a title-insurance rep from Malvern.
Kelly, 46, has two girls; Wilson, 33, has a girl and two boys.
In addition to a nice diamond, Kelly gave Wilson a Flyers sweater with "Kelly 3," as in CBS3, on the back. Wait. Wasn't Bob Kelly #9 for the Flyers?
Michael Klein, Philly.com
Majolica, chef Andrew Deery and wife Sarah Johnson's well-regarded BYOB in Phoenixville, will end its nearly four-year run with dinner service Saturday night (2/28), its hostess confirmed Wednesday.
One of the three-bell darlings of the circuit and a bright spot in the town's revival, Majolica has been done in by the economy. A year ago, the couple cut hours when their daughter was born.
Update: Majolica reconsidered its decision to close; it's open.
Michael Klein, Philly.com
Aditi Roy, at NBC10 for nearly seven years, has been officially appointed morning news coanchor. She replaces Lori Delgado, who resigned in early October.
Roy, last anchoring on weekends, had been filling in beside Terry Ruggles. Meteorologist Bill Henley rounds out the team.
A station spokeswoman said the decision to make her a permanent member of the team was an "easy one."