Archive: December, 2009
Michael Klein, Philly.com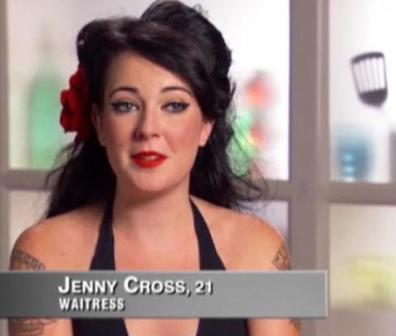 Bella Vista's Jenny Cross subjects herself to national scrutiny starting 10 p.m. Sunday as a contestant on the Food Network series Worst Cooks in America.
Premise: Chefs Anne Burrell (Secrets of a Restaurant Chef) and Beau MacMillan (chef at Elements in Phoenix) each have a team of six hopeless home cooks and try to transform them from "kitchen zeros into kitchen heroes" in 10 days. The two who make it to the end (Feb. 1) will face the final challenge: prepare a three-course meal for a panel of food critics, including Jeffrey Steingarten, who think they are tasting dishes prepared by their chef-instructors.
So, Jenny, are you that bad?
Michael Klein, Philly.com

Gino's Hamburgers, a fast-food company that had a huge presence from New Jersey to northern Virginia ("Everybody Goes to Gino's"), will make a comeback in 2010.
In charge is Tom Romano, who was C.O.O. in 1982 when the chain was sold to Marriott Corp., which converted the eateries into Roy Rogers restaurants. Gino's took its name from Baltimore Colts player Gino Marchetti, who will consult.
"It's apparent there's a need for better burgers out there," said Romano, citing the success of such chains as Five Guys.
Romano, who worked for the company for 20 years, said Gino's would make its burgers to order from fresh beef and would also offer chicken. (Gino's was the mid-Atlantic outlet for Kentucky Fried Chicken.)
Romano plans to start offering franchises next week, and to have the first location (possibly in Northeast Philly or Montgomery County) this summer.
Michael Klein, Philly.com
Marc Vetri is rocking-and-rolling at 13th and Waverly Streets as workers put the final touches on his Roman trattoria, Amìs.
Vetri says the health inspection is due Wednesday (12/30) and first public service will be Jan. 14*. Unlike many other restaurateurs, Vetri wants to get the kinks out before he opens.
And speaking of Kinks: The rustic 70-seater, which boasts a dull zinc bar, industrial-look exposed ceiling/walls, and more reclaimed pine than you can shake a stick at, will have a rock-and-roll soundtrack. Vetri explains that all the better Roman trattorias, which he's modeling this on, play American classic rock. (The name Amìs -- pronounced Ah-MEES -- is dialect for "friends" in Lombardy, where Vetri studied.)
Michael Klein, Philly.com
Q BBQ & Tequila, which Kevin Meeker installed on the site of his longtime Philadelphia Fish & Co. earlier this year, is getting a slight reconceptualization.
The Old City spot will add a burger menu the second week of January and will be known hereafter as Q Barbecue, Burgers & Tequila.
He's promising a Q quick burger, which he says is his answer to the fast-food skinny burger: thin and cooked on the flat top and served on a soft sesame roll with free condiments (lettuce, tomato, pickles, ketchup, mayo, etc.). You get a single, double, or triple for as little as $6.40.
Michael Klein, Philly.com
WHYY just announced that Philadelphia Daily News senior writer Dave Davies will come back to the public station as a senior reporter, effective Jan. 15.
The government/politics specialist -- a regular fill-in host for Terry Gross on WHYY-FM's Fresh Air -- joined the Daily News in 1990 after four years at KYW Newsradio. WHYY was his first radio job in Philly; he was there from 1982 to 1986.
Davies says his last day at 400 N. Broad St. will be Jan. 7. "It's hard to leave this place at such a vulnerable time, but this is an exciting opportunity," he told me. He will be charged with expanding WHYY's multimedia and Web-based operation, and will be the radio side's interim news director.
Michael Klein, Philly.com
The Subway chain compares its nutrition facts against those of the fast-food giants.
Enter the Falafel Factory, a takeout due to open in mid-January at 32 S. 18th St., in the now-closed Joseph's Shoes shop.
Owner Rob Rimeris says his baked falafel has less fat, sugar, cholesterol, and sodium than a 6-inch turkey from Subway -- and is 30 percent larger, to boot.
Michael Klein, Philly.com
Williamstown-bred Rutgers-Camden grad Megan Heaton turns up in both business and birthday suits in the "Employee of the Month" feature in Playboy's January/February issue.
The mag selected Heaton, 26, who now lives in Center City, for her part-time work in real estate. (Her current full-time job is with a company that sells a scar-alleviating product to dermatologists and plastic surgeons.)
Heaton's been modeling for several years. She was "Miss Howard TV" in November 2008 for Howard Stern's Howard TV On Demand and placed in the top 10 of Maxim's "Hometown Hottie" contest for Philadelphia in 2007.
Michael Klein, Philly.com
The Washington Post today reports the death of George Michael, who was a popular WFIL "Boss Jock" during its heyday (1966-74) and went on to become a popular sportscaster in Washington, D.C., with "The George Michael Sports Machine."
"King George," who had a two-year battle with cancer, was 70.
Funeral services will be in the D.C. area sometime in January.