Archive: December, 2008
Michael Klein, Philly.com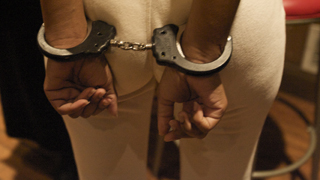 Check out my story in today's Inquirer about the state's crackdown on bars with expired licenses. John Costello took some swell photos.
Quite often, the owners are not on the premises when the police come in. It's the bartender who is arrested and who faces charges of selling alcohol without a license. If the owner is on site, he or she may be charged, but police said that seldom happens. One bar owner and his lawyer called the bar during the raid. They were concerned only with the bar's alcohol and TVs, which were confiscated.
One bartender, sitting in handcuffs before she was carted away to jail, told me that she saw the bar's license, which read "07 08." But she didn't notice the fine print, which put the expiration date at Oct. 31, 2008. If you tend bar, you might take a look at the license at your bar to save yourself the hassle.
Michael Klein, Philly.com
Every holiday season, well-meaning folks buy restaurant gift certificates for friends --who promptly stuff them in a drawer to await a special occasion. Which so often comes after the restaurant has gone out of business.*
In a stroke of public relations genius (one that just might actually lure Pennsylvanians over the bridges), about two dozen eateries in the South Jersey Independent Restaurant Association will give 50 percent credit, up to $50, on valid gift certificates from closed Philly-area independent restaurants.
The only catch to this "SJ Hot Chefs Gift Certificate Bailout Plan" is that the restaurants had to be in business on Nov. 1. It's a short list right now, as this is the busiest time of the year and few restaurants are pulling the plug. (Casanova Grill in Marlton qualifies, but technically Sovalo in Northern Liberties, which closed in October, is unacceptable. And Bennigan's does not qualify because it's a chain.)
Michael Klein, Philly.com

NBC10 traffic reporter John Ogden's final day calling gaper delays and such will be Dec. 19.

Ogden, 27, who got five and a half years out of what was supposed to be the summer job he won in a station contest, had told the station and Traffic.com during negotiations that he wanted to pursue other opportunities.
"It was solely my decision to leave," he told me, calling the impending departure amicable. He didn't say what's next. A station rep said no replacement had been inked; Jillian Mele, Jayne Laychak and Tamara Vostok will fill in.
In an e-mail, Ogden said working at NBC10 was "an awesome experience. As a kid growing up in Northeast Philly watching the local news, I always thought one day I might be the one in front of the camera -- and with the help of viewers, I was able to make that happen. NBC10 and Traffic.com continue to be wonderful in fostering my professional career -- which they have been from the very start, and I am grateful. They have allowed me to be a public face for many organizations, including the Leukemia and Lymphoma Society, the Attic Youth Center and the Philly Pride Parade -- all of which are close to my heart."
Michael Klein, Philly.com
The West Philly building housing Abbraccio has been sold to Benny Lai, owner of the Vietnam Cafe and Fu Wah grocery store next door (and Vietnam restaurant in Chinatown).
Abbraccio's Roger Harman told me that the space was simply too large for the Italian restaurant.
Abbraccio will remain through mid-February as Harman and partner Vincent Whittacre renovate a smaller place at 4800 Baltimore Ave. into a BYOB/coffee shop. The Gold Standard -- taking the name of the previous operation owned by Harman and his late partner, Duane Ball -- is supposed to open at March.
Michael Klein, Philly.com
Pub & Kitchen, the yearling at 20th and Lombard Streets, will be open for lunch this month on Fridays and Saturdays.
Seems to be a bid to get the holiday-work-lunch crowd, as there's been no word if it will continue into 2009.
The attached menu will be served from noon to 3 p.m. A bar-snack menu will kick in from 3 to 4 p.m.
Michael Klein, Philly.com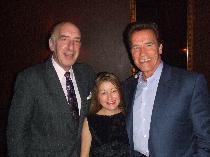 Thirty-two governors met for dinner Monday at City Tavern on the eve of the National Governors Association conclave, but California's Arnold Schwarzenegger instead shared stogies with his old buddy Harry Jay Katz of East Falls.
Katz, a socialite and semiretired man about town, says he got a call from Schwarzenegger at 10:15 p.m. as his plane landed.
"Harry, find me a cigar bar in Philly," Katz says he told him. (Not that Schwarzenegger can't light up back home. California's smoking laws are stricter than Philadelphia's, but there are still cigar bars there.)
Michael Klein, Philly.com
The National Governors Association is in town, and Pennsylvania's Ed Rendell got Old City's City Tavern to do something different for tonight's dinner, whose guest list may include President-elect Barack Obama.
Paul Bauer, director of events and marketing for City Tavern at Second and Walnut Streets, said this afternoon that Obama's appearance had not been confirmed. Chef-owner Walter Staib said that he is expecting "between 30 to 150 people" -- everything as of 5 p.m. was in flux as "every security detail in the world has been through here."
Bauer said Rendell requested not a fixed menu -- the standard at such banquets -- but asked that attendees be allowed to choose off Staib's circa-1773 restaurant's a la carte menu. Staib says Rendell wanted the guvs to get an "upscale, 18th-century experience."
Michael Klein, Philly.com
Rae, the restaurant in the Cira Centre that was dark Thanksgiving weekend, has reopened but only for weekday lunch, happy hour and private dining -- and only for now.
Closing time is now 7 p.m.
Chef-owner Daniel Stern, who also owns Gayle in Queen Village, said in a statement that Rae would shut down at the Cira Centre "in late December." (Talk on the street is that Rae will wrap by Christmas.)