Archive: December, 2008
Michael Klein, Philly.com
Restaurants usually have catchy names, but the businesses behind them seldom do. Sometimes, these LLCs and LPs take the initials of the partners. Sometimes, they're an inside joke. Sometimes, they're merely descriptive. When it came time to set up the corporation behind Davio's, the Italian steakhouse at 17th and Chestnut Streets, Steve DiFillippo simply chose "111 S. 17th St. Inc."
OK, food nerds. How many of the following corporations can you match with the restaurant's trade names? Some are a snap, if you're a "Table Talk" reader, but others, well…
E-mail your list to mklein@phillynews.com by 5 p.m. Thursday, Dec. 19.
Michael Klein, Philly.com
It's Bill # 080167-A, and it will instruct chain restaurants in the city to display certain nutritional information in plain sight. Curious about a Whopper from Burger King or the broccoli-cheese soup from Friday's? You'll be able to see the calorie content, in all its glory, after Council passed the bill in November. (See story.)
Mayor Nutter will be at Temple U's Center for Obesity Research and Education (CORE) on Thursday for the bill's signing. Councilwoman Blondell Reynolds Brown, the lead sponsor, will be there, too, as will representatives from the Food Trust and the Center for Science in the Public Interest (CSPI).
The bill takes effect Jan. 1, 2010.

Michael Klein, Philly.com
State records show that Stephen Starr has pulled out of his planned project at the Letto Deli at 13th and Chancellor Streets in Wash West.
Contacted last week, Starr said he couldn't make the seating work. (In short, it was too small.) He never disclosed the specifics of the project, suggesting it might have become a burger joint or pizzeria. The Letto is still operating.
Starr also has said that he is not certain if he will complete the purchase of the Broad Street Diner. He said he and the building owner are negotiating environmental issues at the property at Broad and Ellsworth.
Michael Klein, Philly.com
Owen Kamihira says he needs two more days for El Camino Real, which in Thursday's "Table Talk" was reported as opening on Tuesday.
He's hit what he calls a minor snag, and now due to open Thursday.
Michael Klein, Philly.com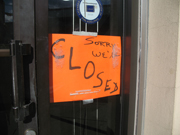 The Triangle, which was sold out of the Patrone/Praietta family in 2001, closed voluntarily recently.
State records say its liquor license was not renewed. It served a five-day suspension in September after it was cited in early 2007 for serving minors and visibly intoxicated persons.
The bar, at 10th and Reed in South Philly, made news over the summer for an alleged hate crime.
Michael Klein, Philly.com
Michael O'Halloran, chef-owner of Old City's Bistro 7, has made no secret that he wants to open a restaurant with a bar. When his plans in Wash West went awry, he set out looking for something else.
On Monday, he'll go before the Northern Liberties Neighbors Association's zoning board to disclose his ideas for the space at 702-704 N. Second Street that, until late October, was Sovalo and before that Pigalle.
O'Halloran did not wish to talk about it today.
Michael Klein, Philly.com
A few food projects:
Slate: Veteran bartender Laurentiu Muras hopes to open his gastropub in the former Cafe Habana space at 102 S. 21st St. by New Year's or right after. He's hired Eric Paraskevas, a former sous chef at Lolita, to run the kitchen. Slate's working name was Mamaia (to honor Muras' Transylvanian ties).
Broad Axe Tavern: After a gazillion years under renovation, this central Montco landmark is finally eyeing a February-March reopening under a group fronted by chef Matthew Doman, late of the William Penn Inn. He says he'll have 16 beers on tap and a global small-plate menu.
View Larger Map
Michael Klein, Philly.com
How do you staff your radio station all day with live DJs -- and not spend an extra dime? Do what Ben 95.7 did. The pop-rock station broke up its morning show into solo shifts. Marilyn Russell does mornings (5:30-10). Jason Lee handles middays (10-3) and Dave Cruise is doing afternoons (3-7). Starts Thursday.