Archive: November, 2012
Michael Klein, Philly.com
Comes a time in a franchisee's life when he wants to strike out on his own and do things his way.
Which is where Luan Nguyen found himself last summer.
After five years at 1111 S. 11th St. (just south of Washington Avenue), Nguyen left the Pho Hoa fold and with a stroke of a pen, changed the restaurant to Pho Ta (that's "my way," roughly translated).
Michael Klein, Philly.com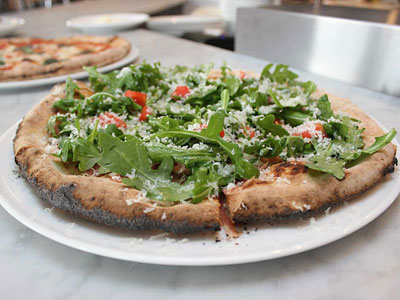 Saturday, Nov. 17 is opening night at District 611 in Riverton, N.J. - about 5 minutes from the Tacony-Palmyra Bridge and an easy 20 from Center City up 95 and over the Betsy. If my walk-through the other day is any indication, you're going to hear a lot about this modest-priced, rustic BYOB with the wood-burning pizza oven and polished concrete floor, next to a CVS. Operators are three dream-chasing veterans of the Starr Restaurant empire, and they're doing a cool menu of Neapolitan pizzas and assorted yummies like steak frites, big salads, and rock shrimp tempura, washed down with New Hope fountain soda. It's open for dinner only for now.
District 611, 710 Broad St., Riverton, 856-829-1552.
And speaking of Jersey restaurants with numbers in their names...

Michael Klein, Philly.com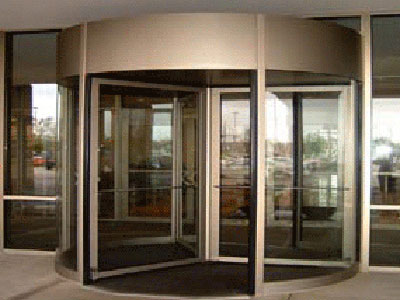 Odd, Doc Watson's Pub operated at 216 S. 11th St. for nearly 30 years. (Well, minus a spell seven years ago when management packed the upstairs with underage drinkers.)
The latest bar at that address will last 51 days - Sept. 28 to Nov. 17.
Saturday is last call at The Butcher & the Brewer. Before that, also under B&B owners Matt and Colleen Swartz, it was The Boilermaker for six months.
Michael Klein, Philly.com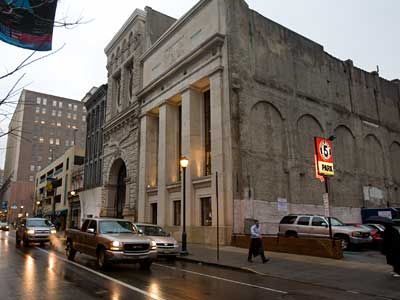 Updated post:
Union Trust - the swanky steakhouse at 717 Chestnut St. that's been in bankruptcy for nearly two of its four years of existence - appears to be done.
Foobooz reported Thursday that a sign on the door blames a plumbing problem for the shutdown, though state records show that the liquor license is inactive. There also are tax liens.
Michael Klein, Philly.com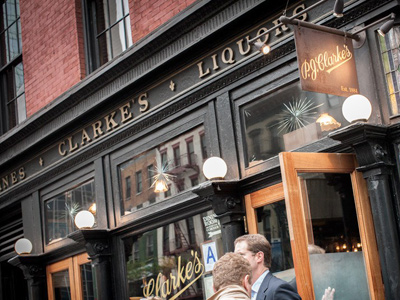 I'm hearing strong talk that P.J. Clarke's - the time-honored, Manhattan-based bar (circa 1884) - is fixing to sign a deal at the Atlantic Building at Broad and Spruce Streets, across from the Kimmel Center in the space that last was Ted's Montana Grill.
P.J. Clarke's has three spots in New York but is not averse to expansion, as it has locations in Washington, D.C., Las Vegas, and Sao Paulo, Brazil.
I'm getting the friendly brush-off so far from those involved, including a cheery no comment from P.J. Clarke's rep.
Michael Klein, Philly.com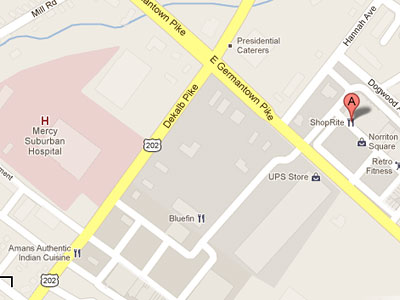 Wegmans and Whole Foods have been carving out space in their supermarkets for small beer- and wine-focused restaurants.
Now a smaller grocer is catching on. The Brown family - which owns 10 ShopRite stores in the Philly region - is in the beginning stages of a plan to open a restaurant in its store in Norriton Square, on Germantown Pike at Route 202 in East Norriton Township, Montgomery County. The company recently applied for a liquor license.
Don't prepare to bend an elbow quite yet. Sandy Brown says the restaurant, which will serve craft beer, needs to be designed. It will be part of a large renovation at the store and won't open for at least a year.
Michael Klein, Philly.com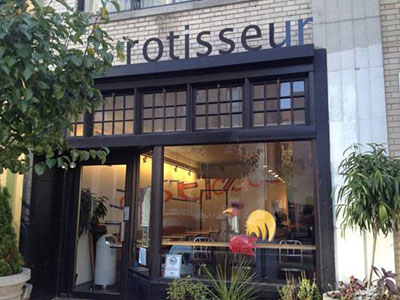 New chef at the Rittenhouse chicken-forward, "fast slow food" outlet Rotisseur (105 S. 21st St.): He's John Kasenchak, whose disparate kitchen experience includes Table 31, Murray's Deli, and the Garces outposts Tinto and Village Whiskey.
He and Rotisseur owner Aaron Matzkin are revamping the menu to include new salads as well as heartier dishes such as Benton's bacon-roasted Brussels sprouts, young ginger glazed carrots, and a seasonal apple cobbler.
Also, Saturday service has been restored, so it's open noon to 9:30 every day but Sunday.
Michael Klein, Philly.com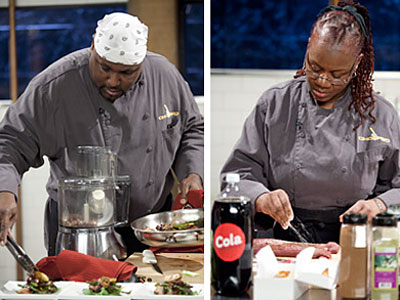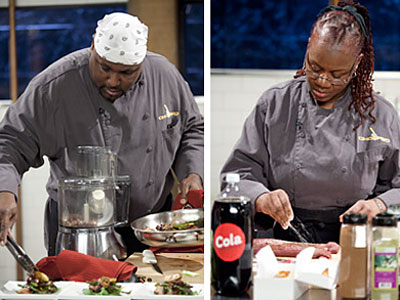 Chefs representing the Philly anti-hunger groups MANNA and Philabundance turn up among four contestants at 8 p.m. Tuesday, Nov. 13 on Food Network's Chopped.
In March, MANNA exec chef Keith Lucas and Linda Miles, who at the time was chef at Philabundance, traveled to New York to compete.
It will be rerun at 3 a.m. Nov. 13 (the morning of the 14th).