Archive: November, 2012
Michael Klein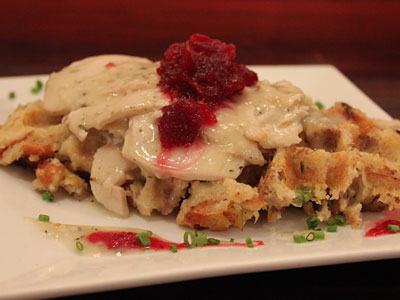 High concept: Put Thanksgiving dinner on a waffle.
Vernana Beuria (or "V," as everyone calls her) is doing just that at Chhaya Café (1823 E. Passyunk Ave.), her South Philly cafe.
The entree ($12) includes sausage and sage stuffing, topped with turkey, cranberry sauce, and gravy.
Michael Klein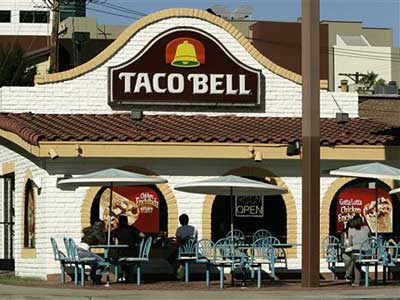 Wondering about the zoning notice at 1035 Chestnut St.?
Plan is for it to become not just an ordinary Taco Bell, but an "upscale" Taco Bell, run by Danny Patel, who owns several Dunkin Donuts franchise shops.
Zoning hearing is set for Dec. 5.
Michael Klein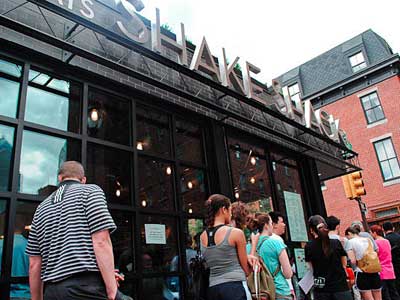 Danny Meyer and his Union Square Hospitality Group announced today that Shake Shack will open a location in London's Covent Garden in mid-2013.
The modern-day "roadside stand," which opened its Philly outpost at 20th and Sansom Streets over the summer, sells burgers, flat-top dogs, frozen custard, beer, and wine.
Shake Shack will be located in the historic Market Building near the Royal Opera House. Shake Shack's outdoor seating will flank the columns on South Row, and the Shack will extend into the expansive glass atrium on the Piazza, where additional seating will be available.
Michael Klein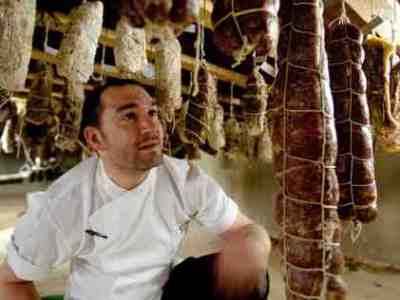 This is way early, but the crew from South Philly Italian gem Le Virtu is planning another location.
Concept is enoteca, with wines by the glass, local craft beers, and small-plate Southern Italian fare. Chef Joe Cicala recently traveled to Italy, and will capitalize on his findings.
Location is TBA.
Michael Klein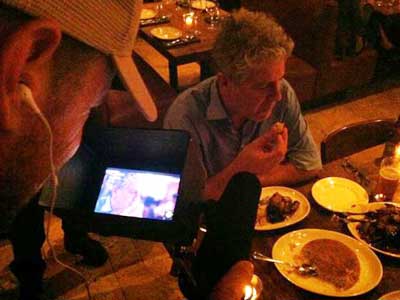 Anthony Bourdain's late-July trip to Philly will reach the little screen at 9 p.m. Monday, Dec. 3 on the Travel Channel.
The Layover - in which the chef delves into the little places that savvy travelers must sample while in town - stopped at a bunch of places, including the Pen & Pencil, Amis, Paesano's, Zahav, Stateside, Pho 75, Han Dynasty, and Di Bruno's.
(Photo at Zahav.)
Michael Klein
PYT's Tommy Up is gearing up for the opening Wednesday, Nov. 21 of Emmanuelle, a lighthearted-'n'sexy French-themed cocktail parlor set up behind PYT in the Piazza at Schmidt's; you get in through a black door beside a wood-clad wall on the Piazza's outer rim, at Germantown Avenue and Hancock Street in Northern Liberties.
Rundown of the 35-seater: Craft cocktails designed by the peripatetic Katie Loeb, housemade mixers, new takes on standards, selection of champagne cocktails, deep in aperitifs, new creations with French spirits.
Bar staff includes Farmer's Cabinet alumna Phoebe Esmon and The Industry's Michael Burleigh.
Michael Klein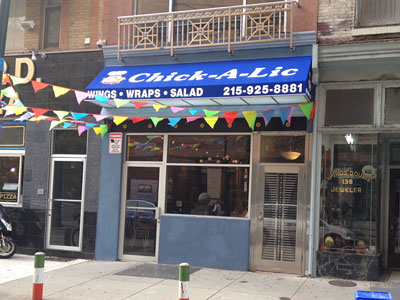 Chick-a-Lic, a chicken specialist with a hard-to-forget name, showed up last week across from Thomas Jefferson University Hospital at 138 S. 11th St.
Jack Chen and Ben Wang of the nearby Spice 28 are behind this quick-serve.
Soft-opening menu includes salads, burritos, a rice bowl, wings, fingers and two soups. Chen, who also owns Sakura Mandarin in Chinatown, says that's only the start.
Michael Klein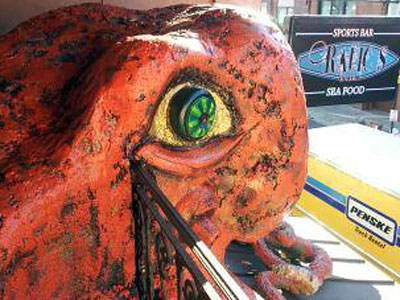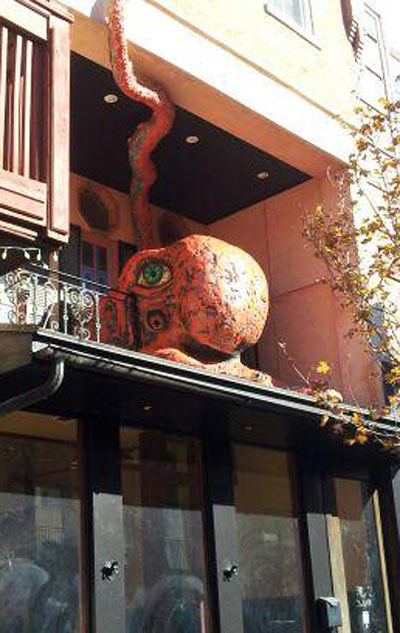 Crane action on the 100 block of South Street on Saturday, Nov. 17 as Ralic's on South - the forthcoming seafood-sports bar from David Ralic of Haddonfield's Ralic's Steakhouse - installed a decorative octopus on the facade.
The cute critter - designed and fabricated by Peter Bieling Sr. and Jr. - is 15 feet by 15 feet. Father and son also produced undersea murals inside the restaurant at 117-119 South St., which is due to open in December.