Archive: November, 2011
Classic Rock 102.9 WMGK morning host John DeBella set up this morning in LOVE Park, and thousands of turkeys showed up. It was his 10th annual Turkey Drop, a benefit for City Team Ministries Philadelphia.
Parx Casino was the big donor, showing up with $5,000 and a truck with $20,000 worth of turkeys.
Also donating were NFI Industries and its president, Joe Roeder, giving $5,000 and the vehicles used to transport turkeys from donation locations to the charity. McCafferty Dealerships donated $3,000 cash and 500 turkeys. David Kelleher of David Dodge gave $2,500 donation. Employees of Genuardi's Supermarkets donated $2,000. 6ABC's s Matt O'Donnell dropped off a $1,000 check on behalf of the station. IBEW Local 98 donated more than 200 turkeys, and Dave Magrogran and Kildare's donated more than $1,200 and 200 turkeys.
Michael Klein
If everything goes to plan, expect the eggs to be cracking in December at Broad Street Diner at Broad and Ellsworth Streets, which is being revived by diner king Michael Petrogiannis (Melrose, Mayfair, Country Club, Warminster West, Tiffany, etc.).
Nomad Pizza, coming to 611 S. Seventh St., is now looking at a December opening. Co-owner Tom Grim says he's hoping to wrap construction next week, when the fun begins: city inspections.
Brian Held, awarded three bells for his now-closed Rouget in Newtown, Bucks County, says he's now looking at December for Brian's, a BYOB on Kline's Court in Lambertville, N.J. See website and sample menus.
Michael Klein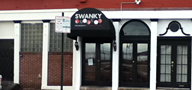 If what I'm hearing is correct, the Spike TV series Bar Rescue ultimately couldn't save the Old City nightclub Swanky Bubbles.
It's dark tonight -- a Saturday night and prime time for its bread-and-butter: spirited bachelorette parties.
Staffers learned Friday that their services were no longer needed, according to a source. I'm awaiting a return call from owners.
Michael Klein
It takes guts to open the day before Thanksgiving, but no one can accuse John Longacre and chef Scott Schroeder of South Philly Tap Room of being timid.
They managed to convince Point Breeze neighbors (and the LCB) that American Sardine Bar was a solid use for 1801 Federal St., where a shuttered dive bar stood, decaying.
Took them a year to clean it up. Schroeder's menu is simple: two soups, eight sandwiches, five sides.
Michael Klein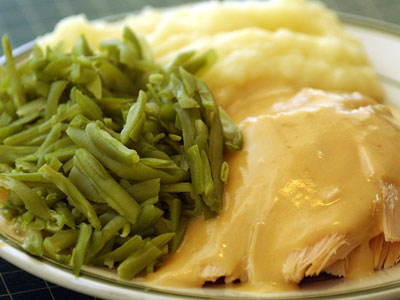 Wonder which restaurants plan to be open on Thanksgiving Day for counter or sit-down service, aside from the Chinese joints and myriad hotels?
Click here for our alphabetical list.
If I missed something good, feel free to suggest. Email me.
Michael Klein
Stateside (1536 E. Passyunk Ave., 215-551-2500, www.statesidephilly.com) debuts Saturday, Nov. 19. The crew from Green Eggs Cafe is behind this snug American small-plater by the Singing Fountain. Executive chef George Sabatino, last at Barbuzzo, specializes in oysters, house-made charcuterie and cheese boards; tight menu whose priciest dish is a $21 steak. Bar is stocked with plenty of bourbon and other brown spirits; vodkas and gins; and 10 beers on draft. Dinner will be served daily from 5 to 11 p.m., but they're promising late specials aimed at the restaurant community. Menu is here; booze list is here.
---
Rob Holloway, who you may remember bought up all of Fathom at Girard Avenue and Shackamaxon Street, is gradually reshaping the operation into a neighborhood pub. Some seafood elements will remain. Its name will be East Girard Gastropub (EGG Pub - get it?); it's open during cosmetic work that includes paint and a partial enclosure of the kitchen.
Michael Klein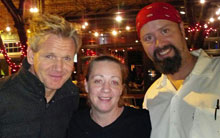 With a movie and TV show being shot in Philadelphia, the stars come out.
In front of TV cameras, Gordon Ramsay is the potty-mouth Scottish scold on Kitchen Nightmares, the Fox restaurant-makeover show. Last Saturday night, he and fellow producers could not have been friendlier at The Blind Pig, the pub in Northern Liberties. Debra Ciasullo and David Hentz stood by as they ordered quesadillas, poutine, lamb sliders, salads, and the signature fried turkey-dinner balls. They had previously visited Zocalo in West Philly for an episode to air in early 2012. Apparently not sick of Mexican eats, Ramsay hit Distrito in West Philly Monday and Tuesday nights.
Robert De Niro, here filming The Silver Linings Playbook, had customers texting excitedly Saturday night. He visited not one but two Stephen Starr restaurants. He and his wife started at Talula's Garden on Washington Square, where they were tucked in a corner, and wound up later for a nightcap at Il Pittore, near Rittenhouse Square. Last night, I got word they joined the friends-and-family meal at Route 6, opening Friday 11/18. De Niro's costar Bradley Cooper, meanwhile, is a sorta-regular at The Dandelion, another Starr restaurant near Rittenhouse Square. (These guys get Starr gift cards on Day One of shooting?)
Michael Klein
Gone will be the Four Loko dinners and the Tastykake gimmickry as Tapestry, a gastropub, opens Wednesday, Nov. 16 on the corner of Fifth and Bainbridge Streets in the former Adsum.
Owner Kar Vivekananthan, having lost co-founder and chef Matt Levin, has picked up longtime friend Rich Rivera and the Manayunk-based Belvedere Business Group, which will run the day-to-day operation.
In sum, the menu will be simplified while the bar selections have been exploded.