Archive: November, 2009
Michael Klein, Philly.com
Variety weighs in with the news that It's Always Sunny in Philadelphia -- now in its fifth season on Fx -- has signed a syndication deal -- thereby greatly enriching Rob McElhenney and the crew.
And getting the show on broadcast TV here.
Starting in fall 2011, the sitcom will air on CW57 in its late-night lineup, says a CBS spokeswoman.

Michael Klein, Philly.com
Just announced:
The U2 360° Tour ended two weeks ago after having skipped Philly.
It will play here after all, on Monday, July 12, 2010, at Lincoln Financial Field.

Promoters get to use your money for a full eight months, as the show goes on sale Friday (11/13) at 10 a.m.
Michael Klein, Philly.com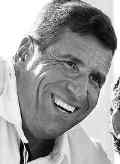 TV and radio stations are cutting back everywhere, shedding and trimming salaries wherever they can.
And no one is immune.
News anchors are picking up additional work, which is why you see them at odd hours, filling in for vacationing colleagues -- often for no additional pay. TV news producers have added web responsibilities -- with no additional pay.
Michael Klein, Philly.com
Here are updates on a few University City projects:
Tom Drinker's West: That's the name of the pizzeria-pub by Avram Hornik and Mark Fichera (Drinker's Tavern, Drinker's Pub, Lucy's Hat Shop) in the former O'Hara's Fish House at 3900 Chestnut St. Hornik promises "two-fisted sandwiches," pizza, and appetizers in a stunning renovation of the onetime hotel ballroom. It'll be a 250-seater, plus 80 outside. Opening is targeted for just before Thanksgiving.
Sang Kee: The Sheraton University City branch of the Chinatown/Wynnewood duck house is in the final two weeks of construction, and owner Michael Chow said he hopes to open by Thanksgiving.
Michael Klein, Philly.com
What do WOGL's Ross Brittain, WYSP's Danny Bonaduce, and WMMR's Jaxon have in common? (Besides the ability to earn a paycheck in radio these days.)
They're winners of 2009 Achievement in Radio (AIR) Awards.
The local radio community gathered Thursday (11/5) at the Hilton on City Avenue for its version of the Emmys. The banquet is a benefit for the March of Dimes.
Michael Klein, Philly.com
Friday Saturday Sunday, one of Center City's longest-running restaurants (at 21st and Rittenhouse for 36 years), has just started allowing patrons to bring their own wine without corkage. Not beer or spirits.
A few years ago, owner Weaver Lilley struck a blow for sanity by pricing all bottles at $10 over his cost.
"I wasn't making a fortune off wine anyway, so why not?" Lilley told me.
Michael Klein, Philly.com
Philly bartender/server Sam Murray won $50,000 on Friday's episode of Who Wants to Be a Millionaire and became the last contestant to qualify for the show's "Million Dollar Tournament of Ten," which starts Monday.
Murray will face a $1 million question on Wednesday (12:30 p.m., 6ABC).
Murray, who worked over the summer at Octo Waterfront Grille and is known for his sharp memory, once took a 22-person table's order without writing it down. And yes, he got it right.
Michael Klein, Philly.com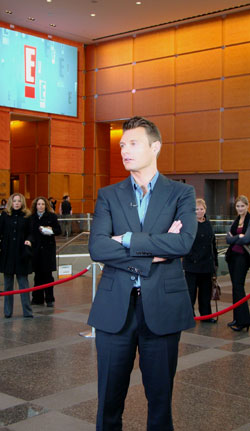 Working under the radar and with no media blitz, Ryan Seacrest hosted his radio show and his E! News show from Philly on Friday.
He was here on business. (Supposedly on Saturday, he's headed to Happy Valley to see the Penn State-Ohio State football game.)
Though Q102 carries his radio program, Seacrest did not visit its Bala Cynwyd studio.