Archive: November, 2009
Michael Klein, Philly.com
Dave Roberts, the town's dean of TV personalities at age 73, will wrap his 56-year broadcast career Dec. 11.
He announced it Wednesday night on the 11 o'clock news. (No one may even think that the station used its 11 o'clock news for this because it's November sweeps.)
Roberts, born David Boreanaz (the name his actor son uses), was a popular personality in Buffalo when he relocated to WPVI in May 1978 as a host of AM/Philadelphia and noon weatherman.
Michael Klein, Philly.com
The World Society for the Protection of Animals launched a database (EatHumane.org) that features more than 150 restaurants in 15 U.S. cities that serve humanely raised meat and dairy products that have not been factory-farmed.
Nine in the Philadelphia area made the cut as a WSPA Humane Restaurant:

Bar Ferdinand, Bistro 7, Fork, James, Monk's Café, Restaurant Alba in Malvern, Southwark, Tinto, and White Dog Café.
WSPA says its experts checked menus to identify meat, dairy, and egg products branded as "Pasture Raised," "USDA Organic," "American Humane Certified," "Animal Welfare Approved" or "Certified Humane."
Michael Klein, Philly.com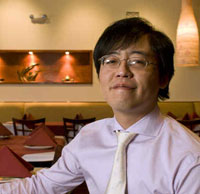 Han Dynasty, the suburban Szechuan duopoly that got two bells from Craig LaBan in the spring, is opening at 108 Chestnut St. in Old City, where Joe Poon recently was. Owner Han Chiang (at right), who will keep his spots in Exton and Royersford, is targeting mid-December. He hopes to get a liquor license next year.
Tuesday (11/17) saw the opening of Percy Street Barbecue at 900 South St., in the wide storefront that was Crescent City. Concept from Michael Solomonov and Steve Cook (Zahav and Xochitl) and chef Erin O'Shea features meats sold by the pound, and beers sold by the pint, half-gallon, and gallon in a Texas roadhouse design by Elisabeth Knapp (Zahav). Menu and particulars here.
Moments ago (11/18), Hawthornes began rolling out the barrel at 11th and Fitzwater in South Philly. See details here.
Michael Klein, Philly.com
When she was helping to set up Sycamore, a fine, new BYOB in her hometown of Lansdowne, chef Meg Votta told owner Stephen Wagner that she had been living with ovarian cancer that had been discovered late.
As such, her prognosis was poor. But her spirit was stronger.
"She didn't dwell on it," Wagner said. "She did 12-hour days."
Michael Klein, Philly.com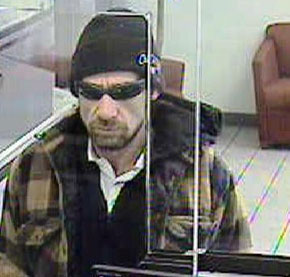 The FBI has released photos of a guy who tried to hold up a Bank of America branch near K&A at 11:35 this morning, and ...
Well...
Look closely...
Michael Klein, Philly.com
At 11 a.m. Wednesday (11/18), Chris Fetfatzes and Heather Annechiarico expect to unlock the doors of Hawthornes, their cafe/bottle shop/prepared-foods-to-go store at 11th and Fitzwater Streets in South Philly (215-627-3012).
The corner was his family's Bella Vista Beer Distributor until it moved a block away. Before the Fetfatzeses were in the beer biz, they operated hot dog carts, and this is where they stored their carts. (Chris Fetfatzes explained that in a bit of symbolism, a hot dog was the first food prepped in their new kitchen.)
Lots going on here: hardwood floors, retro lighting, white subway tiles, a genuine wood fireplace with "living room" seating area, fling-out windows, a takeout counter, a prepared-food case, and comfy tables seating nearly 40.
Michael Klein, Philly.com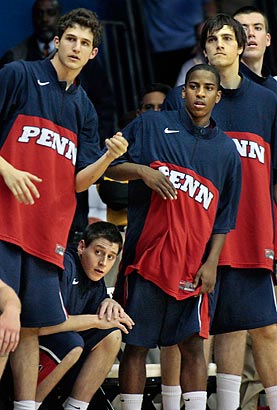 Congrats are in order to Penn freshman Malcolm Washington, who got two steals and sank a layup Monday night in his first college game. The Quakers nonetheless fell hard to Villanova, 103-65.
Washington, a 5-foot-9 backup guard, was a high school standout at Los Angeles Windward.
Michael Klein, Philly.com
Love technology.
Gourmet grocer Mikuni Wild Harvest got some white Alba truffles on Monday morning via red eye from Italy, including a 500-gram monster that it says was the largest specimen to land in the States this year.
Mikuni videotaped it, posted it on YouTube, and e-mailed details to its high-end customers.