Archive: November, 2009
Michael Klein, Philly.com
Starr Restaurant Organization is hunting for a new chef for Parc, the brasserie on Rittenhouse Square.
Chef Arthur Cavaliere, who took over earlier this year after a turn at El Vez, says he and his girlfriend are bound for D.C., where he's got a new job that he can't talk about.
He'll remain through Christmas.
Michael Klein, Philly.com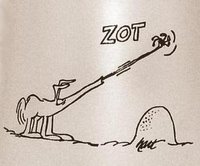 Zot, the Belgian tavern at 122 Lombard St. in Society Hill for three years, is out of business -- evicted, says the landlord, Madame Saito.
Madame Saito, who owns Le Champignon de Tokio next door, told me that she will take over.
Concept is to be announced. It's possible that the signature mussels will remain.
Michael Klein, Philly.com
Chestnut Street has gradually been seeing a rise in nightlife, as evidenced by Capital Grille, the Lucky Strike bowling alley, and Fogo de Chao.
Now there's a plan to bring New York's celeb-heavy Amsterdam Billiards to the empty Horace Trumbauer-designed building at 1200 Chestnut St., once a Beneficial bank.
Of the flagship location on Union Square, New York mag says the exterior "fairly glows with burger-hop-style signage and the interior has enough pressed tin, plush carpet, and oak paneling to inspire you to break out the ole suspenders and light up a cigar. Whether the space attracts Seinfeld, Philbin, and a Baldwin or two like its progenitor remains to be seen, but the Amsterdam transplants and Asian NYU student seem to have settled in quite comfortably at the gussied-up digs. What's not to like? Twenty-six amply spaced tables and an equal number of plasma-screen TVs; a railed-off VIP section of tables in the center of the room; a curvy zinc bar (that shares a designer with Balthazar) where you can order anything from a Long Island iced tea to a bottle of Veuve Clicquot."
View Larger Map
Michael Klein, Philly.com
More pieces are emerging about David Coleman Headley, who sits in a federal prison in Chicago, charged by the FBI with planning terrorist attacks overseas.
The Inquirer reports that at age 16, he was known as Daood Gilani, the son of Serrill Headley, the Bryn Mawr-bred owner of the old Khyber Pass.
In 1977, Headley took him out of Pakistan, where he attended a military school, and brought him to Philadelphia.
Michael Klein, Philly.com
John Brandt-Lee, chef-owner of Avalon Restaurant, an elegant, rustic-Italian BYOB in West Chester, is giving away a course of local craft beers and cheese to dinner patrons Friday nights.
Recent pairings have included Dogfish Head 60 Minute IPA, with Caccio di Roma and truffle honey; and Victory Festbier with Piave served with grilled onion marmalade.
Avalon has a small table in the dining room with nine cheeses and hand-carved charcuterie.
Michael Klein, Philly.com
Just how many sushi bars can fit in Old City? One more will come online within the next several weeks. Name is Maru, and it'll fill 206 Market St., which last was Anjou. And not to be confused with Haru around the corner. (Who knew?) This one will feature Japanese cuisine and sushi bars on its two levels -- a 12-seater on the first floor and a smaller one in the lounge downstairs. Beautiful decor includes lots of wood, a slate waterfall, and walls made of smooth riverstones.
Michael Raethong, who's had a hand in assorted Southeast Asian-themers (Cafe de Laos in South Philly, White Elephant in Huntingdon Valley, Thai L'Elephant in Phoenixville), is taking over a pho restaurant in Oregon Market, that huge mall-like place behind the Oregon Diner at 320 W. Oregon Ave. Name is Kavei. (Say it "KAH-vee.") Starting next week, the menu will focus on Cambodian, though Raethong tells me it also will serve Thai and Laotian. Cambodian, as he explains, is similar to the Thai fare served around here but is less sweet and salty.
And this is not Asian, but it's near Kavei and worth noting: The Tony Luke's people are renovating the freestanding restaurant on Oregon Avenue next door to their sports bar and across from their sandwich stand. Once known as Casa di Pasta, it had been operating as a Venuto's Pizza franchise that went belly-up. In the new year sometime, it'll be revived with a similar Italian concept plus pizza (since Venuto's left behind ovens).
Michael Klein, Philly.com

Chef Marc Vetri gets the "With Love Letters" Q&A treatment from Greater Philadelphia Tourism Marketing Corp.'s site Uwishunu.
Among his likes: Butterscotch Krimpets, Geno's cheesesteaks (Whiz wit), and drives to Chester County.
He also talks about his next restaurant project.
Michael Klein, Philly.com
Pioneer Philly caterer Steve Poses tells Huffington Post about the nine ways to soothe holiday panic.
His rules include a warning to procrastinators everywhere:
"Map out a full weekend (preferably the 21st and 22nd) to organize your kitchen, shop and start cooking."