Archive: November, 2009
Michael Klein, Philly.com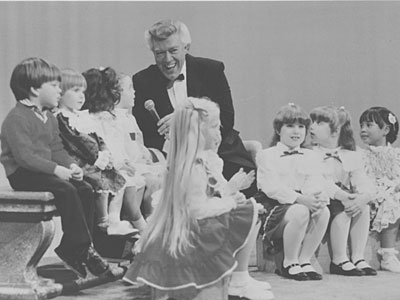 Al Alberts, 87, who put countless singing kids on the air on his show Al Alberts Showcase, died this morning in Florida.
He and his wife, Stella, were married in 1953 and lived in Cape May for many years -- hence, his ditty "On the Way to Cape May."
They moved to Florida in 2001.
Michael Klein, Philly.com
You've heard of classic Thanksgiving Day clashes such as Northeast vs Central.
Kids stuff.
How about two chefs, allowing their staffs to blow off a little steam away from the stove.
Michael Klein, Philly.com
Erica Grow and 6ABC are parting company at the end of her contract, which expires at the end of the year, station sources tell me.
The weekend meteorologist, a native of Bethlehem and a 2002 Penn State grad, joined the station in January 2007.
It's not clear if she'll be back on the air. She's still on the station's Web site, not surprising since she's still an employee.
Michael Klein, Philly.com
As you'd expect, the National Baseball Hall of Fame in Cooperstown, N.Y., is displaying stuff from the Yankees' World Series win, such as Hideki Matsui's Game 6 bat, Derek Jeter's Game 6 bat, Johnny Damon's spikes from his Game 4 double steal, and Mariano Rivera's postseason cap.
But the Phillies won't be ignored in the Hall's "Autumn Glory."
Also on exhibit through the 2010 postseason: The cap worn by Cliff Lee during the postseason and a bat used by Chase Utley.
Michael Klein, Philly.com
Two University City newcomers are soft-opening.
Tom Drinker's West, the pizzeria-pub in the old O'Hara's at 39th and Chestnut Streets, opened over the weekend and is running regular hours of 5 p.m. to 2 a.m. Mondays through Fridays, and noon to 2 a.m. Saturdays and Sundays. Here's the menu.
And the UCity branch of Sang Kee Noodle House opens at 11:30 a.m. Tuesday (11/24) at the Sheraton at 36th and Chestnut Streets. Hours: 11:30 a.m. to 11 p.m. It's about 90 percent there, says owner Michael Chow, as the grand opening will be in December. The menu combines the noodle dishes from Chinatown with the sautee dishes of Wynnewood.
Michael Klein, Philly.com
Earlier this year, John Mims set up side-by-side operations at 150 Bridge St. in downtown Phoenixville: Daddy Mims, a New Orleans-style BYOB, and Johnny's New Orleans Pizza Kitchen.
Mims says he's closed the pizza operation and expanded Daddy Mims from 45 to 80 seats.
Michael Klein, Philly.com
Another vegetarian option:
Mike Jackson, chef/founder of Blue Sage, the well-regarded vegetarian restaurant in Bucks County, has taken the space at 1033 Spring Garden St. that was last Root and previously Palate.
He'll call it Thoreau. Opening Feb. 2.*