Archive: October, 2011
Michael Klein, Philly.com
There are restaurant weeks offering deals downtown, on the Main Line, and in South Jersey.
And now, through Oct. 29, a restaurant week at Philadelphia International Airport.
The catch is that it's available only to ticketed airline passengers, but the three-course $25 deals will still represent a discount.
Michael Klein, Philly.com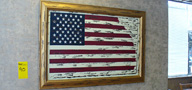 After 10 years, the Penn campus mainstay Philly Diner at 39th and Walnut Streets closed Sunday at the end of its lease, as the Daily Pennsylvanian reports.
If the diner holds memories, or if you're thinking of furnishing a restaurant of your own, note that the diner's innards are being offered for sale on Comly Auctioneers' website.
Two days of bidding will begin Thursday, Oct. 20 on tables and chairs, a counter, refrigeration equipment, an espresso machine, bain maries, griddles, an ice maker, deep-fryers, and even a nifty framed print of an American flag.
Michael Klein, Philly.com

Big news in Chinatown:
A Korean barbecue is setting up, further broadening the options.
It's Sammy Chon's K-Town BBQ, which packs 'em in at the Cherry Hill flagship in Sawmill Village, and it's taking over the landmark HK Golden Phoenix at 911 Race St. The liquor app went up late Friday; the marble-clad restaurant, which had been serving since 1996, closed in August.
Michael Klein, Philly.com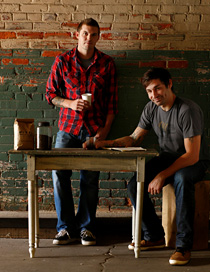 Pub & Kitchen/The Diving Horse chef Jonathan Adams has something else on his plate.
He and childhood friend Damien Pileggi are getting into the coffee game with Rival Bros Coffee, a small-batch, custom coffee roaster.
The company will peddle its whole beans online from the Rival Bros e-store and at a mobile coffee shop, The Rival Bros Truck, which will debut later this month in Love Park.
Michael Klein, Philly.com
How about Walnut Street, east of Broad?
Sumo Sushi, which opened at Broad and Pine Streets in summer 2010, is fixing to go into 1316 Walnut St., once a camera shop a few doors from the IHOP. This one is months away, as a zoning hearing is up for Oct. 26.
Yong Chi of Giwa (1608 Sansom St.) is looking at late 2011 for Rice & Mix (1207 Walnut St.), a Korean quick-serve. It will be next to Philly's second Yogorino shop, also up for late fall, and Marabella Meatball Co.
Michael Klein, Philly.com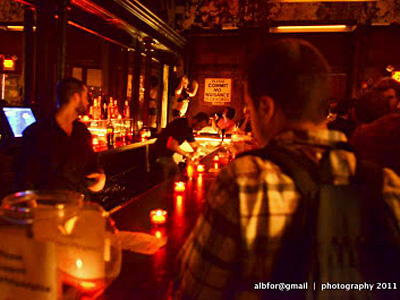 For decades, the J&J Trestle Inn at 11th and Callowhill Streets was one of those places, a down-and-dirty strip club behind a rusty iron gate and hand-lettered "Commit No Nuisance" sign, beneath the Reading Viaduct north of Chinatown.
In 2003, as the real estate market began picking up in this emerging loft district (Callowhill), entrepreneurs Josette Bonafino and Ian Cross bought the building with the idea of creating a kitschy, retro bar -- a postmodern version of itself. The Trestle's previous management remained as a tenant until closing in November 2009. Demo work started soon after, but a fire in June 2010 not only set Bonafino and Cross back, but destroyed some original furnishings they wanted to keep.
On Tuesday, Oct. 18, the Trestle Inn reopens as a 1960s and '70s-themed bar and entertainment venue. Whiskey, craft bourbons, and rye are the drink of choice, and there is a whiskey sour menu. Fourteen beers are on tap, including two hand pumps.
Michael Klein, Philly.com
Fathom Seafood House, which chefs Mike Stollenwerk and Rob Holloway opened early in 2011 at Girard Avenue and Shackamaxon Street in Fishtown, is undergoing a transformation as Stollenwerk sells his share to Holloway.
Stollenwerk is putting all his eggs in one basket as he builds a larger Fish restaurant at 13th and Locust Streets. He's keeping Fish running at 17th and Lombard Streets until the new spot is ready. Stollenwerk recently sold his interest in Little Fish to sous chef Chadd Jenkins.
Anyway... The Bar Previously Known as Fathom is remaining open as the liquor license is transferred. Holloway tells me that a new name is in the works, as well as a change in concept. "More of a gastropub for the neighborhood," he said. "We'll still do great seafood and oysters."
Michael Klein, Philly.com
Chef Brett Hulbert took over Portabello's in downtown Kennett Square a few weeks ago, and he will give a taste of his new menu Saturday, Oct. 15, 2011 from 1 to 4 p.m. at the Williams Sonoma store in King of Prussia Mall. Hulbert, last at Seaglass at the Golden Inn in Avalon, N.J., bought Portabello's from Giancarlo Cantalucio, who decided to sell when his wife was offered a business opportunity out of state.
---
Villa Fresh Italian Kitchen, found in food courts such as the Gallery, Philadelphia International Airport and the Borgata in Atlantic City, will offer free slices of pizza on Tuesday, Oct. 18. One must "like" Villa's Facebook page to get a coupon. Handy-dandy location finder is here.