Archive: October, 2011
Michael Klein, Philly.com
IHOP restaurants will celebrate Halloween a little early this year, offering kids 12 and under a free Scary Face Pancake as part of its No Tricks – Just Treats program on Friday, Oct. 28.
The "design-your-own" pancake includes an oversized signature buttermilk pancake with a whipped topping mouth and strawberry nose, served with two mini Oreo cookies and candy corn on the side.
Though the promo runs from 7 a.m. to 10 p.m., the sugar rush may last all weekend.
Michael Klein, Philly.com

Cortright Wetherill Jr. of Devon Hill BMW is steering a restaurant: Ella's American Bistro (214 Sugartown Rd. in Devon Square, just off Route 30 in Wayne), aiming toward a December rollout.
Executive chef Matt Schuler, sourcing ingredients locally and naturally (naturally), will serve casual bistro fare. They're going for a distressed feel -- wood-paneled surrounding the white-tablecloth dining room. The bar, made of an organically milled sycamore tree will serve local craft beers and classic cocktails.
Menu items will top out at $25 for a grilled New York strip. Other dishes include heirloom bean chili; grilled pizza; Iron Stone Farms sirloin burger; linguine; buttermilk fried chicken; BBQ Berkshire pork chop; crispy skin red snapper; and lobster mac & cheese.
Michael Klein, Philly.com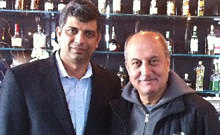 Now this is how to launch brunch.
Anupam Kher, star of about 400 Bollywood films, is in town to appear with Robert De Niro and Bradley Cooper in the David O. Russell flick in production, The Silver Linings Playbook.
Kher stopped for brunch, unannounced, at the new Avenue of the Arts restaurant Tashan, and visited with owner Munish Narula and his family. He posed for photos with starstruck fans.
Michael Klein, Philly.com
Many years (and a few locations) in the making, Il Pittore is set to debut Wednesday, Oct. 26 at 2025 Sansom St. in Rittenhouse Square (215-391-4900; www.ilpittore.com).
This upscale Italian pairs Stephen Starr with one of his longtime righthand men, chef Chris Painter. The two worked together on Angelina, which ran from 2003 to 2005 at 706 Chestnut St.
"Italian" is the only commonality here. While Angelina, in The Inquirer's Craig LaBan's words, felt like "a private salon, its banquettes and walls covered in so much red toile that it could be mistaken for a Venetian bordello," Il Pittore is airy, arty, rough-hewn, more Euro.
Michael Klein, Philly.com
Restaurant chains are in expansion mode
Pete Ciarrocchi says his next Chickie's & Pete's location will open Friday, Oct. 21 in Warrington. Another branch, in Audubon, Montgomery County, is about 10 days off, he said.
Tony Luke's has added an outlet at the Crossings at Twin Oaks in Sicklerville; he's also talking about new shops in L.A., Las Vegas, New York, and Chicago.
Michael Klein, Philly.com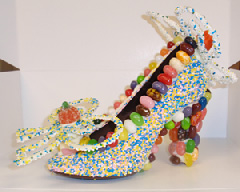 Philly Cupcake/Philly Chocolate, the twin boutiques in Center City, are now creating edible, lifesize shoes.
The first of the series, part of the Candyland Collection and named "Candy Garden," is a replica of a Christian Louboutin, and will make its debut Sunday, Oct. 23 at a fundraiser for the kid charity Little Smiles at the Hughes Center, inside the Curtis Center at Sixth and Walnut Streets. (Details here.)
This shoe, which will retail for $225, is constructed with 72-percent dark Belgian chocolate with a layer of painted white chocolate. Nonpareils are used to create a fabric look and Jelly Belly jelly beans create a magical line around the collar of the shoe. Jelly beans are also used to create the heel and sole. The bow is constructed of white chocolate and embellished with nonpareils and sour gummy and cream pumpkins.
Michael Klein, Philly.com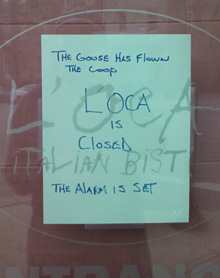 Things did not look too promising for L'Oca, the Northern Italian BYOB across from Eastern State Penitentiary in Fairmount, in July after chef/owner Luca Garutti, was arrested on charges of criminal mischief and driving under the influence, according to the court record.
The restaurant was closed while Garutti spent a few days in stir, but reopened.
And now it's closed for good, as the sign on the door ("the goose has flown the coop") proclaims, adding that the alarm has been set.
Michael Klein, Philly.com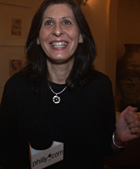 Every year on the eve of the Philadelphia TASTE Festival of Food, Wine and Spirits at the Valley Forge Convention Center, Philly.com, the Inquirer and the Daily News issue a call to home chefs to submit family favorite recipes.
From this year's stack of hundreds, three people were asked to cook their dishes and serve them to three judges at the Water Works restaurant, behind the Art Museum.
First up was Ed Caruso of Ardmore, who served Caruso chicken -- boneless chicken breasts in a cream sauce studded with pearl onions and pancetta, served atop grilled eggplant. Next was braciole in a homemade marinara sauce from Joan M. Menige Mastroianni of St. Davids. Then came Greek shrimp from David Herman of Elkins Park, who concocted it in rice with tomato sauce and Bulgarian feta.