Archive: October, 2010
Michael Klein, Philly.com

Do you hear what I hear?
Christmas music on the radio, though it's on HD Radio, which few listeners have.
You can hear B101 (WBEB) at 101.1-2 FM.
Michael Klein, Philly.com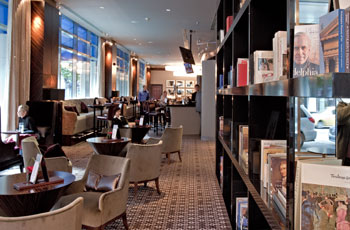 The Sofitel at 17th and Sansom Streets has opened Liberté (120 S. 17th St., 215-569-8300), converting its lobby lounge into a plush dining room done in jewel tones and featuring a sleek bar (where the former lobby bar was) and a working fireplace. Here are the menus: all-day, lunch, and dinner. Chez Colette, the Sofitel's previous restaurant, now serves breakfast.

The Lyons Den, the bar at 848 S. Second St. in Queen Village (pictured below), will give way next month to a pub called Kennett, named after the family that owned the building in 1924. In charge are John "Johnny Carwash" Della Polla, most recently running the tasting room at Yards Brewing, and Starr front-of-the-house alumna Ashley Bohan.

Nov. 4 marks the opening of a Chick-fil-A at 2421 W. Cheltenham Ave. (Cheltenham Square shopping center, at Washington Lane). That means free Chick-fil-A for a year for the first 100 people in line that Thursday morning. The line officially opens at 6 a.m. Nov. 3. If there are more than 100 people by 6 a.m. Nov. 4, all 100 spots will be determined by a raffle. Rules are here.

Also free: IHOP restaurants will give away a design-your-own Scary Face Pancake from 7 to 10 a.m. Friday (10/29) to kids 12 and under. It's an oversized signature buttermilk pancake with a whipped topping mouth and strawberry nose, served with two mini Oreo cookies and candy corn on the side.

Chestnut Hill's Night Kitchen Bakery (7725 Germantown Ave.) has installed 14 cafe seats by expanding next door. This means a brunch/lunch menu and plated-dessert menu available from 7 a.m. to 7 p.m. weekdays, 8 a.m. to 6 p.m. Saturdays, and 8 a.m. to 3 p.m. Sundays. Menu is here.
View Larger Map
Michael Klein, Philly.com
NBC Philadelphia will launch Nonstop, its new digital station, at noon Monday (10/25).
NBC-owned stations in several markets are using their new digital channels for local Nonstops. A Nonstop was added in New York last year, and debuts are imminent in Chicago and Washington, D.C.
In Philly, NBC's Nonstop will be carried on Comcast Channel 248, on FiOS Channel 460, and over the air at 10.2. Here's what I wrote about it last month.
Michael Klein, Philly.com
Managed to pry some info of interest to those heading to Citizens Bank Park for Saturday's Game 6 of the NLCS between the Phillies and Giants.
Booked to sing the national anthem is Miss America 2010, Caressa Cameron.
Phillies alumnus Darren Daulton will toss the ceremonial first ball.
Michael Klein, Philly.com
Since winning Season 7 of Bravo's Top Chef last month, Kevin Sbraga is being hounded for info about his next step -- a new restaurant.
While he location-shops, Sbraga has planned two events to showcase his cooking since he's left his "day job," Rat's in Hamilton Township, N.J.
First is Dec. 1 at Reading Terminal Market. Sbraga will gather ingredients, which he will turn into lunch in the market's demo kitchen, La Cucina Kitchen. There's a 25-person max, and the menu includes chestnut soup, cinnamon marshmallow, duck confit, Pennsylvania pork chop, cumin apple sauce, and wilted greens. Philadelphia Hospitality is sponsoring the $100-a-head event that runs from 11 a.m. to 1 p.m.; info: 215-790-9901, Ext. 21.
Michael Klein, Philly.com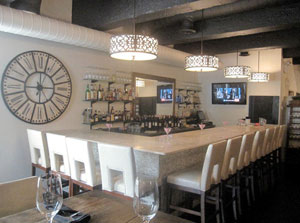 Michael Klein, Philly.com

Props to the Main Line Times for its report that the Lower Merion School Board agreed to name the gym at the new Lower Merion High School in Ardmore after 1996 graduate Kobe Bryant of the Los Angeles Lakers.
The story says Bryant donated $411,000 for "a series of inspirational, interactive and educational displays at the new school."
It also says the gym will be dedicated later this year.
Michael Klein, Philly.com
The Village Belle, a neighborhood-friendly Mediterranean, opens October 27 at 757 S. Front St. in Queen Village (215-551-2200).
South Philly-bred brothers Lou and Joey Campanaro are behind this spot; Lou was chef long ago at Olive in Cherry Hill and Joey owns the little owl, Market Table, and Kenmare in New York.
They've transformed the look of the previous occupant of the space -- Frederick's -- maintaining the dark, old-fashioned wood bar area but transforming the Sinatra-esque dining room into something far cozier. And the bandstand is gone.