Archive: January, 2012
Michael Klein, Philly.com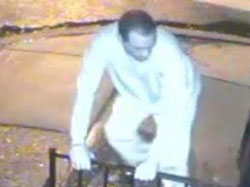 Philly Police put out an APB moments ago about a restaurant break-in last month:
On December 7, 2011, at 4:21am, an unknown Male approached the Mexico on the Square located at 1511 Pine Street and kicked the front door breaking the glass. The suspect entered the business by going through the lower portion of the entrance door and proceeded to the register and attempt to open the register. The suspect then grabbed the register and slammed it on the floor several times causing the register to open and removed approximately $50 in cash. The suspect exited the business and fled on foot.
Suspect description:
Michael Klein, Philly.com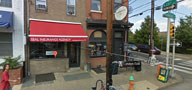 Fairmount is exploding lately with activity. Hickory Lane and Lemon Hill are in their opening weeks, La Calaca Feliz is gearing up for a Jan. 17 debut, and Mugshots is ready to pack for a move down the street.
London Grill, at 23d and Fairmount for going on 21 years now, is preparing to launch a wine bar next door, in the space previously used as a takeout shop and insurance office.
Aiming for a Feb. 9 launch, Terry Berch McNally and chef Michael McNally are setting up Paris Wine Bar (2303 Fairmount Ave., 215-978-4545) as an intimate 50-seater showcasing Pennsylvania-produced wines and French-inspired dishes in a tin-ceilinged, Euro setting. Terry helped decorate the place from her French sconce collection.
Michael Klein, Philly.com
Penn has announced that it has struck a deal with Dave Magrogan (Kildare's, Doc Magrogan's Oyster House) to place the upscale casual Harvest Seasonal Grill & Wine Bar at 40th and Walnut Streets, the former Marathon Grill and MarBar.
Magrogan says he expects a June opening for the green-themer, whose first location opened in 2010 in Glen Mills. Penn was the right fit for Harvest, he tells me, because of the "open feel." He expects to serve not only the Penn community but the University City neighborhood.
Harvest's hook is a wood-fired grill, dispensing brick-oven flatbreads and a seasonally changing menu whose entrees/apps come in at under 500 calories (desserts under 200). There will be 30-plus wines offered by the glass.
Michael Klein, Philly.com
Center City District is bringing in four chefs over two weeks to the Market & Shops at the Comcast Center for a lunchtime series to plug Center City District Restaurant Week, which will run Jan. 22-27 and Jan. 29-Feb. 3. (Info is here.)
On Thursday, Jan. 12, you'll see Nick Cassidy of El Vez, who probably makes more guacamole in a shift than you make in a lifetime. Tuesday's guest chef was Olivier Desaintmartin of Caribou Café & Zinc, who regaled lunchtimers by whipping up veal breast roast Lyonnaise. (See recap/recipe here.)
Next week's chefs will be Robert Tyndall of the Farmers' Cabinet (Jan. 17) and Erin O'Shea of Percy Street Barbecue (Jan. 19). O'Shea has home-field advantage, as she recently opened a Percy Street takeout shop about 20 feet from the demo kitchen.
Michael Klein, Philly.com
Jose Garces is hiring for his three restaurants opening this spring at the new Revel in Atlantic City. The fair is at Chifa, 707 Chestnut St., from 10 a.m. to 2 p.m. Tuesday and Wednesday. Details.
Marc Vetri and partners Jeff Michaud and Jeff Benjamin are looking for talent, ostensibly for Alla Spina, their Italian beer bar opening soon at 600 N. Broad St. The fair is 11 a.m. to 1 p.m. Tuesday at Osteria, 640 N. Broad St.
As always, Stephen Starr is looking. Today, he's advertising on Craigslist for a general manager and line cooks for Il Pittore and a sous chef for Parc.
Michael Klein, Philly.com
Updated post:
Don't know how DiNic's sandwich stand managed to secure a city Health Department inspection on a Sunday, but it won blessing yesterday to move about 75 feet within Reading Terminal Market into the prime spot vacated last year by the butcher Harry G. Ochs.
It opens today just off of Center Court. The move will create a chain reaction as Spataro's will move across the aisle into DiNic's in about a month. Flying Monkey moves into Spataro's.
Michael Klein, Philly.com
Mugshots, my coffee fave in Fairmount, is pulling out of its flagship location at 2100 Fairmount Ave. after nearly eight years over a dispute with the landlord, says owner Angela Vendetti.
Finale will be the end of March.
But: Mugshots will resurface a block and a half away, in a new building under construction at 1921-29 Fairmount Ave., she says. This building also will house a Latin restaurant called BlueCat.
Michael Klein, Philly.com
Updated postMike Stollenwerk previewed the new location of Fish (13th and Locust Streets) on New Year's Eve with a fixed-price ($35-a-head) party that started at 9 p.m. with heavy passed and butlered hors d'oeuvres, oysters shucked to order, and charcuterie. Cash bar
Fish opens officially on Monday, Jan. 9.