Archive: January, 2011
Michael Klein, Philly.com
Jan. 10 was closing time after 31 years for Pace One, Ted Pace's American mainstay in the Concordville area. As recently as last Thursday, Pace denied neighborhood rumors that the restaurant was shutting down.
Building owner Bill Clinger said he'd have no comment, other than to confirm the closing.
Pace One's voicemail said it would take messages for Brandywine Catering.
Michael Klein, Philly.com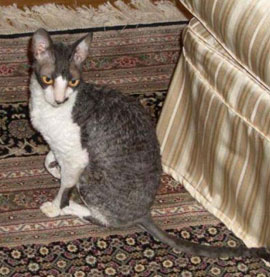 Howard Stern sidekick Robin Quivers is in Philadelphia for her cat's kidney transplant at the University of Pennsylvania Veterinary Hospital.
On the show Tuesday on Sirius/XM, Quivers put the tab for Brangelina's surgery at $15,000.
Friday's surgery went well, Quivers reported on Twitter, where she posted a photo of the donor cat.
Michael Klein, Philly.com
Spark Energy, which has been peppering the region with daily promotions (such as free burgers and manicures), will send a magician to roam the commuter train stations today (Tuesday) starting at 5 p.m.
He will be making $100 Visa gift cards randomly appear for travelers.
Spend it on a shovel, eggs, bread, milk.
Michael Klein, Philly.com
With a Jan. 18 court date looming, U.S. District Judge R. Barclay Surrick has approved Fox29's motion for a stay in the trial that has former news anchor Tom Burlington accusing the station of applying a double standard in dismissing him.
Burlington, who is white, had used the "n" word during a staff meeting in 2007 and testified that African American Fox employees had used the word with impunity. (See my Jan. 5 story here.)
Surrick wants to await a U.S. Supreme Court ruling in another employment case, Staub v. Proctor Hospital.
Michael Klein, Philly.com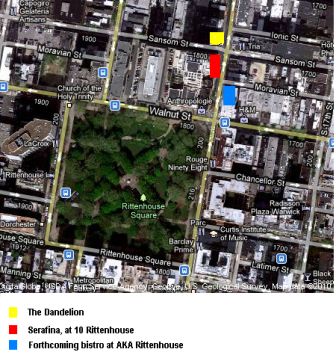 Eighteenth Street just above Rittenhouse Square has been ablaze lately:

The Dandelion, 11 days old at 18th and Sansom. ... Serafina, under construction at 10 Rittenhouse and anticipating a spring opening... And now, here's the rundown on a restaurant coming to the AKA Rittenhouse Square on 18th Street, across from 10 Rittenhouse, in April.

Larry Korman of Korman Communities Inc. which owns the extended-stay property, is working with David Fields, who ran Salt on 20th Street, on what they're calling a neo-bistro. It's conceived to add an amenity for AKA residents as well as locals. It will occupy the former Le Bus store and Ben & Jerry's shop at the corner of Moravian Street.

They intend a casual-yet-sophisticated approach designed by Edward Asfour of NYC's Asfour Guzy (Blue Hill, Blue Ribbons, Spitzer's Corner), using white oak, patinated black steel, and warm lighting. Fields calls it Casa Mono meets Terroir Wine Bar, as he melds his two Lower Manhattan favorites.
From an open kitchen, there will be a 10-seat, marble-topped eating bar, tables facing the full-length, operable 18th Street windows (30 seats there), and an eight-seat drinking bar.

Kitchen will do cooked-to-order breakfast, which is important for AKA's residents, and lunch and dinner with an unfussy menu of bold flavors inspired by France, Spain, and Italy.

Stay tuned for name and chef.
In other Rittenhouse news... Zama, the Japanese spot on 19th Street, is opening a sushi bar in the lobby of the Shelborne Hotel in South Beach later this month.
Michael Klein, Philly.com
Bradley Cooper and Abbie Cornish are in town to work on the movie Limitless, most of which they had shot here last spring.
They shot at Sampan restaurant on Friday and are due Monday to do scenes at the old AAA headquarters on Market Street, as HughE Dillon reported on his blog PhillyChitChat.com.
Since it's now only about two months from the movie's scheduled opening date, speculation has arisen about the need for this additional work. It's been contended in some media circles that these are reshoots.
Michael Klein, Philly.com
James -- Jim and Kristina Burke's restaurant on South Eighth Street in South Philly -- was not included on Philadelphia Magazine's list of the city's top 50 restaurants in the January issue.
So it's issued a challenge on its Facebook page:
"Philadelphia Magazine's current top 50 restaurant issue excludes JAMES. If you find this exclusion offensive - as we certainly do - come in and drop off an issue for us to recycle BACK to Philly Mag and enjoy a complimentary beer. Special starts tonight [Jan. 8] and runs through January 23rd."
Michael Klein, Philly.com
Diamond specialist Robbins 8th & Walnut ("our name is our address") has pulled out of its Jewelers Row corner shop after nearly 60 years.
Signs posted in the windows steer customers to the remaining store in Delaware.
A note on Robbins' website says the Allentown store is down, too, and blames the economy: