Archive: January, 2010
Michael Klein, Philly.com
The former Sal's and Frangelica on 12th St. (200 S. 12th St., at Chancellor Street -- see below) will become a sports bar. But, as co-owner Jeff Sotland tells me, with elevated comfort food ("not pub grub") and atmosphere that will be aimed at everyone in the neighborhood. They'll do the sports-bar theme in the basement and first floor, and turn the upper level into a lounge with low seating and cocktail tables. He hopes to open the second week of March. Sotland, brother Steve and general manager Chris Lyons also run Mikey's American Grill, a sports bar at Drexel. Name will be Tabu.
Details are scarce, but the crew from Phoenixville's La Taverna/Crazy Cactus is behind Matador, a Spanish restaurant coming to 110 N. Wayne Ave. in downtown Wayne, the former Freehouse and Mims Food + Drink.
View Larger Map
Michael Klein, Philly.com
South Philly raised sports talker Tony Bruno will add a local midday show on 97.5 the Fanatic, which also airs his syndicated nighttime show.
Starting Monday, he'll be joined by Harry Mayes from noon to 2 p.m. weekdays. He will do crosstalk with Mike Missanelli, who starts at 2.
Bruno's syndicated show, which 97.5 airs live from 10 p.m. to 1 a.m., is carried on about 275 stations. He's based in L.A. and plans to visit Philly six to eight weeks a year for remotes.
Michael Klein, Philly.com
Two restaurants are targeting Jan. 25 for opening day:
MIXX, the sports bar beneath Azie on Main, in the former Maia on Lancaster Avenue off the Blue Route in Villanova. A peek at a draft dinner menu finds such snacks as tempura calamari, buttermilk fried chicken, and fried cornbread, as well as entrees topping out at $18 (six-ounce filet; 10-ounce ribeye; veal cordon bleu). Lunch menu includes $10.50 and $15.50 platters, including filet, teriyaki-glazed BBQ shrimp, and salmon meuniere.
Maru Global Takoyaki (255 S. 10th St.), which will feature the round pancakes known as takoyaki that are a Japanese street-food staple. Details here.
Michael Klein, Philly.com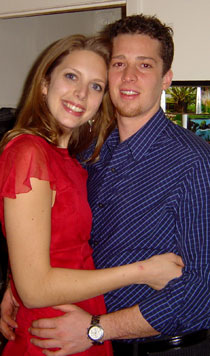 Things are really cooking in the kitchen at Fond, the nifty little BYOB on East Passyunk Avenue.
Partners Jessie Prawlucki and Lee Styer got engaged over the holidays, and Tuesday was their first day back.
The couple, both in their mid-20s, met four years ago at the Culinary Institute of America, and worked at Le Bec-Fin before opening with front-of-the-house partner Tory Keomanivong nearly five months ago.
Michael Klein, Philly.com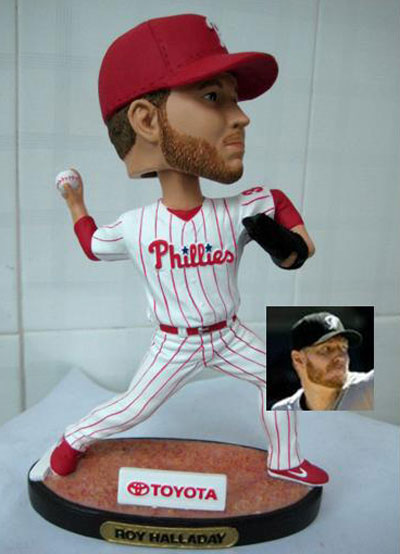 The Phillies didn't waste time in whipping up a Roy Halladay bobble.
Here it is, to be given away May 18 at a game against the Pirates.
Michael Klein, Philly.com
Effective immediately and until further notice, all donations to Philbert -- the stone pig sculpture at Reading Terminal Market -- will be turned over to the American Red Cross' Haiti fund.
Update (1/19/10): A $1,000 check, made out to the American Red Cross-Haitian Relief Fund, was dropped into the till. The total raised so far, says market manager Paul Steinke, is $1,915. Not bad, given that most Philbert donations are in coin.
Michael Klein, Philly.com

Passero's, which dispensed espresso here long before Starbucks, is back in Center City after a 3½ year absence, reopening its flagship stand at Suburban Station (which opened this week) and its spot in the Wanamaker Building (November).
After 15 years, owner Jeff Lincoln in mid-2006 sold his four shops to the Colombian Coffee Growers' Federation, which rebranded the stores under its Juan Valdez name.
In the fall, the Colombians packed their beans and went home. The landlord at the Wanamaker Building reached out to Lincoln, who had embarked on a nonfood venture (selling products to real estate agents).
Michael Klein, Philly.com
Georges Perrier and his exec chef at Le Bec-Fin, Nicholas Elmi, will venture to New York for Elmi's first experience cooking dinner at the James Beard House.
Date is Feb. 24, and it's $200 a head; jamesbeard.org
Among hors d'oeuvres: oysters and caviar, quail confit with quail gelée, yellowfin tuna and charred melon brochettes with shiso and tzatziki, savory madeleines, served with Le Berceau Blanquette de Limoux NV.