Archive: January, 2009
Michael Klein, Philly.com
Mémé, David Katz's restaurant at 22d and Spruce Streets, today got its liquor license.
Katz says he'll serve wines and bottled beer only. Beer service will start Friday with a six-brew list: Samuel Smith Nut Brown Ale, La Fin du Monde, Victory Prima Pils, Hoegaarden, Amsel Light, and Lindemans Framboise.
Corkage will be $10 starting Feb. 11, and Katz is exploring a one-night-a-week BYOB.
Michael Klein, Philly.com
The Mobil Travel Guide, which doles out four- and five-star ratings to hotels, restaurants and spas, just released its 2009 list.
The only Philly four-star hotel is the Four Seasons, as usual.
The only Philly four-star restaurants are repeats: the Fountain at the Four Seasons and Lacroix at the Rittenhouse. Striped Bass, which gave way to Butcher & Singer, was on last year's list. Brasserie Perrier, which closed New Year's Eve, got four stars on the 2006 list.
Michael Klein, Philly.com
Discouraging news from Villanova: Maia, the huge bistro-bar/marketplace/coffee bar/restaurant, has trimmed the days of operation of its main restaurant -- the more sumptuous operation upstairs (with a fire pit) -- to Thursdays through Saturdays.
It's still serve seven days in the lower-level bistro/bar.
Terence Feury, one of the founding chefs, left last year. Earlier this month, Fork restaurant announced that he'll become chef effective Feb. 1.
Michael Klein, Philly.com
Mayfair's Joanna Pacitti, 24, who's had various tastes of fame (besides the usual Philly stuff such as national anthems and Al Alberts), moved on to Hollywood on "American Idol" on Thursday night.
In 2003, she appeared on MTV's True Life as a wannabe music star. In 2006, she had a contract with Geffen Records and cut an album. As my colleague David Hiltbrand wrote in 2006: She became the poster girl for heartache a decade ago when she was orphaned by Anne. At age 11, after winning a massive talent contests sponsored by Macy's, she was installed on national television as the title character in a Broadway-bound revival of the music.
Michael Klein, Philly.com
WYSP's Danny Bonaduce talks about radio, reality TV, boxing and life with a 26-year-old girlfriend, in a profile appearing in Thursday's Magazine section of The Inquirer. His ex-wife also weighs in...
I followed him for the day last week, meeting him at 4:30 a.m. in the gym in the basement of his apartment building, where he hit a heavy bag for 45 minutes. Bonaduce went to his four-hour show (6 to 10 a.m.), took business calls in midday about a few reality series he's developing (a lucrative sideline), did a second workout in the afternoon (sparring with a guy 17 years his junior), returned to the station to host his late-afternoon talk show for Los Angeles while he chugged Muscle Milk, did a third workout, and got home by 8. He said he's been off drugs for years, and allows himself no more than three drinks a day.
Saturday night, he'll fight Jose Canseco.
Michael Klein, Philly.com
Stephen Starr will be the guest judge on the "Restaurant Wars" episode of Bravo's hit show, Top Chef (10 p.m., Wednesday, January 21).
Starr said he couldn't talk about the episode. See a clip here.
"It was very interesting" was about all I could get out of him, though he said he asked producers for a Top Chef: Philadelphia.
Michael Klein, Philly.com
Adult urban-contemporary station WRNB (107.9), whose sound had been remarkably similar to that of WDAS (105.3), reformatted today to aim at a younger audience. Old school is out.
"We want to become the hipper adult [R&B] station," operations manager Elroy Smith told me. "We want a lane to ourselves."
"The new sound of 107.9 WRNB, R&B of the 90's and Today," as it's known, will feature Boyz II Men, Jodeci, Babyface, Maxwell, Mary J Blige, and Mint Condition.
Michael Klein, Philly.com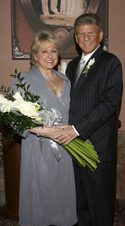 Bobby Rydell got married Saturday night to Linda Hoffman -- but it's not the Linda Hoffman who's the president of the Bobby Rydell fan club, as I erroneously blogged Tuesday night.
Yes. There are two Linda Hoffmans. They know each other. For a while when they lived in Montgomery County, they had the same dentist, family doctor, hair dresser and jeweler.
The Linda Hoffman who is the new Mrs. Rydell, 55, is a cardiac sonographer who met him in October 2007, said the "other" Linda Hoffman, who's the president of his fan club. Linda Ferrino Hoffman, the fan club president (who's known as Linda #1), has been married for 38 years to Jake Hoffman and lives in Margate.