Archive: January, 2009
Michael Klein, Philly.com
Keep reminding yourself that the Phillies and not the Mets are sporting World Series rings. But Mr. Met nudged out the Phillie Phanatic for the top of Forbes.com's annual list of sports mascots, released the other day.
Voting was close, says Chris Anderson of the Marketing Arm, which polled 1,000 respondents from its base in, hmm, Dallas. Anderson says 68 percent rated Mr. Met as "one of my favorites" or "very likable," while the Phanatic drew 62 percent.
This year, Forbes added college mascots, and third place went to Hairy Dawg of the University of Georgia, followed by the Boston Red Sox's Wally the Green Monster and Benny of the Chicago Bulls.
Michael Klein, Philly.com
Slate, the gastropub that I wrote about in yesterday's Table Talk, will open Wednesday -- not tonight (1/30).
Owner Laurentiu Muras says he had some family issues.
Michael Klein, Philly.com
A news organization's main mission should be to serve the needs of its readers.
And if the readers' needs include photos of Scottish-born actor Gerard Butler ...
Inquirer photographer April Saul took these shots at a Jan. 23 City Hall ceremony at which Mayor Nutter gave Liberty Bells to "Law Abiding Citizen" director F. Gary Gray and stars Jamie Foxx and Butler.
Michael Klein, Philly.com
The Last Airbender, the new M. Night Shyamalan movie, has quite a list of requirements as it searches for extras:
CRAFTSMEN, ARTISTS, DANCERS, PUPPETIERS,
GYMNASTS, ATHLETES, SOLDIERS & GRANDPARENTS
Basket weaving, Candle making, Painting, Ceramics, Needle Point,
Whittling, Silk Screening, Jewelry making, Cooking & Fishing……
Searching for…..
Physically fit MEN & WOMEN 18-85 yr. Old - Boys & Girls 6-16 yr. Old.
NEAR EASTERN, MIDDLE EASTERN, FAR EASTERN,
ASIAN, MEDITERRANEAN & LATINO Ethnic groups….
Oh, and if you have martial arts and/or military training, it's a plus.
Michael Klein, Philly.com
After months and months of designs and hammering and concrete pouring and general overall futzing, two significant Philly restaurants are preparing to open a day apart.
Oh, and they're next door to each other, too.
The eateries in question are Union Trust at 717 Chestnut St. and Chifa at 707 Chestnut St. -- separated by a parking lot.
Michael Klein, Philly.com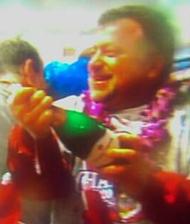 Mike "Lionel" Rodia's great talent is getting into places where he shouldn't be -- such as in the Phillies' clubhouse after they won the Series, where he kissed Jamie Moyer on the cheek, head-butted Matt Stairs and poured a bottle of champagne over the head of Ryan Howard.
On ESPN.com today (and in the magazine out tomorrow), Rick Reilly tells the previously untold tale of this guy from Delaware County, who had managed to get into World Series Game 5 for free and slipped onto the field behind Bud Selig.
Rodia tells me about his first big "sneak-in." I'll have that in tomorrow's INQlings column.
Michael Klein, Philly.com
I always thought we rowhouse dwellers had an element of toughness:
Philadelphia RowHome magazine, which targets South Philly, has postponed tonight's ribbon-cutting of its production facility because of a couple inches of snow and a little freezing rain.
In fairness, the facility is in New Jersey.
Michael Klein, Philly.com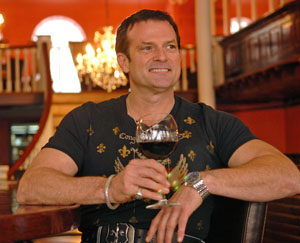 John Mims has been run out of town, you might say.
The chef-restaurateur, who earlier this month put the "Mims Food + Drink" name on the old Freehouse at 110 N. Wayne Ave. in Wayne, was booted from the operation by a judge. He's also been barred from working in much of the Main Line until July 1, 2011, under the ruling signed yesterday by Judge Harold Thomson and received today.
The order stems from a lawsuit filed by Mims' former financial partner, Howard Taylor, who says that Mims violated a clause in his contract prohibiting him from working for, consulting for or owning a restaurant or "competing business" within 10 miles of 808 W. Lancaster Ave. in Bryn Mawr -- the site of Carmine's Creole Cafe.