Stephen Starr
Michael Klein, Philly.com
This one's far off and way under the radar, but I'll throw it out there: South Philly-bred chef Joey Campanaro -- who owns the little owl, Market Table, and Kenmare in New York -- is taking over the former Frederick's on Front Street in Queen Village (Google Mapped below). Among the partners listed on papers filed with the Pennsylvania Liquor Control Board -- in the corporate name "The Village Belle" -- is brother Louis, a Culinary Institute of America grad and the long-ago chef at the late Olive in Cherry Hill. (Paul Sevigny, Chloe's older bro, is one of Joey Campanaro's partners in Kenmare.) Name and concept are undefined, but it's safe to say that the overdreckorated interior of Frederick's will be scooped out.
Stephen Starr is taking over the Broad Street Diner at Broad and Ellsworth Streets -- for real this time, as he backed out of a deal previously. (The news was first reported by Philadelphia Magazine.) Starr told me that he's kicking around either "gastro-diner" or Vietnamese for the concept. Because ... apparently there's no Vietnamese cuisine in that part of South Philly. Starr is also planning an English pub at 18th and Sansom Streets. Starr would provide no names or opening dates for either project.
Trattoria San Nicola's Berwyn location lost its lease. The Paoli location remains.
View Larger Map
Michael Klein, Philly.com
Stephen Starr's Pizzeria Stella (Second and Lombard Streets) is getting a bar next door, in the former pilates studio on the Second Street side.
It opens Friday (5/7) and workers are in those furious final hours. Hence, the photo of the floor, a retro-looking marmoleum, because the rest of the joint was unphotographable.
You can get in through the front door (open facade, like Parc) or head through a passage from Stella. The 12-seat wooden bar, recovered from a VFW post in upstate New York, and the painted bricks give the bar an oldtime tap vibe.
Michael Klein, Philly.com
Sunday (4/25) is the opening date for El Rey, Stephen Starr's casual Mexican diner at 2013 Chestnut St.
Construction is just about finished on the dining room, but the back bar -- the Ranstead Room, with its -- is a work in progress. New York mixologist Sasha Petraske has devised a 1940s-'50s cocktail menu for the bar, which will have a private entrance on Ranstead Street.
More details here.
Get the flash player here: http://www.adobe.com/flashplayer
Michael Klein, Philly.com
Stephen Starr is partnering with his culinary director, Chris Painter, for a food-driven restaurant at Third and Bainbridge Streets in Queen Village, previously Ansill and Judy's Cafe.
The name: Il Pittore. (Go to your translator.)
Painter says it will be Italian "from Tuscany north," with a small, focused dinner menu and comfortable surroundings. Not over the top," he said, citing the menu at NYC's Locanda Verde as a loose example. Pastas will be made in-house.
View Larger Map
Michael Klein, Philly.com
El Rey -- Stephen Starr's Mexican diner on the site of an old Greek diner at 2013 Chestnut St. -- is still on target for its April 25* opening.
It's a work in progress.
Designer Shawn Hausman maintained much of the "bones" of the former Midtown IV Diner. He's stripped out the middle row of banquettes in the front dining room in favor of tables. The smoked-glass mirrored wall will be covered in posters.
Michael Klein, Philly.com
Stephen Starr's Mexican restaurant at 2013 Chestnut St. (see previous here) now has a name:
El Rey.
And a concept: Home-style cuisine from Puebla to Veracruz from chef Dionico Jimenez, formerly of Xochitl, in what Starr told me will be a gritty-looking roadside bar setting. (The Midtown IV, the previous occupant, could have fit that bill.)
Michael Klein, Philly.com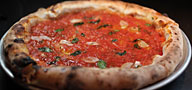 Confirming details from last October: Pending city approval, Stephen Starr's Pizzeria Stella at Second and Lombard Streets will indeed expand next door, into the former Equilibrium Pilates studio.
Starr says the adjoining space, opening in the summer, will allow 30 additional seats and have a bar serving wine and beer.
A March 3 zoning hearing has been scheduled for the matter.
Michael Klein, Philly.com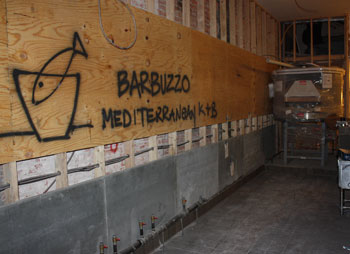 A few updates on restaurant projects hither and yon.
Barbuzzo, the Mediterranean bar from Lolita/Bindi's Valerie Safran and Marcie Turney at 110 S. 13th St. (next door to the new Zavino), should be open in late March. Construction is due to wrap by the end of this month, Safran says. Menu will be a mix of apps and larger plates, and there will be a woodburning oven for four different pizzas. There is a long open kitchen where customers can sit and watch the kitchen in addition to a bar in the front. Turney will be chef with George Sabatino of Bindi. Manager will be Terence Lewis, a former manager/wine guy at Fork, who's been at Lolita.
Falafel Factory, 32 S. 18th St., is good to go on Tuesday (Feb. 9).