Openings
Michael Klein, Philly.com
When One Shot Coffee moves from Liberties Walk to a much larger building nearby in Northern Liberties, owner Melissa Baruno will get help in the kitchen, in the form of Michael Thomas.
Thomas just left the chef's post at Kraftwork in Fishtown; he'd previously worked across from One Shot at Bar Ferdinand. (Chef Brian Lofink is shuttling back and forth from sister operation Sidecar to run Kraftwork's kitchen.)
Thomas, who will oversee a breakfast/brunch operation at One Shot, says he needed a change in lifestyle, as he and his wife have a 4-month-old daughter and he wants to spend evenings at home.
View Larger Map
Michael Klein, Philly.com
Tired of burger shops?
How about meatballs.
Marabella Meatball Company, a mostly quick-serve operation, is planned for 1211 Walnut St., next to the Citibank branch (to the left, as you're looking at the bank).
View Larger Map
Michael Klein, Philly.com
PJ Whelihans is going into the former Primavera Pizza Kitchen in Downingtown, aiming at a late fall opening. This will be the 13th restaurant under the PJW Restaurant Group and the ninth under the PJ Whelihans label.

From all the attention that's being paid to the renovations at Doc Watson's, the landmark on 11th Street near Jefferson, it's time to address a big piece: The name. It will be called Blue Bear Tavern when it opens at the end of the year.

The deal that would have moved the Sea Isle City landmark Busch's has fallen through, per a story in the A.C. Press. Busch's was a topic of Craig LaBan's Shore restaurant roundup last month.
Michael Klein, Philly.com
Jon Myerow is saying "the end of August" for the opening of Biba in the Left Bank in University City (3131 Walnut St., 215-222-2422), which he is positioning as Tria's "fun little cousin."
That is, a chic wine/beer bar serving light fare, including cheese, charcuterie, and chocolate -- 26 wines by the glass and 10 beers -- with 32 communal seats inside and 12 on the patio. No Wi-Fi, televisions, live music, or karaoke.

Philly's Brett Webber Architects is going for a farmhouse-industrial atmosphere, highlighted by redwood millwork created from a century-old water tower.
Hours will be noon to midnight Sundays through Thursdays, till 1 a.m. Fridays and Saturdays.
Michael Klein, Philly.com
Nothing like a few restaurant openings to make life in July a bit more interesting.
Days old, and opening for lunch Monday (7/12), is the rustic Timber Wood-Fired Grill, across from Abington Memorial Hospital in the former Inn Flight/WingWalker (1301 Old York Rd., Abington, 215-884-7932). Here's the menu.
Wednesday (7/14) marks the debut of Radice, the Italian farmhouse concept in Blue Bell from the operators of Moonstruck in Fox Chase. (Read more here.) This slice of Central Montco has been in flux of late, with the closings of the short-lived Domenico's and Alison two.
Michael Klein, Philly.com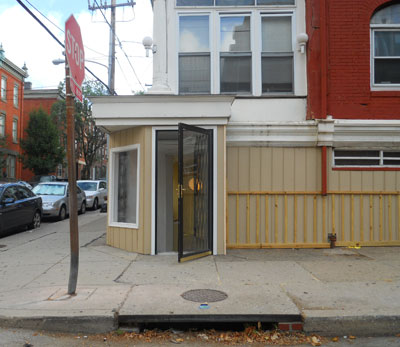 In this post, I'm going to think small, with regard to new restaurants.
Dasiwa is under construction in the old corner store at 26th and Aspen Streets -- a scone's throw from the back of the Art Museum's Perelman Building in Fairmount. It'll be a morning coffeeshop/pastry cafe that will segue into sushi service from 11 a.m. on. Owner Tom Kim, who owns Trust Deli up the block at 26th and Brown Streets, translates Dasiwa as "come again" or "come back." And here's a bit of trivia for you Independence Mall-ers: Kim and his brother owned Benny's Place, the coffeeshop in the Lafayette Building at Fifth and Chestnut, for many years. (Update: Sushi service begins Monday, July 19 at 11 a.m. Coffee starts later in the week.)

Grant Brown (ex-Blue Horse in Blue Bell, ex-Meritage in Graduate Hospital) has surfaced in the bosky burb of Cedars (near Skippack in Central Montco) in the tiny space that housed such spots as Alison at Cedars, Cafe at Cedars, and Restaurant Rosalie. It's called 19 Bella (610-222-8119), and the 20-seater (plus 22 outside) does a Mediterranean menu with tapas-sized plates, BYOB, open for lunch, weekend brunch, and dinner.

Break out the Union Jacks. The family from the British-theme gift shop English Gardener in Haddonfield has ventured across the street with a fish-and-chips shoppe cleverly called the British Chip Shop (146 Kings Highway East; 856-354-0204). It's open morning till after dinnertime. Menu is here.
Michael Klein, Philly.com
Chef Matt Levin and entrepreneur Kar Vivekananthan just took the paper off the windows of their bistro, Adsum (700 S. Fifth St., 267-888-7002), which opens 4 p.m. Wednesday, July 14.
Levin calls it a refined neighborhood bistro serving a menu of progressive cuisine.
Michael Klein, Philly.com
Honey's Sit 'N Eat, the most popular breakfast/brunch spot in Northern Liberties (and darn good for dinner), just signed for a second location.
It's the northwest corner of 21st and South Streets, in a building formerly occupied by Graduate Hospital, according to Veronica Blum, who with her Mallin Panchelli Nadel Realty partner Steven Clofine handled the deal.
"It feels like a good spot. We've been looking for a while," says Honey's femme side Ellen Mogell, who with partner Jeb Woody have no timetable yet.
View Larger Map