Michael Klein, Philly.com
Tommy Up and Sarah Brown of PYT and Emmanuelle have launched the Yachtsman (1444 Frankford Ave., 267-251-3234), a retro tiki bar in Fishtown.
Chris Thomas and Greg Charnock, who designed Pizza Brain, have enlisted artists including Pedro Ospina (who fashioned a Moai-like head out of the plastic bed of a truck) and Nick Bader. They based the place's look on a fictional yachtsman.
"It's a tiki interpretation of Pee-wee's Playhouse," Thomas said. The bar is made of thatched grass and reclaimed wood.
Michael Klein, Philly.com
Nick Sanfratello has done a little of this and a little of that. He was an early adopter of vegan cuisine with World Cafe on Fourth Street near South a quarter-century ago.
His next stops were in what we now know as Southwest Center City, where he operated clubs/bars Café Limbo and the Bongo Room.
More recently, he opened Nick's Vegan Cafe in a Strawberry Mansion building he bought in 2006, across from Fairmount Park and next to the John Coltrane House.
Michael Klein, Philly.com
Reading Terminal Market is getting a burger stand, which will fill the prime space on Center Court formerly occupied by Tokyo Sushi Bar, across from The Original Turkey.
Tokyo - the market's sole Japanese-theme tenant - left at the end of May after its lease was not renewed due to what market general manager Paul Steinke called several factors, including quality control and customer complaints.
The burger stand, whose name has not been set*, will be run by George and Kim Mickel, who for 24 years have owned the Italian stand By George! on the Filbert Street side near Iovine's produce. More recently, they opened Mezze, the popular Mediterranean stand
Michael Klein, Philly.com
Bon Appetit sent Andrew Knowlton on a cross-country trip to identify the best new restaurants in America.
Two Philadelphia yearlings have made the list, out today:
High Street on Market, where head baker Alex Bois' bread program gets the praise - as it fits beautifully within chef Eli Kulp's three-meals-a-day concept.
Serpico, where New York emigre Peter Serpico "manages to marry sophisticated techniques with a dorm-room stoner's idea of flat-out deliciousness."
BA will announce the "hot 10" on Aug. 19. They will be showcased in September's print edition.
Michael Klein, Philly.com
For the first time in its 84-year history, Pat's King of Steaks is erecting a sign at the point of its property facing Ninth Street and Passyunk Avenue in South Philly.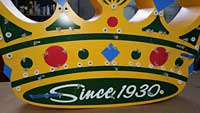 When the none-too-subtle sign goes up Thursday, it will face the famous intersection - creating a neon standoff with competitor Geno's Steaks, whose facade glows like an orange sun across the way.
The jeweled crown on the new sign is a smaller likeness of the crown that used to hang at a former Pat's location at 33rd Street and Ridge Avenue. (That crown, shown above, now hangs at Jack's Firehouse in Fairmount.)
Michael Klein, Philly.com
The impending closing of Atlantic City's Revel casino will throw more than 3,000 people out of jobs.
The move also will have an impact on the outside restaurateurs at Revel - the largest of which is the Garces Group, which employs more than 230 people at Jose Garces' splashy, 11,000-square-foot Amada, his adjacent Yuboka noodle shop, and at Village Whiskey and Distrito Cantina.
The restaurants opened in spring 2012.
Michael Klein, Philly.com
One of the more exciting projects expected to open in the early fall is La Colombe's new HQ at 1335-1349 Frankford Ave. in Fishtown, up the block from Frankford Hall and Fette Sau.

As they mark their 20th anniversary, JP Iberti and Todd Carmichael are converting three warehouses into a roasting facility, a coffee lab, cafe, a bakery, a distillery for its proprietary rum, and offices.

It'll also be home to a Steve (ESPO) Powers mural.
Michael Klein, Philly.com
The bagel scene on both sides of Center City is going to get a hole lot better.
I call your attention to Knead Bagels - a newcomer now under construction at 725 Walnut St. - and Chestnut Street Philly Bagels - a veteran whose lease signing is said to be imminent at 1705 Chestnut St.
Knead will fill the Washington Square storefront previously occupied by Philly's Cafe and Tuscany Cafe in late September.