Michael Klein, Philly.com
There's not much to see so far from the outside, but the new Tria on Fitler Square (2227 Pine St., where Dmitri's was) is said to be only a few weeks away, e.g. "early April."

For their fourth location, Jon Myerow and Michael McCaulley have added a kitchen, which will be led by executive chef Karen Nicolas, who was named one of Food & Wine magazine's Best New Chefs 2012 while at Equinox in D.C. She oversees all four Trias.

Tria's wine, beer, small-plate offerings, cheeses and sandwiches will be augmented by a larger and more dinner-focused menu featuring seafood and pasta dishes.
Michael Klein, Philly.com
Jim Nasuti and John Marsella own 82 Taco Bells, KFCs and Burger Kings in the region. They've each been at the fast-food game for more than 30 years, partners for 25 of them.
That's a lot of fast-food Mexican, burgers, and chicken - done fast.
How about a quick-serve concept of South Philadelphia-style street food, such as cheesesteaks, roast pork, and pasta?
Michael Klein, Philly.com
Fourth and South Streets, 2:53 a.m. Sunday, March 15.
A gaggle of guys - apparently looking for a post-bar sandwich at Jim's Steaks - discover that it's closed. The shop had run out of rolls.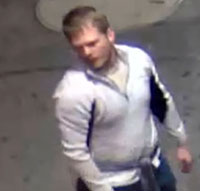 After a bit of what appears to be gentle pounding on the windows on the South Street side, one hurled himself, shoulder-first, into the window, shattering it and the adjacent pane. He then ran away.
Michael Klein, Philly.com
Morgan's Pier, the seasonal beer garden beside the Ben Franklin Bridge, will have the chef's services of Nicholas Elmi this summer.
Elmi, winner of Top Chef's season 11 and chef/owner of the East Passyunk Avenue restaurant Laurel, will be in the barrel in time for the April 30 opening. For each of its four seasons, Morgan's Pier have signed on a name-brand chef to interpret its "backyard barbecue" menu.
Talk about a change-of-pace: Laurel, which seats 22 people, versus Morgan's Pier, where 500 will gather at a time. "I assume it's going be a little different," Elmi told me, chuckling.
Michael Klein, Philly.com
Bond trader-turned-farmer Dean Carlson has enlisted the services of chef Andrew Wood of the Rittenhouse BYOB Russet for a seasonal restaurant at Carlson's sustainable farm in Honey Brook, about 45 minutes from Center City.
The Restaurant at Wyebrook Farm (150 Wyebrook Road, Honey Brook, 610-942-7481), which will be open from March until December, debuts at 11 a.m. March 25, serving lunch and dinner Wednesday through Saturday and brunch and dinner on Sundays. Carlson had been hosting pop-up meals featuring the 355-acre farm's grass-fed beef, heritage breed pork and free pastured chicken.
You can dine inside the restored barn or in a newly expanded outdoor courtyard.
Michael Klein, Philly.com
Buoyed by its wildly successful first year and a half, High Street on Market - the casual sibling of Fork in Old City - plans to open a second location in Lower Manhattan.
Ellen Yin and chef Eli Kulp say they have signed a deal at the corner of Hudson and Horatio Streets in the West Village and expect to open in the late summer or early fall.
The High Street concept - ingredient-driven American foods and stellar baked goods served from breakfast through dinner in a cozy cafe setting - will remain. This location is a third larger than the original at 308 Market St.
Michael Klein, Philly.com
One of the most entertaining and enlightening food reality shows out there is CNBC's Restaurant Startup, whose season finale is Tuesday, March 17 at 10 p.m.
It's not a cooking show. Befitting its home on CNBC, it's business.
In a Shark Tank-y approach, eager entrepreneurs go before restaurateurs Joe Bastianich and Tim Love, who put their own money only on what they believe are viable business ideas.
Michael Klein, Philly.com
Nothing should be easy.
That's the guiding principle of the national Rube Goldberg Machine Contest, which honors the celebrated cartoonist every year by attracting teams of people to create outlandish but functional solutions to everyday issues.
This year's Rube Goldberg challenge was erasing a blackboard.