Archive: August, 2012
Michael Klein, Philly.com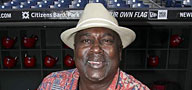 Around baseball, Gary "Sarge" Matthews is known as a great cook.
At noon Tuesday, Aug. 28, the Phillies broadcaster and former Phils outfielder will be behind the stove and not a microphone.
He'll do a cooking demo - his signature shrimp and king crab chowder - at the spiffy new La Cucina demo kitchen at Reading Terminal Market.
Michael Klein, Philly.com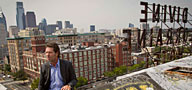 This one is speculative and tentative, so put down your fork:
Iron Chef Jose Garces is being wooed to open a restaurant in the Divine Lorraine Hotel at Broad Street and Fairmount Avenue, which developer Eric Blumenfeld is trying to take over and refurbish. Blumenfeld told The Inquirer's Jennifer Lin that he has entered talks with Garces. (See Jennifer's Sunday story about the project.)
I tracked down Garces in France, and he said he was interested in touring the space. "Talks" ... "interested" do not, of course, mean a deal.
Michael Klein, Philly.com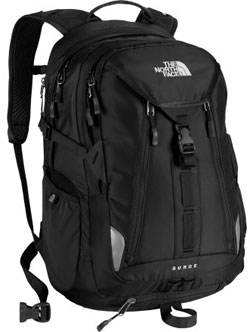 You restaurateurs (and law-abiding citizens) will appreciate this story from Old City:
A patron at Bierstube - Mike Naessens' bar at 206 Market St. - kept ducking out to catch smokes. In between, he bought drinks for people around him and ran up a $90 tab eating and drinking.
Naessens says the bartender foolishly did not ask for a credit card because the guy kept leaving his backpack. Sure enough, the guy never returned from his last smoke break.
Michael Klein, Philly.com

Chef Jennifer Zavala has joined the kitchen crew at Grainery Restaurant Group (aka The Farmers' Cabinet).
Other than saying she will collaborate with executive chef Chris Allen, company reps declined to outline her duties.
Zavala, who appeared on Season 6 of Bravo's Top Chef (forever known as Jen Carroll's first season), most recently was chef at Fishtown's Interstate Draft House after stints at Xochitl and El Camino Real.
Michael Klein, Philly.com
Charles Giunta Sr., father of two longtime Reading Terminal Market merchants and a fixture known as Mr. G., died unexpectedly Wednesday night at age 87.
Mr. Giunta, a longtime meat cutter, was the father of Martin, of Martin's Quality Meats & Sausages, and Charles Jr. of Giunta's Prime Shop. He was at the market earlier in the week.
Viewing will be Sunday, Aug. 26 from 6-9 p.m. and Monday, Aug. 27 from 8- 9:30 a.m. at Pennsylvania Burial Co., 1327 S. Broad St. (at Reed Street). Mass will be celebrated at 10 a.m. Monday at Annunciation BVM Church, 10th and Dickinson Streets.
Michael Klein, Philly.com
Thirteen hundred spirited folks showed up at Logan Circle Thursday night for Philadelphia's first outing of Dîner en Blanc, which you might regard as a combination flash mob and pop-up picnic, intended to provide a midsummer night's communal experience.
Everyone wears white and totes his/her own tables, chairs, and food to the gathering spot. About 6:30 p.m., people were escorted to Logan Circle for the evening.
A fun-loving Parisian launched the first Dîner en Blanc in 1988 with just a handful of friends, and it's been held in a dozen cities around the world.
Michael Klein, Philly.com
For the better part of the year, as Victor Fellus and John Frankowski plotted out their Italian-Mediterranean bistro in the Aria at 15th and Locust Streets, the name was hanging out there.
Titra or Tietra?
Signs called it "Tietra," while Fellus insisted that was a typo - that the place was named after an Israeli footballer named Titra.
Michael Klein, Philly.com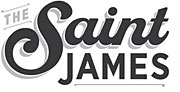 Rob Wasserman (Rouge, 500 Degrees) and chef Michael Schulson (Sampan, Izakaya) are gearing up for their year-in-the-making bistro in Ardmore's Suburban Square, The Saint James (30 Parking Plaza, 610-649-6200).
The guys, shooting for late September, say they're offering a solution to those Main Liners who complain that the hood lacks a refined, welcoming American restaurant that doesn't charge an arm and a leg.
Rustic-meets-modern design, designed by Chris Sheffield of SLDesign. features a main dining room and bar, fronted by floor-to-ceiling windows and separated by a skylit foyer. The dining room's leather booths will wrap around the entire space and enclose wooden tables and chairs in the center. Patio will seat 50 outside.