Archive: June, 2012
Michael Klein, Philly.com
After the Bella Vista bar/restaurant Vesuvio erupted a couple of years ago, it gave way briefly to a joint called Little Bar.
Next up and signed yesterday: Former Dandelion food-and-beverage Jay Willard and Time/Bar/Vintage owner Jason Evenchik are partnering in a cozy neighborhood pub called Growlers (736 S. Eighth St., at Fitzwater). They met when Willard was managing El Vez next to Vintage.
Six drafts now, but Willard wants to increase that. TVs will remain in the main bar. No live music, no DJs. They will take advantage of the woodburning fireplace. Opening is projected for August.
Michael Klein, Philly.com
End of July is the target for Magpie Artisan Pie Bakery & Boutique, a vintage/modern 20-seater (plus 8 at the counter) at 1622 South St.
Former Philly ad exec/graphic designer Holly Ricciardi's menu will include sweet pies (such as sour cherry almond streusel; salted chocolate meringue; orange blossom peach raspberry) as well as savory pies (such as croque monsieur; spinach dill feta; ham potato leek; and chicken tarragon).
Her mom is the inspiration for Pie Fries — french-fry-size pie-crust strips served with fruit sauces for dipping ($3 per order). They're not fries, per se; they are baked pie crust strips.
Michael Klein, Philly.com
Terence Feury's 3½-year run at Fork in Old City is coming to a close.
He'll leave at the end of July to become chef-partner at Tavro 13, a top-to-bottom renovation of the South Jersey landmark Old Swedes Inn in Swedesboro, he and Fork owner Ellen Yin confirm.
Yin is searching for a new executive chef for the bistro, marking its 15th anniversary. In the interim, Luke Eschbach - a sous chef whose resume includes a chef de cuisine at Zahav - will run Fork's kitchen.

Michael Klein, Philly.com
The food-forward among us enjoy discovering out-of-the-way spots, which invariably become overrun after word gets out and subsequently lose their cool.
Cafe Soho at Fifth and Cheltenham in East Oak Lane - which got a big hit in Food + Wine last year when Zahav/Percy Street/Federal Donuts chef/owner Michael Solomonov touted its Korean fried chicken - decided to meet the flocks of curiosity-seekers on their home turf.
Korean fried chicken has come to the burbs.
Michael Klein, Philly.com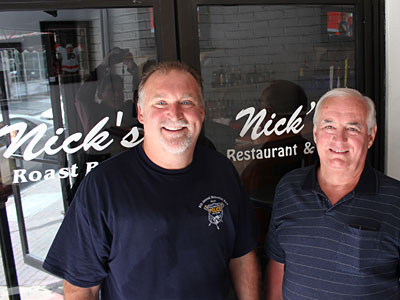 John Gonnella and Jack Calhoun, who've owned the Nick's Roast Beef location at 15 S. Second St. in Old City for a quarter-century, just turned over the keys to bartender "Joey Dog" Schultice, an 18-year veteran. (The takeover was mentioned here.)
The bar remains in the hands of a North Catholic High alum, as all three are quick to point out.
Schultice, 48, spent a week tearing up the joint, replacing the bar, fixing the floor, and doing a heavy scrubbing.
Michael Klein, Philly.com
Tashan, the high-style modern Indian destination, has been bravely holding down the fort after dark at Broad and Catharine Streets.
Synergy is a good thing. It will get company this fall right next door at 777 S. Broad St. in the form of a yet-to-be-named Asian fusion restaurant from Kelvin Lee Sin, owner of Buddha in Kansas City, Mo.
The 4,100 square footer, with dining room and bar seating for about 75 people (plus about 20 outside in season), will offer sushi, Thai, and Chinese cuisine with an upbeat vibe and moderate prices.
Michael Klein, Philly.com
Time to catch up on some restaurant openings:
The region's second Joe's Crab Shack opened this week at 555 City Ave., where the Houlihan's was.
The return of Fish (1234 Locust St.) is Friday, June 15, at dinner as a small-plater. Here is the menu (.DOC).
Michael Klein, Philly.com
The Manayunk barbecue joint Rubb - which has been in the planning stages for at least three years - will finally see the light of day.
Construction is underway at 4311 Main St., formerly Bucks County Coffee and Meze Cafe. It is a block south of a previously considered location when chef Matt Levin (now at Square Peg) was part of the project.
Co-owner Richie Rivera of Belvedere Restaurant Group, who told me he expects to open in late July as a BYOB, says the cue will not be specific to one region. Rubb now exists as a well-regarded mobile smoker.