Archive: March, 2012
Michael Klein, Philly.com
Nan Zhou Hand Drawn Noodle House, one of the tastiest bargains in all of Chinatown, has relocated a block and a half from its former dumpy walk-up.
It's now at 1022 Race St. The former Pho 75 has been transformed into a mod spot with a neon-ringed ceiling.
Same menu.
Michael Klein, Philly.com
Perhaps you did, in fact, dine at the steakhouse inside Christine's Cabaret by the Auto Mall on Passyunk Avenue.
If you did, you'd know that the strip club's showroom was visible from the dining room through one-way mirrors. (And if you happened to visit the dancers' dressing room, as I did while writing my former entertainment column, you'd know there was a tanning booth. But I digress.)
Christine's poles are now silent. The club closed last week after three years.
Michael Klein, Philly.com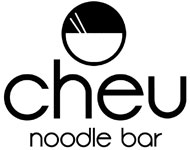 Last month's outcry from Asian activists has led entrepreneurs Shawn Darragh and Matyson chef Ben Puchowitz to drop the name "Roundeye Noodle Bar" from their business plan.
They're now scouting a location for Cheu Noodle Bar. "Meaning behind Cheu: Very simple," they said in an e-mail blast. "Chewy is the style of noodles Ben and I like. Not hard, not mushy.. just Chewy."
Meanwhile, they've scheduled a third "pop-up" of their concept, April 1 at Matyson restaurant.
Michael Klein, Philly.com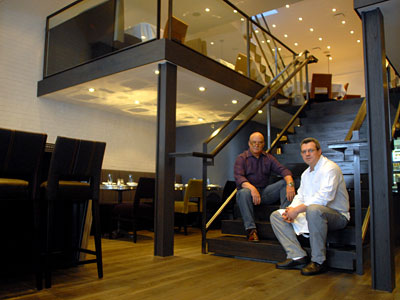 Tweed, a bistro in the old TPDS space at 114 S. 12th St., went belly-up in June 2011.
Ugly situation. Shut down cold. Furnishings ripped out.
Building owner Howard Taylor says he has a new tenant, Brian Harrington, part of the group that owns City Tap House, Public House, Mission Grill, and Field House, to do an upscale bistro.

Michael Klein, Philly.com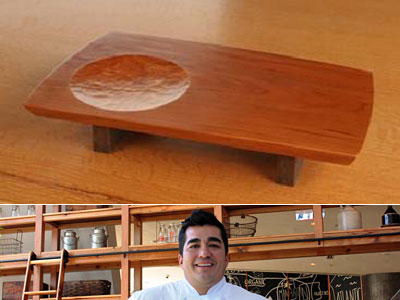 Here's your chance to get Jose Garces in your kitchen. Well, not the Iron Chef himself, but a piece of his very memorable and public culinary success story.
Garces is donating the serving tray that was originally crafted for his restaurant Chifa by artist John Luttmann - the one he used to serve the judges suckling pig head tacos on Iron Chef America when he whupped a previously undefeated Bobby Flay.
It's made of Pennsylvania Black Cherry wood and has a small riser at the base to lift this piece a few inches.
Michael Klein, Philly.com
This one is way, way under the radar:
The Pomerantz building, which juts to the sky on the otherwise low-slung 1500 block of Chestnut Street, is being positioned as a boutique hotel with a bi-level restaurant on the top floors.
Corporate records connected to a liquor license recently posted on the long-closed building at 1525 Chestnut St. identify the principals as Diaa Sawan and his family. The building's owner is a corporation at the Sawan home.
Michael Klein, Philly.com
Construction sites usually are drab affairs.
Not the Shake Shack coming to the corner of 20th and Sansom Street this summer.
The New York-based burger joint enlisted Mario Gentile and Philly's Shift_Design to design and build a living garden to make the plywood less like ... like plywood.
Michael Klein, Philly.com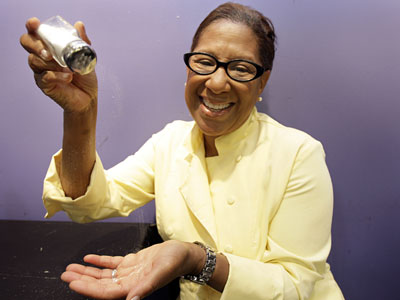 The Delilah's locations in Reading Terminal Market and 30th Street Station are closed, and it's not entirely clear why - other than it appears to be related to the soul fooder's bankruptcy filings in New Jersey.
The Reading Terminal stand, on the prime aisle facing 12th Street since 1985, was the site of a Bobby Flay mac-and-cheese "Throwdown." Though Flay won, that didn't matter. Oprah Winfrey in 2003 raved about Winder's mac and cheese, sending her business soaring.
Reading Terminal Market manager Paul Steinke called Winder "one of the icons of the market. When you talk about merchants who have brought positive attention to the market, Delilah is right up there. We're pulling for her to make the most of a negative situation."