Archive: December, 2012
Michael Klein, Philly.com
OCF Coffee House's third location - where Mugshots was, at 2100 Fairmount Ave. - will open Jan. 1.
The space is four times the size of OCF's two locations (18th and South and 20th and Federal), and the menu is far more ambitious - real breakfast/brunch/lunch. Bloody Mary and mimosa mixes will be available for BYOB.

Brunch and lunch will be served from opening to 4 p.m. Sunday-Thursday, open to 7 p.m. Friday and Saturday.
Michael Klein, Philly.com
The Philly restaurant forecast for 2013 is for respectable growth in the scene. Big projects are few. It's as if the economic slowdown that began several years ago is finally catching up.
The first opening of 2013 most likely will be the third branch of OCF Coffee House, coming to 2100 Fairmount Ave., where Mugshots was. It opens New Year's Day.
Next up, on Jan. 2, will be Gennaro's Tomato Pie (1429 Jackson St., 215-463-5070), the South Philly cousin of Lombardi's.
Michael Klein, Philly.com
BBQ and pizza, ramen and pubs, high-end and low-end. Chains and out-of-towners.
The year that Georges Perrier made good on his threat to close Le Bec-Fin and the year that DiNic's roast pork sandwich was named the best sandwich in America. It also was the year that the feds nailed the top guns at Nifty Fifty's for skimming taxes.
Just another year in the Philly-area dining scene.
Michael Klein, Philly.com
Jeb Woody and Ellen Mogell went the kitschy route (as in old kitchens) to furnish their homey Honey's Sit N Eat, now a landmark diner/bruncherie in Northern Liberties.
Eight years later, for their second location, at 21st and South Streets, their design is more - shall we say - nuts and bolts. The couple bought some of the fixtures and inventory from the long-gone Schwemer's Hardware on Girard Avenue near Sixth Street, which enjoyed a run of a century or so from its founding in 1875.
"It's a treasure trove and a sociological study," Woody says. They've come across the store's catalogs as well as the same merchandise offered within - some of it unused. (A 1947 oven, pristine, will be a servers' station.) Since many of the items were made in Philadelphia - as you can see from the addresses included in the old catalogs - this collection carries historic importance. Old paint signs hang over the dining room.
Michael Klein, Philly.com
Why Pat Croce is feeling great today - playing off the title of one of the Philly entrepreneur's self-help books:
He has bought his fifth and sixth bars in his adopted town of Key West, Fla.
Croce, who in a former life ran the 76ers, founded Rum Barrel in 2006, shortly after opening Pirate Soul - the pirate museum. (He later moved Pirate Soul to St. Augustine, Fla.) Then came Island Dogs, Green Parrot, and Charlie Mac's.
Michael Klein, Philly.com
Krispy Kreme is preparing to envelop the city.
You have your locations in Fox Chase, Center City, Bensalem, and Collingswood (plus casinos).
Now hear this: In April, a KK will hit the western suburbs, opening in Manoa Shopping Center on West Chester Pike in Havertown.
Michael Klein, Philly.com
Downtown Collingswood, that restaurant-rich collection of diversity, has a newcomer: Akira, a hibachi room and sushi bar (720 Haddon Ave., 856-858-1888), which opened this week. If the name sounds familiar, that's because there are locations in Voorhees and Moorestown. Owner Frank Zheng says he was trying to draw a triangle on South Jersey. The Colls BYOB, previously a toy store, features a sushi bar beside a gigantic Buddha. The "whoa" are eight hibachi grills in the back room, where chefs do their oil volcanoes and food-flipping antics.
Jane G's goes Szechuan. Barely five months old, the swell-egant Jane G's (1930 Chestnut St., 215-563-8800) has switched up its menu from an Asian fusion to pure Szechuan, importing a Szechuan-born chef, Xue Yu-Chi. Chinese cuisine is in owner Jane Guo's sweet spot anyway, as she owned the longtime Broad Street destination Noodle Heaven. You'll find hot pots, creditable dan-dan noodles, and the kung pao chicken that I photographed at right. Dinner menu is here.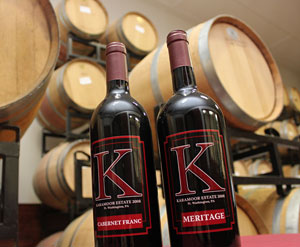 Toast of Montco You're going to hear lots in the future about Karamoor, the new winery in Fort Washington. Its distribution is growing, thanks to a partnership with the state Liquor Control Board. Now available in 34 restaurants mostly in Montgomery and Bucks Counties, the four wines - a chardonnay, merlot, cabernet franc, and Meritage - are also found in the state stores in Ardmore and at 1913 Chestnut St. Effective immediately, you can get the '08 cab franc ($26.99) and the '08 Meritage ($28.99) at the state store in King of Prussia, so if you're doing a mall run, you might snag a bottle of these big, Bordeaux-style reds. (That's my photo at left.)
Michael Klein, Philly.com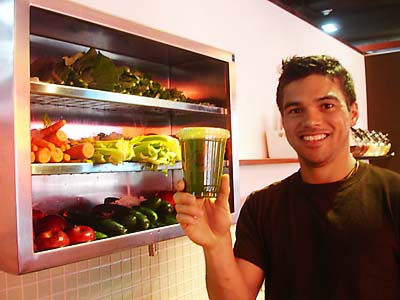 Jar Bar - a raw-foods eatery backed by the marketers behind the Catalyst Cleanse - has closed after eight months in the White Building at 12th and Sansom Streets.
Though I have not heard back from company bigs, I'm told that the operation exists as a stand at the Philadelphia Sports Club's Radnor branch.