Archive: January, 2012
Michael Klein, Philly.com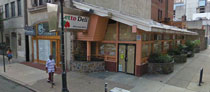 English-born chef Ben McNamara, who was gastropub before the term was invented (New Wave Café, Dark Horse Pub, and St. Stephen's Green), has landed in Old City at Philadelphia Bar & Restaurant (120 Market St.). PBR also has installed two beer engines.
Jose Garces' planned Frohman's Wursthaus got a pass last night from the Washington Square West Civic Association's Zoning and Governmental Affairs Committee. As I've reported previously, the Chicago-bred Iron Chef wants to convert the former Letto Deli at 13th and Chancellor Streets into a beer-and-brats spot. The zoners were astounded to learn that all FW's seating will be counter/bar. No tables indoors. (Garces supposedly does want outdoor seating, but that's a separate matter.) Timetable is spring. Nothing can happen till the whole shebang (liquor application included) goes before the city zoning board.
And a little gossip: Energy Kitchen, a New York-based fast-fooder specializing in healthful fare that clocks in at under-500 calories, is scouting 1725 Chestnut St. You very well may chuckle at the notion that the space previously was a Famous Dave's BBQ outlet and a Goodburger location.
Michael Klein, Philly.com
Alla Spina, the Italian beer pub fronted by Marc Vetri, Jeff Michaud and Jeff Benjamin, is targeting mid-February for its opening on Mount Vernon Street just west of Broad Street in the former Wilkie auto showroom. It's about 100 yards from their posher Osteria.
Michaud and the eatery's chef, Damon Menapace, gave me a walk-through today. Key detail to come: Befitting Alla Spina's translation as "on tap," there will be an elaborate industrial-strength, steampunk copper beer tower involving 20 kegs of beer plus 3 wines. (What is it with the kegged wines these days?)
Look closely at the photos, and over the 25-seat bar, you'll see an 8-top dining table placed atop the beer refrigeration system. Right now, a humble step ladder is your way up there. (And why would you want to dine on top of a refrigerator? Because you can.)
Michael Klein, Philly.com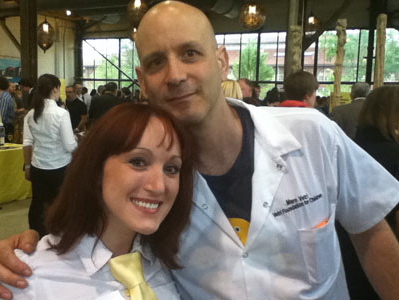 It's hard to say no to Marc Vetri, which explains why he's amassed an impressive list of culinary firepower for this year's Great Chefs Event fundraiser, which will be June 12 at Urban Outfitters HQ. It benefits Alex's Lemonade Stand and the Vetri Foundation for Children.
Here's the list. (And yes, Shake Shack - whose Philly outpost will be opening around then - will serve burgers again.)
Stefano Arrigoni & Paolo Benigni, Osteria della Brughiera, Bergamo, Italy
Michael Klein, Philly.com
Two suburban bars are changing hands.
Bull Durham's was opened in March 2010 in a former Bennigan's on Wilmington Pike in West Chester by a couple who wanted a place to indulge in their passion of country line dancing. In late November, they hit the wall. PJ Whelihan's will open in the spot in late April or early May.
The Paddock at Devon opened in the former John Harvard's in Stafford (Lancaster Avenue and Old Eagle School Road) in late 2008 by owners enamored of the Main Line horse country. Business was anything but stable, and it shut down two weeks ago. New owner will be Landmark Americana, a regional bar-restaurant.
Michael Klein, Philly.com
Here's a prize for the food lover who has everything:
The Shining Star Awards, a benefit for the March of Dimes on the night of Feb. 3 at the Westin Hotel, includes a live auction.
Organizers have snagged an incredible package from the Food Network, including admission to a live taping of Iron Chef America and dinner at Morimoto.
Michael Klein, Philly.com
Jose Garces, who's been on a tear lately with forthcoming restaurants at the Revel in Atlantic City and new restaurants in Arizona, is headed also to Palm Springs, Calif.
In a long-rumored deal announced today, the Iron Chef wiill carry the executive chef's title at The Saguaro, a new luxury property in the Mojave Desert owned by the Sydell Group and Joie de Vivre.
Garces will oversee room service and poolside food and will run a Wild West-themed modern Mexican frontier bar-restaurant called El Jefe (complete with biker gang memorabilia) and an outpost of his more refined Rittenhouse Square hit, the Spanish tapas bar Tinto.
Michael Klein, Philly.com
Center City District Restaurant Week runs from Jan. 22-27 and Jan. 29-Feb. 3.
What are you eating out there? The Pappardelle with portobello mushrooms, sautéed arugula, toasted sunflower seeds and shaved locatelli at Audrey Claire? Perhaps the Orange Glazed Boneless Short Ribs with Gorgonzola and Herb Polenta, Pattypan Squash at Bliss?
Give us a peek.
Michael Klein, Philly.com
Employees at MidAtlantic - Daniel Stern's regional American restaurant at the Science Center in University City - were told Friday night that Feb. 24 would be the finale. It opened in October 2009. Here's Craig LaBan's review from February 2010.
Stern, who also owns R2L, confirmed the impending closing, and referred me to his publicist, who offered two statements - one from Wexford, the building's operator, and another from Stern.
Wexford's said, in part: "We want to thank Daniel Stern Restaurants for their leadership and partnership. We applaud their forward-thinking approach to bringing a superior dining experience to this vibrant corridor of Market Street known as the Avenue of Technology. We are actively marketing the space and look forward to continuing to provide a quality dining experience."