Rittenhouse has become chain city in the last few years, and there's more on the way. This week, I'll tell you about the newest occupant and what's coming. Also, we visit a sandwich shop in Chestnut Hill, a Thai BYOB in Montco, a tavern in Gloucester County, and an Old City bar where the $5 flatbreads are bigger than your head. It's also Philly Beer Week, for which Craig LaBan offers 10 stops over the 10 days. Need food news? Click here and follow me on Twitter and Instagram. Email tips, ideas, and questions here.
If someone forwarded you this newsletter and you like it, sign up here to get it every week. It's free.
---
Everything's poke-dokey in Rittenhouse
Poke — the Hawaiian-style bowls of fish, rice, and toppings — have become a thing in town, what with Poke Bowl in Northern Liberties, Oishii in Chinatown, Red Poke Express in Queen Village, and the genuine Poi Dog in Rittenhouse.
New to you is The PokéSpot, a small, NYC-based operation now in the soft-opening phase at 1804 Chestnut St. (Bowls will be BOGO for the grand opening Friday, June 1.) PokeSpot's shtick is extreme variety. Pick two proteins ($11.50) or three ($13.99), such as salmon, tuna, chicken, tofu, which you place on a base (rice, zucchini noodles, salad, cauliflower rice). Sauce and unlimited toppings follow (mango, cucumber, edamame, kale, pickled ginger, etc.) It's set up mainly as a takeout.
This is a fine opportunity to tell you about four more chains that soon expect to join the Rittenhouse circuit, already home to such brands as Honeygrow, Sweetgreen, Chipotle, and Five Guys.
CAVA, a Mediterranean fast-casual, is going into 1713 Chestnut St., next to a forthcoming Paris Baguette location.
Hummus Republic, also a Mediterranean fast-casual, is setting up at 115 S. 18th St.
On the sitdown side (and probably opening closer to fall) is Inchin's Bamboo Garden, bringing Indo-Chinese fusion cooking to 1726 Chestnut St.
---
Where we're enjoying happy hour
Silence DoGood's Tavern
216 Market St., 5-7 p.m. weekdays
Newly renovated, this chill Old City drop-in rocks not only a respectable tap list (14, mainly locals) but also a menu of tasty values. Take the daily flatbread ($5). Since DoGood's shares a kitchen with the pizzeria Big Ass Slices next door, expect massive hunks of deliciousness. This El Diablo, with pepperoni, sausage, hot peppers, and sriracha, measured an honest 9×12. A perfect share.
---
Where we're eating: Louie's Little Hut, Rice & Curry, Center Square Tavern
Blink and you may miss the green sign for Louie's Little Hut, tucked behind a kids' clothing store on Germantown Avenue in Chestnut Hill. The Hawaiian-surfer-themed bruncherie, which opened last fall for breakfast and lunch, specializes in burgers and hot dogs. The brioche roll from Conshohocken Bakery transforms the double-patty burgers into something you'll want to hang 10 fingers around. If you can, snag a table beneath the trees in the sweet little garden.
Phonebook-size menus usually are not a good sign, but chef Natthapong "BT" Thaglaewphan delivers at his new Rice & Curry, a BYO that replaced the longtime Pistachio Grille in Maple Glen (address says "Ambler"), suitable for families or date night. You get beautifully plated, amply portioned Thai cuisine (e.g. pad Thai, curries, krapow duck), with a smattering of Japanese dishes (kaki furai, tempura) and — why not? — poke bowls. There's also a full sushi menu, though it's made in the back, which may detract from the experience.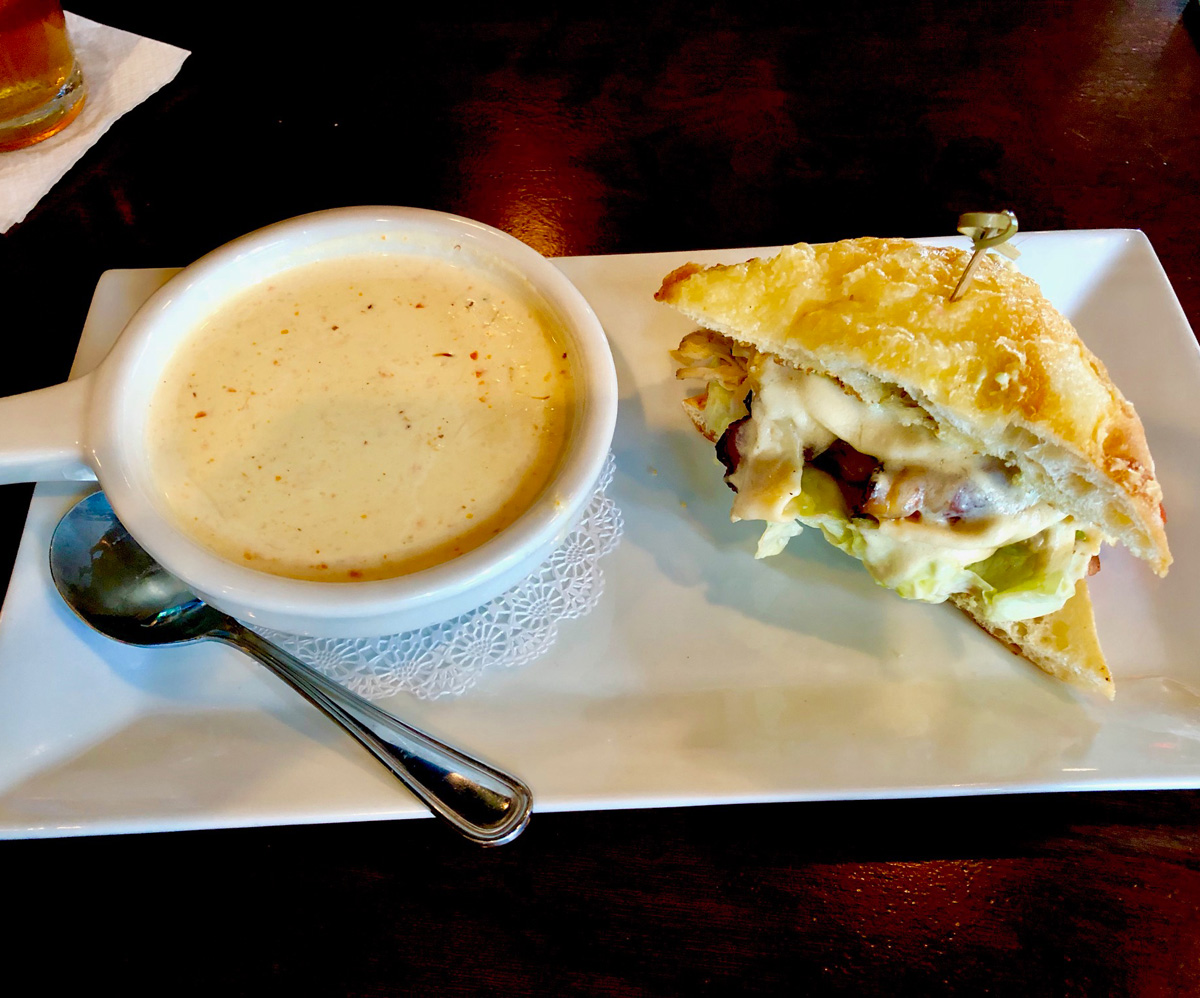 Chef Jim Malaby, whose blueplate in Mullica Hill is a go-to in that slice of Gloucester County, has gone the tavern route for #2, setting up the roomy but comfy Center Square Tavern in nearby Woolwich Township. Attracts everyone, from families to business lunchers to happy-hourers, with ramped-up pub food and downtown-style cocktails. Don't miss obscene desserts such as cookie-dough-stuffed doughnuts.
---
Dining Notes
First off: Felicitaciones to chef Jose Garces, who marries longtime girlfriend Jill Schmeltzer on Saturday, June 2.
It's the debut weekend of Fish Tank, an outdoor beer-spirits garden next to the Fillmore in Fishtown. Doors open at 7 p.m. Saturday, June 2. Questlove is due to spin Sunday, June 3. Info is here.
Reminder that Sunday, June 3 is Burger Brawl, a contest where the public can sample burgers, tacos, and cocktails. Chase Rice will perform, too. It's outside at Xfinity Live, from 2 to 6 p.m. Ticket info is here.
Pencil in Monday, June 4, because Famous Toastery in Exton will mark National Cheese Day by giving out grilled cheese sandwiches to kids ages 12 and under. Grown-ups get 50 percent off any cheese melt, as well.
Next week (June 6) is the start of Center City Sips, the happy-hour deal.
---
This week's openings
PokéSpot | Rittenhouse
New York entrepreneurs, lured here by lunchtime crowds at Sweetgreen, are going the poke route at 1804 Chestnut St. Friday's grand opening will be BOGO.
Libertine | Washington Square West
Chef Derek Davis, who rode the wave that was Manayunk back in the day, is back in business at this soon-to-debut bistro in the new Fairfield Suites at 13th and Spruce Streets.
Wander Inn | South Philadelphia
Jonn Klein (The Dive, Watkins Drinkery) has revived the retro bar name in a cozy new location at Third and Porter Streets (the former Otis & Pickles). Pool table on the second floor. Chef Shawn Zakaluzny is new in town from Florida.
---
This week's closings
Le Cheri | Rittenhouse
The French hideaway in the Art Alliance off Rittenhouse Square has called it a day. Chef/owner Pierre Calmels has the city's ne plus ultra of BYOBs, Bibou.
Palaa'a | Ardmore
"Health issues" are the stated reason for the closing of this yearling Venezuelan-style seafooder with the uncommon name on Lancaster Avenue.
Zento | Old City
"Just moving on," says owner Darin Picorella, explaining his sushi spot's closing.
---
Craig LaBan answers your dining questions
Question: It's Philly Beer Week again – what are the can't-miss events?
Craig LaBan: I'm excited for this 11th annual Philly Beer Week, which is now under the aegis of Philly Loves Beer, a nonprofit that promotes beer locally all year long. This 10-day period is always an intense time to explore new flavors and meet some industry luminaries. And for day one on Friday, June 1, "Opening Tap" at the Fillmore is always a blast to launch the fest, and a perfect way to get a big gulp of many participating brewers in one place – including several excellent cider makers, too. For your map to the best local brews, check out the results of the Inquirer's recent Brewvivational beer competition to help bring some order to the foamy chaos.
June 2 Try to get to Monk's Cafe to meet the Alchemist's John Kimmich, the man behind the Vermont brewery's Heady Topper and the hazy New England IPA trend. But Monk's events are always among the toughest tickets around. Saturday will also be a big day at Strangelove's, which gets visits from the brewers of Burial Beer Co. (Asheville, N.C.), local stars Forest & Main and 2SP, plus Maine's Liquid Riot, which also will be sampling its amaro.
June 3: Wake up to brunch with Oxbow from Maine, one of my favorite wild ale brewers, at Khyber Pass, which has one of the city's best NOLA-style menus. Some bananas Foster French toast with a funky Loretta chaser sounds like a "yes, please," kind of morning to me.
June 4: Everyone's an indie-brewing star in his or her own garage, but some of the area's best homebrewers get their true moment of glory in the beer week sun at Jose Pistola's annual Extreme Homebrew Challenge.
June 5: It's hard enough to spell Brettanomyces while sober. After a few pints of St. Benjamin's Abbey Dubbel, all those consonant-crazy yeast strains can really get wild at the third annual Drunk Spelling Bee at the P.O.P.E.
June 6: Learn about the art behind some of the catchiest local beer labels with a panel of experts at U-Bahn.
June 7: Explore the funky artistry of four rare wild yeast beers fermented in Allagash's legendary "coolship" open-top fermenter, served at Tria Taproom along with some Cherry Grove cheese washed in Coolship Red.
June 8: If you haven't yet tasted one of Philly's best new local saison producers, Brewery ARS, it'll be featured at the Garage on East Passyunk Avenue, along with some artisan jerky from Righteous Felon to keep you thirsty.
June 9: Fishtown FestivAle takes over Frankford Avenue all day Saturday with food, vendors, music, and beer.
June 10: It'll be "kick the keg" time for most venues on the festival's last day. But in Berwyn, Brewvi winner La Cabra will be hosting a fresh event, its first "Suburban Love Pop-up Beer Garden," with 10 other breweries pouring in their parking lot out back. It's right across from the SEPTA station, so it'll be convenient for city dwellers to get a taste of some of that fine suburban beer love, too.