Rittenhouse will be getting a fast-casual start-up called Wokworks, which its founders describe as a modern Asian food shop: "natural, tasty, and fun."
The idea: Start with a base (noodles, rice, quinoa), choose your "favorites" (pork belly, rock shrimp, asparagus, etc.), add a sauce (wild mushroom umami, coconut curry, etc.), and watch the wok chefs go to it.
Some examples:
Quinoa chow (aromatic vegetables and organic egg) with wok-tossed Brussels sprouts and roasted garlic, scallion and oyster sauce
Soba nobles (vegetables and organic egg) with Korean short ribs and charred shallot, ginger, lemongrass and Thai basil sauce
Udon Noodles (vegetables and organic egg) with thick-cut smoked bacon and orange blossom honey and tamari teriyaki sauce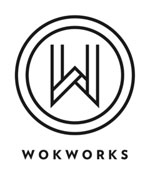 Consulting on the menu is South Florida-based chef Allen Susser, who won the James Beard Award for best chef, Southeast, in 1994.