Who knows bars better than those who tend them?
The editors of the guidebook Where Chefs Eat quizzed 300 of bartenders in 60 countries on their favorite off-the-clock destinations for the new follow-up volume, Where Bartenders Drink.
Four Philly bars are included among the 750 destinations worldwide:
The 700 at Second Street and Fairmount Avenue in Northern Liberties, writes contributor/bartender Phoebe Esmon, has "invariably a mixed bag of characters. ... No one takes themselves too seriously, and there is a decent lineup of amari, whiskeys, and a great beer list. One of my favorite parts is that there is almost always someone there (sometimes a DJ, sometimes the bartender) playing really good records."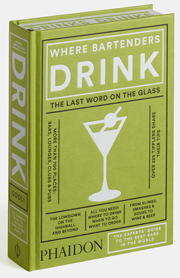 The Good King Tavern (614 S. Seventh St.) in Queen Village has "seasoned professionals who love nothing more than stirring a Sazerac, while pouring a draft and yelling over an album from The Roots playing in the background," writes Vincent Stipo, a bartender, real estate professional, and boyfriend of co-owner Chloe Grigri.
Mace's Crossing, off the Parkway at 17th and Cherry Streets, is "a classic shotgun-barrel bar in the middle of Center City. After 9 p.m., the neighborhood is empty except for everyone who's at Mace's, mostly industry people," writes Will Hollingsworth.
Loco Pez in Fishtown is blurbed simply: "A casual taco joint and bar specializing in Mexican and local beers, and over 25 tequilas."