Much of the Center City action this weekend will be centered on the Parkway for Made in America.
Let's go across town to Washington Square, one of the quieter corners anyway.
The area is perking with its own little restaurant scene. Aimee Olexy and Stephen Starr have just opened Talula's Daily, a casual offshoot of their popular Talula's Garden, on the west side of Washington Square. The 700 block of Walnut Street has its charms, including the sushi-ist Fat Salmon and the burrito specialist El Fuego. There's one of the best burgers around at Coco's on Eighth Street, and the retro fun of Jones at Seventh and Chestnut Streets.
I'll also point out one of the better little-heralded dinner spots - Cooperage, on the Seventh Street side of the Curtis Center (entrance is between Walnut and Sansom). The cozy bar is run by Joe Volpe, who caters functions at the Curtis as well as at his own venues, Cescaphe, Tendenza, Vie and the Downtown Club. Thursdays through Saturday nights, you eat like a wedding guest from a reasonably priced menu that changes; Saturday, Aug. 31, they're offering chicken piccata with mashed potatoes and roasted vegetables ($18), salmon with mushroom cream sauce, and couscous salad ($19), and crabcakes with coleslaw and pink risotto ($22).
Also in the neighborhood: On Sunday, Sept. 1, the charming M Restaurant at the Morris House (231 S. Eighth St., 215-625-6666) is throwing a pig roast, with pig three ways plus sides, for $25 in advance and $30 at the door; there's a $10 cover if you simply want to drink and hear live music. Info is here.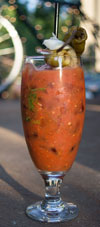 Brunch note. In Riva - the Italian destination just off Kelly Drive at 4116 Ridge Ave., on Sunday, Sept. 1 relaunches brunch. Chef-owner Art Cavaliere has a menu section called "la mattina" - as in, 'In the morning" - with spins on breakfast items such as polenta and eggs, Belgian waffles and smoked salmon pizza. Wash it down with cocktails, including the San Marzano bloody Mary, made of pepper-infused vodka, arugula, and a long hot. Sunday Brunch is on from 10 a.m. to 3 p.m., followed by an hour of pizza only, capped by dinner from 4 to 9 p.m.
Restaurant openings. This weekend is the calm before a storm of openings, including Peppercorn (replacing georges' at 503 W. Lancaster Ave. in Wayne; Sept. 3), Little Nonna's at 1234 Locust St. (Sept. 4), Restaurant Cerise (1011 W. Lancaster Ave., Bryn Mawr, Sept. 5); Pizzeria Vetri (1939 Callowhill St.; Sept. 6), Bar Ly (11th and Arch Streets; Sept. 8); Ocean Prime (15th and Sansom Streets; Sept. 9), and Carmel Cafe (372 W. Lancaster Ave., Wayne; Sept. 9). Looking ahead: The Lucky Well in Ambler is to open Sept. 23. The University City outpost of HipCityVeg (214 S. 40th St.) is poised to open in early October. See my map here.
Bloody Mary photo: Danya Henninger / Imagic Digital