The weather should cooperate beautifully with this weekend's food activities.
Besides the PIFA Street Fair from 11 a.m. to 7 p.m. along Broad Street between Chestnut and South:
Saturday, April 27 brings Flavors of the Avenue, a great sampling of East Passyunk's red-hot restaurants from noon to 4 p.m. It's sold out, but a limited number of tickets will be available at the big tent between Dickinson and Morris Streets at 10 a.m.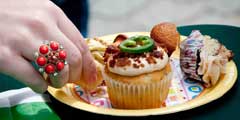 Saturday also is the third annual Cupcake Smash - the cupcake contest benefiting Philabundance - outside of PYT at the Piazza at Schmidt's (1050 N. Hancock St.) from 2 to 5 p.m. Great eats (the "cupcake") and tasty drinks (the "smash," right?). If you can snag an advance ticket, it's $25. Day-of, it's $30. It's $10 for kids 6 to 12 and free for the little ones.
And because the St. Patrick's-theme bar crawls are but a beery memory, the South Street West Business Association will lead a crawl from noon to 6 p.m. Saturday involving 10 bars such as Grace Tavern, Bob & Barbara's, Pub and Kitchen, Ten Stone and The Cambridge. Details here.
Sunday, April 18 is Taste of the Nation, a giant feast staffed by some of the city's top chefs and barkeeps to raise money to fight childhood hunger, at the Hotel Monaco (Fifth and Chestnut Streets) from 5 to 8 p.m. Tickets are $85; VIP ticket, which gets you in an hour early, is $135.
It's also the final weekend of Around Main Line's Restaurant Week (ends Sunday) and Wilmington's City Restaurant Week (ends Saturday).
You have to try...
Even jaded potato fans are impressed by the hash browns at Butcher & Singer (15th and Walnut Streets). For $12, you and a few friends get a veritable layer cake of superior spuds: It's two tiers of crispy, shredded potato enveloping diced potatoes, sauteed Vidalia onions and sour cream. Squawk all you want about the fat content.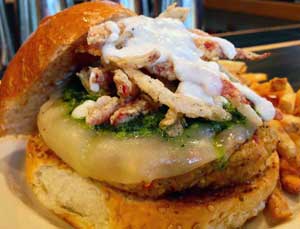 So that's when you brag about the quinoa burger at PYT at the Piazza at Schmidt's in Northern Liberties. Quinoa? Owner Tommy Up has been eating the nutritious grain and asked his general manager, Sarah Brown, and chef, Kim Malcolm, to execute. Result: an herb-and-parmesan-filled grilled patty, topped with provolone cheese, pesto, crunchy fried red pepper and onion strips, and finished with a light yogurt-garlic aioli on a seeded LeBus brioche bun. OK, so skip the fries.