How about some variations on the classics?
The Vault, the fine new brewpub in Yardley that specializes in flatbreads that complement the beers, has spun the classic BLT. The newest from chef Anna Cain has house-made garlic hummus topped with wood-fired bacon, campari tomatoes, bleu cheese, shredded mozzarella, and finished with a fresh spring mix ($10).
The Vault - owned by brothers John and James Cain - occupies the former Bank of America building at 10 S. Main St. (267-573-4291). Former homebrewer Mark Thomas mans the vats.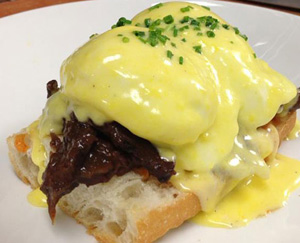 And because one egg is never an oeuf: The Philly cheesesteak has been folded, spindled, even mutilated over the years by well-meaning chefs. Samuel Noh, chef at Rouge, has now Benedicted it. I submit to you his new brunch dish: an eggs Benedict with elements of Ninth and Passyunk. The cheesesteak Benedict debuts on Rouge's menu this weekend. Noh uses hanger steak. caramelized onion, house-made truffled "Whiz" and two poached eggs, and serves it on a toasted baguette with pommes frites for $16. Yes, you did just read that correctly: "truffled 'Whiz'" - if ever a Whiz there was.