Atlantic City might be always on, but it especially will be so Saturday night for "Street Eats," the centerpiece of Savor Borgata - the casino's weekend food extravaganza.
From 7 to 10 p.m., you get walk-around tastings from 16 food and beverage stations. Food Network's Sissy Biggers will host and you'll see chefs Bobby Flay, Michael Symon, Stephen Kalt, Michael Schulson, Greg and Marc Sherry, Thomas Biglan, and Thaddeus DuBois.
Neat feature: Enter a drawing to get up on stage and "help" Flay and Symon cook a dish.
Info is here.
Eating better. With the season of overeating on its way, this may be a good time to lay off the burgers at lunch and dig into something more healthful.
Agno Grill, which opened last spring at 2104 Chestnut St. near Rittenhouse Square, is a great bet. Step up to the counter. Meals starts with a base of spinach salad, black rice or in-house-baked wrap. You add a protein (chicken, steak, falafel, tofu, baked tuna, veggies), and toppings such as roasted carrots, roasted beets, or white beans with Parmesan and spinach, and finish with sauces such as harisa, hummus or oregano lemon. Even if you splurge for a side of pita and hummus, it's almost impossible to eat irresponsibly.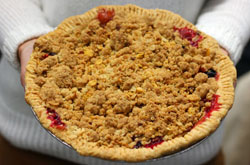 Eating decadently. Varnana Beuria - call her "V" - has added pies to her repertoire at Chhaya Cafe (1823 E. Passyunk Ave.) The apple cranberry crumb you see before you was a work of art, and our in-house tasters found a rich, flaky crust and a wonderfully fruity filling whose apple-y sweetness was beautifully tempered by cranberries. They're $20 whole or $5 a slice.
Whilst on the topic of pies, you can still order one from MANNA and help the organization in its mission to deliver nutritious meals to people at risk because of illness. Pickup will be just before Thanksgiving at various locations.