St. Patrick's Day events - from the lighthearted to the plain silly - take up much of the calendar this weekend.
O'Neals, the long-running Irish pub, is taking over Third Street between South and Bainbridge Streets from 9 a.m. to 6 p.m. Saturday and Sunday for an Irish Festival - beer, whiskey, Irish foods, live music, dancers, pipes-and-drums brigade. At left, that's Greg "Spoonie" Rand of O'Neals, taking a break from greeting beer-delivery guys on Friday.
Holly Ricciardi is not Irish, but she's gone Gaelic at her Magpie's pie shop at 1622 South St. all weekend: Reuben pies, Shepherd's pies and a sweet mini pie trio include pies made from Irish beverages, Guinness Chocolate Cream topped with a Pretzel Crunch, Irish Coffee Mousse with Whipped Cream, and Creme de Menthe with Chocolate Shavings.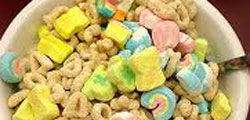 Cereal wrestling. Keep an eye on the stock price of General Mills. Starting at 5 p.m. Sunday, March 17, Drinker's West in University City plans to host wrestling matches between women in a giant bowl of Lucky Charms cereal. Participants get free shots. Winner gets $100 cash. Drinker's West, 3900 Chestnut St.