St. Patrick's Day events - from the lighthearted to the plain silly - take up much of the calendar this weekend.
O'Neals, the long-running Irish pub, is taking over Third Street between South and Bainbridge Streets from 9 a.m. to 6 p.m. Saturday and Sunday for an Irish Festival - beer, whiskey, Irish foods, live music, dancers, pipes-and-drums brigade. At left, that's Greg "Spoonie" Rand of O'Neals, taking a break from greeting beer-delivery guys on Friday.
Holly Ricciardi is not Irish, but she's gone Gaelic at her Magpie's pie shop at 1622 South St. all weekend: Reuben pies, Shepherd's pies and a sweet mini pie trio include pies made from Irish beverages, Guinness Chocolate Cream topped with a Pretzel Crunch, Irish Coffee Mousse with Whipped Cream, and Creme de Menthe with Chocolate Shavings.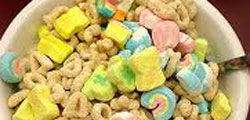 Cereal wrestling. Keep an eye on the stock price of General Mills. Starting at 5 p.m. Sunday, March 17, Drinker's West in University City plans to host wrestling matches between women in a giant bowl of Lucky Charms cereal. Participants get free shots. Winner gets $100 cash. Drinker's West, 3900 Chestnut St.

Tot truck debuts. Now you've heard of everything. Saturday, March 16 is the debut of The Tot Cart, Temple grad Julie Crist's mobile dispensary of tater tots. (She does have a cute "mastot" named Chris P. Tater.) She'll be set up from 3 p.m. to midnight on 13th Street between Montgomery and Polette Walk on Temple's campus. An order of the plain is $3, flavored varieties are $4. Anything fancy? Nah, says Crist. They're the frozen kind - she tried making them from scratch but could not do it better.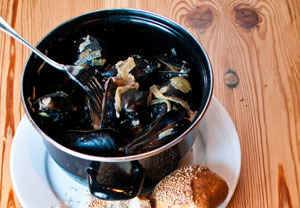 Great dishes and drinks.Those who travel far and wide for mussels have great things to say about the bowls at Goat Hollow, which reopened several months ago in Mount Airy. The mussels - particularly the "Lincoln Drive," which includes white wine, leeks, and chile de arbol - and the build-your-own bloody Mary bar during brunch on Saturday and Sunday (10:30 a.m. to 3:00 p.m.) make it a welcome comeback. ... Take another look at SoWe Bar & Kitchen at 22d and Carpenter Streets in Southwest Center CIty, Nancy Law has followed up her hiring of chef Jennifer Choplin by bringing in barkeeper Craig Steel, formerly of Amada, a.kitchen and The Dandelion, as her new bar manager. New drinks, hand-squeezed juices, 20 bourbons, 10 exceptional ryes, and 11 premium scotches. He even futzed with SoWe's signature Chocolate Bacon Martini, which was featured on U.S. of Bacon in February, by replacing the Bakon Vodka with a own housemade bacon-infused vodka.