We're amid a rush of restaurant openings as restaurateurs are trying to grab a piece of the busiest season of the year. And we're amid a crush of full Center City restaurants because of the Army-Navy Game. Suggestion: Head to the burbs. I just spent a day wandering the two dozen restaurants lining York Road in Hatboro, just north of Willow Grove. Town is a mini-United Nations. A mere month or so old is the cozy Kasbah Cafe (119 S. York Rd., 215-394-8444), a BYOB where Zack Ftou, a Moroccan who worked for Steve Poses' Commissary catering for years, puts out tagines and a hauntingly amazing dish of short rib marinated in cumin, paprika and coriander. There's the casual, days-old Biryani Bowl (50 S. York Rd., 215-674-9343), where Surender Kesari specializes in southern Indian cuisine, including signature biryani. and at the southern end of town is Manja (332 S. York Rd., 267-387-6834), which looks like a pizzeria but in fact also rocks a serious Portuguese menu; do not miss the chouriço grilled at the table).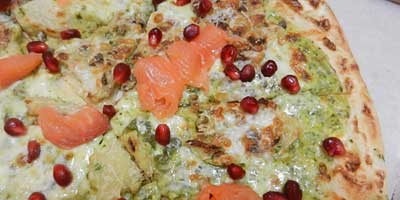 Hanukkah. The Jewish festival begins Saturday, Dec. 8 at sundown. The weekend's big event is the 10th annual Latkepolooza, the tribute to the fried-potato pancake that will gather chefs at the Gershman Y at Broad and Pine from 2 to 4 p.m. Sunday, Dec. 9.
For something utterly, deliciously different, I'll send you out to Olce Pizza Grille on Skippack Pike in central Montgomery County (it's Worcester or Lansdale - the post office doesn't seem to know, and your GPS will recognize "Cedars") for its latke pizza. That would be toppings of shredded potato pancake, zucchini pancake, tomatillo sauce, cream cheese, mozzarella cheese, parmesan cheese, capers, smoked salmon, pomegranate seeds, horseradish sour cream.