Brothers Greg and John Whiting were rockin' and rollin' on Broad Street near Walnut as their Italian Bistro provided a low-cost dining option on the Avenue of Arts. Then in early 2011, their landlord, the University of the Arts, reclaimed the space for student dining. The Whitings on Saturday, Dec. 1 are back in business nearby, in the former Marathon Grill space at 1339 Chestnut St., as Fratelli's Italian Bistro (215-731-0700). Open daily for lunch and dinner, contemporary look, modest prices, full bar, and a view of the Olive Garden across the street. (The Whiting boys, transplanted big-hearted Bostonians Rhode Islanders, are fearless.) Menu is here.
Early line on other restaurant openings. Tuesday, Dec. 4 is the first night for Rodizio Grill at the Voorhees Town Center (giving South Jerseyans a taste of that Brazilian all-you-eat extravaganza known as churrascaria). ... Thursday, Dec. 6 is the target of the new, expanded, liquor-licensed Fond at 1537 S. 11th St., at East Passyunk.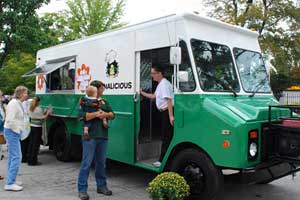 Trucks stop. The Philadelphia Mobile Food Association's holiday-themed food truck roundup is 4 to 9 p.m. Saturday, Dec. 1 at the Piazza at Schmidt's on Second Street south of Girard Avenue. The PMFA is gathering Lil Dan's, Joe Spuds, Just Jackie's, Gigi & Big R's, Street Food Philly, Vernalicious, Pitruco, The Sunflower Truck Stop, Sweetbox, and Cupcake Carnival. Bring a canned good for Philabundance. Info is here.
You like chef Tyler Florence? He'll be at Williams-Sonoma in King of Prussia at noon, Wednesday, Dec. 5. His cookbook Tyler Florence Fresh hits stores Tuesday.
Hoagies at 30th Street Station. Jersey Mike's, which has the temerity to call its sandwiches "subs," is new at 30th Street Station. Jersey Mike's and Wendy's took over the former McDonald's space recently.
New brunch. Seafood Unlimited, which has been revived and renovated at 270 S. 20th St., now serves weekend brunch from 11 a.m. to 3 p.m.: Shrimp & Grits, fish tacos, a salmon burger.
Get your Québécois on.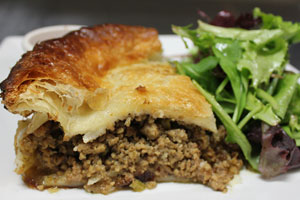 The Montreal-born Marco DeCotiis has settled into Noir, a bar at 1909 E. Passyunk Ave., with a menu studded with Canadian comfort food. You'll like the sausage poutine, but for a real treat, try the tourtiere, Think of it as a pot pie with ground pork, veal, and beef with celery, onions, cloves, cinnamon, allspice, star anise, cumin and fennel seed inside a puff pastry. And if you can't make it in, DeCotiis will help you make it yourself at home. His tourtiere recipe is here. (But if you don't come into Noir, you will miss his black cherry-infused vodka.)