Seems like only yesterday, everyone was opening a BYOB. Now everybody's doing a pub.
No matter that the restaurant biz is a gamble.
Which brings us to Harrah's Casino in Chester, which just rolled out Philly Tap & Tavern (777 Harrah's Blvd., Chester). Something for just about everyone, what with 23 brews on tap, plus 12 LED TVs, an additional 82-incher, and an all-American, cardiologist-dream menu that includes beer-batter onion rings, fried green beans, bacon-covered potato skins, twice-fried chicken wings, and eight different burgers, including Kobe and bison. See more photos here.
In Jenkintown, soccer fan Zac Hulayev and restaurateur Bobby Makris are about six months in with King's Corner Public House, an English soccer themer on Summit Avenue, not far from Hulayev's Drake Tavern on Old York Road. Full bar with 12 draft beers and 80 bottled beers, Happy-hour specials run from 4 to 6 p.m. with $5 specials on burgers and sandwiches (That's the shrimp and fries at right.) Nostalgists will remember the joint as Archie's Tavern. The guys removed the drop ceiling, paneling and floors and - voila! - obtained a tin ceiling, exposed stone walls and ceramic tiles. There's brunch on weekends.
King's Corner, 603 Summit Ave., Jenkintown, 215-758-2402.
Notes. The Dolphin Tavern (1539 S. Broad St.) reopens this weekend. Entertainment lineup is here. ... Mount Airy's Earth Bread + Brewery (7136 Germantown Ave.) now serves lunch on weekends from noon to 4 p.m. ... Tonight (Friday, March 22) is the finale of SJ Hot Chefs Restaurant Week, for which nearly three dozen restos are doing $25 and $35 deals; info here.
Sunday night special. Instead of going out for empanadas, you can go out for empanada. Singular. On Sunday nights, chef-owner Nick Farina at Verdad in Bryn Mawr offers assorted 20-inch-square baked thingies - call them empanadas or stromboli - with assorted fillings. They feed four to six adults and go for $30, including salad. He mixes up varieties, which include roasted chicken with fig and brie; three cheese with pork, chorizo, spinach and garlic; roasted vegetables and wild mushrooms; and an assorted ham, salumi and cheese version that is sort of like a spicy Italian hoagie.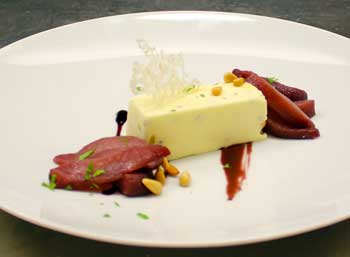 Dessert. Le Virtu pastry chef Angela Ranalli wowed the James Beard House last month with an anise and pine nut semifreddo with Montepulciano poached pears. You say you missed that dinner? Le Virtu has put the dessert on the menu, effective March 22.
Le Virtu, 1927 E. Passyunk Ave.