Italian restaurants seem to be the Big (Old) New Thing. I told you about the brand-new Eatalia in Fishtown the other day. Cast your eyes to Lumberton/Mount Holly, where the Lamberti folks will open a new casual concept, Italyani, on Friday, Nov. 23. Italyani - a dinner house replacing Lamberti's Milano Modo - has a Brooklyn theme going, and they're pushing prix-fixe menus for two. You get a choice of salad, pasta fagioli or soup of the day; an entree; and a bottle of wine, and the total tab for two people is $35 (Sunday-Thursday) or $40 Friday-Saturday. There's an a la carte menu, too.
Italyani Food & Wine Brooklyn Style, 1643 Route 38, Lumberton, N.J., 609-288-6070, www.italyani.net
Looking ahead, Italian fans: Fratelli's Italian Bistro has a Dec. 1 opening at 1339 Chestnut St., a former Marathon Grill location just off Broad Street. This is the crew from the former Italian Bistro at Broad and Walnut Streets.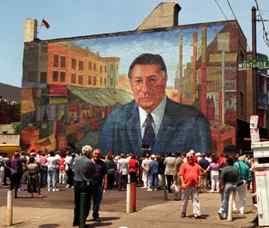 Walk off your feed - and eat some more. This is the last weekend for the Free Tours by Foot's walks through the Ninth Street Italian Market.
Starting at 11 a.m. Saturday, Nov. 24, Laura Hahn leads two-hour tours of the oldest Italian market in the country, stopping at assorted shops and restos, including Monsu, Anthony's Coffeehouse, John's Water Ice and Anastasi's. The tours are free. You should bring spending money - enough to cover your food and maybe a bag of produce - and a tip.
Free Tours By Foot at the Italian Market meets at 11 a.m. at 919 S. Ninth St., 267-712-9512.
Beers here. WinterBeerFest gets you up close and personal with about 100 craft beers at Union Transfer on Saturday, Nov. 24. It's offered in two sessions (1-5 p.m. and 6-10 p.m.), and you get $10 off the $50 admission if you order tickets online by Friday, Nov. 23.
WinterBeerFest is at 1026 Spring Garden St. on Saturday, Nov. 24. Info is here.

How to put that leftover turkey to good use. Inquirer food editor Maureen Fitzgerald asked a half-dozen chefs for creative turkey sandwich recipes. They're quick and easy. Article is here. My fave here is the creation by Tashan chef Sylva Senat. It's served on naan. The recipe which calls for Kewpie brand Japanese mayo, which your neighborhood supermarket might not stock. I've found it at Maido, the premier Japanese grocery (36 N. Narberth Ave., Narberth), which is worth a field trip even if you aren't hunting up mayo.