Food & Wine is out with its list of what it calls the best meatballs in the United States, and Gabe and Judy Marabella are basking in the glow of another national honor.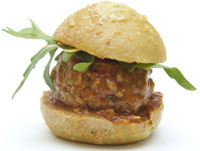 The dining veterans, who previously had the Marabella's Italian restaurants, sell beef, pork, chicken and veggie meatballs out of their Marabella Meatball Co. at 1211 Walnut St.
The Food & Wine piece is here.
Also on F&W's list of 20 great balls of fire is NYC's Little Owl, whose South Philly-bred owner Joey Campanaro also runs The Village Belle in Queen Village with his brother, Louis.