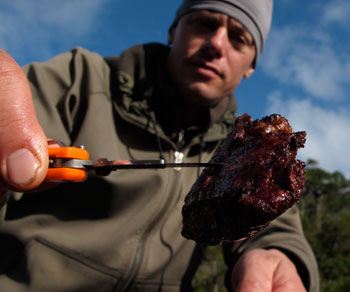 The Philadelphia Home Show, starting Saturday at the Convention Center, has a food tie-in: Outdoorsman Steven Rinella (star of MeatEater on The Sportsman Channel) will appear from 1 to 3 p.m. on Day One to talk about hunting (he does it 150 days a year), cooking (cooks what he kills), and his new book Meat Eater: Adventures from the Life of an American Hunter. Why hunt? Says Rinella, who worked as a fur trapper till the market collapsed in the 1990s: "I don't cherish passive relationships." And if you think he's laughing at you vegans, you'd be wrong. "That's a hard-fought kind of life. It takes a tremendous amount of discipline. I respect that."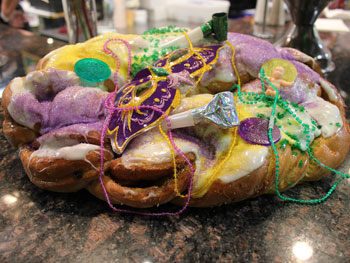 Mardi Gras cake. This will be a busy weekend at Beck's Cajun, the New Orleans-theme stands at Reading Terminal Market and 30th Street Station. And not because the Super Bowl is in New Orleans.
Beck's just started stocking king cakes. The Mardi Gras tradition - a cinnamon-and-nut round with the lucky baby Jesus figurine baked inside - are $34.95. Beck's also has cupcake-size versions - no baby inside, lest some unsuspecting soul bite in - for $3.95.
They'll be sold till Feb. 17.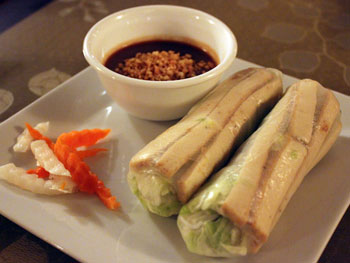 Vietnamese in Montco. At the risk of spilling the beans on a local favorite, I will recommend Pho & Beyond, a little BYO in a strip center next to Weinrich Bakery near Willow Grove Park mall. This is downtown/South Philly quality. Everybody loves the signature pho, and you must not miss the spring rolls. The vegetarian version, shown here, packs an impressive fried tofu-to-noodle ratio. See more photos here.
Pho & Beyond, 47 Easton Rd., Willow Grove.
Notes: The Fat Jack's BBQ joint in Jenkintown has been knocked out of commission by a faulty transformer; owner Glenn Gross is working out of his shop on Roosevelt Boulevard ... Rhino Bar at 13th and Locust is still down by flood; owner awaits an insurance check.


From the easy to the complex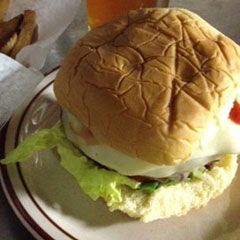 Starting with the easy... Fountain Porter, a new bar at 10th and Tasker Streets off the East Passyunk stretch, has been steadfast in its food menu simplicity: cheese plates, charcuterie, and pickles.
But, says co-owner Evan Clancy, why not a burger.
None of that fancy junk on top or celebrity butcher name.
Just a backyard-style burger on a potato roll.
This weekend, Clancy and partner Scott Pawlicky start offering $5 burgers on weekends.
As for the complex: Nick Farina, chef owner of Verdad in Bryn Mawr, wanted to make gluten-free noodles. He learned how to use the protein bonding enzyme transglutaminase to make noodles out of shrimp. Quite tasty. Farina's shrimp noodles are served with a fish fume broth, piquillo peppers, zucchini, squash, eggplant and lemon grass for $14. He also uses transglutaminase to make the molecular scallops you see here. He purees shucked Atlantic sea scallops and wraps the scallop mousse and the enzyme in plastic next to shrimp. Then he refrigerates the composition overnight. The "scallops" are cut to order, seared and served alongside roasted baby Brussels sprouts, fennel and carrots for $16.