Reading Terminal Market has a pretty wide variety of prepared foods, in addition to its stated mission as a farmer's market. For nearly a year, though, it had no soul food stand since Delilah's shut down. Keven Parker, a longtime caterer and restaurateur, has changed that. Keven Parker Soul Food Cafe opened the other day, and early reports have been promising. The fact that it's January and our bodies are craving this hearty fare has only helped matters. Don't miss his crab mac n' cheese balls. Parker does the fried stuff right - chicken, whiting, tilapia, shrimp - and his desserts, such as sweet potato pie, are outstanding. (Menu is here.) As for the "cafe" in the name: There's an adorable seating area next door so you might not have to brave the madness of the court seating.
Keven Parker Soul Food Cafe, Reading Terminal Market, 12th Street side.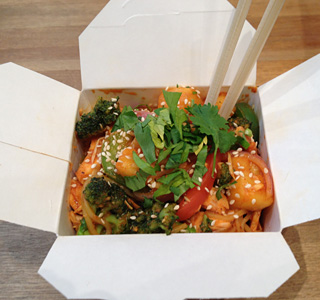 Honeygrow growing. Few fast-casual concepts are as welcome as honeygrow (except maybe for the lowercase name). It's all about made-to-order salads, stir-fries, and smoothies - much of it locally sourced - in a sleek, clean atmosphere and ordered on some of the best-designed touchscreens you'll ever run a finger over. Lines are out the door daily at Justin Rosenberg's first location, on 16th Street just north of Sansom Street. The other day, he unwrapped the second location in Bala Cynwyd Shopping Center, which is almost twice the size of the original. Figure on less than $10 for an entree, served in a Chinese takeout container.
Honeygrow, 169 E. City Ave., Bala Cynwyd, 610-667-2573. Open 11 a.m. to 10 p.m.