Reading Terminal Market has a pretty wide variety of prepared foods, in addition to its stated mission as a farmer's market. For nearly a year, though, it had no soul food stand since Delilah's shut down. Keven Parker, a longtime caterer and restaurateur, has changed that. Keven Parker Soul Food Cafe opened the other day, and early reports have been promising. The fact that it's January and our bodies are craving this hearty fare has only helped matters. Don't miss his crab mac n' cheese balls. Parker does the fried stuff right - chicken, whiting, tilapia, shrimp - and his desserts, such as sweet potato pie, are outstanding. (Menu is here.) As for the "cafe" in the name: There's an adorable seating area next door so you might not have to brave the madness of the court seating.
Keven Parker Soul Food Cafe, Reading Terminal Market, 12th Street side.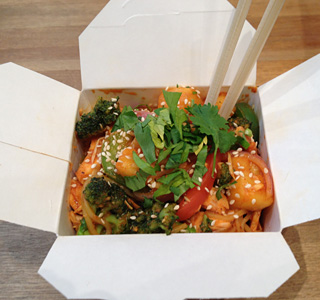 Honeygrow growing. Few fast-casual concepts are as welcome as honeygrow (except maybe for the lowercase name). It's all about made-to-order salads, stir-fries, and smoothies - much of it locally sourced - in a sleek, clean atmosphere and ordered on some of the best-designed touchscreens you'll ever run a finger over. Lines are out the door daily at Justin Rosenberg's first location, on 16th Street just north of Sansom Street. The other day, he unwrapped the second location in Bala Cynwyd Shopping Center, which is almost twice the size of the original. Figure on less than $10 for an entree, served in a Chinese takeout container.
Honeygrow, 169 E. City Ave., Bala Cynwyd, 610-667-2573. Open 11 a.m. to 10 p.m.
A few tips. Monday, Jan. 21 (6 p.m.) marks the opening of Version 2 of Goat Hollow (300 W. Mount Pleasant Ave. in Mount Airy), completely renovated and under new ownership. ... The Whole Foods store in Jenkintown will put out a brunch buffet ($7) from 10 to 11 a.m. Sunday, Jan. 20; food is based on recipes from the Engine 2 Diet, created by a Texas firefighter. (Details.) ... Dessert bar starts this weekend at La Petite Dauphine, the swanky sweet shop in Rittenhouse. (See here.) ... Nomad Pizza's locations in Hopewell, N.J., and at 611 S. Seventh St. in Philly will be closed for 10 days starting Sunday, Jan. 20 as the owners take staff to Italy for a 'za-tasting trip. Reopening Jan. 31. ... Crave Montreal smoked brisket? Montreal-bred chef Marco DeCotiis makes his own at Noir (1909 E. Passyunk Ave.). He brines beef in a bath of sugar, steak seasoning and pickling spices for 10 days, then concludes with a full day of cold smoking and overnight roasting at 200 degrees. He serves thick slices with rye bread, housemade mustard and a side of pancetta-roasted Brussels sprouts for $14.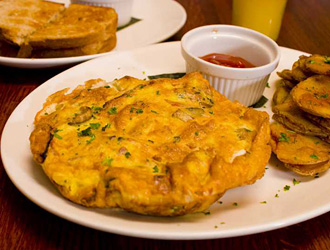 What's for brunch. In the sea of chains that is the North Wales/Montgomeryville area, Metropolitan American Diner & Bar stands alone. Literally alone. It's the former Houlihan's near the Costco on Upper State Road, and it's kept that basic look. (Though the name says "diner," it hardly looks like one.) Jill and John Gabriel owned two Bucks County diners before tiring of the rat race and selling them. John got bored and they returned to the biz two years ago. You get fair-priced breakfasts, lunches, brunches, and dinners - from staples to creative stuff, such as the bacon, blue cheese and mushroom frittata here ($9.50).
Metropolitan American Diner & Bar, 750 Upper State Road, North Wales, 215-361-1603. Opens at 11 a.m. Monday to Saturday, at 9 a.m. Sunday.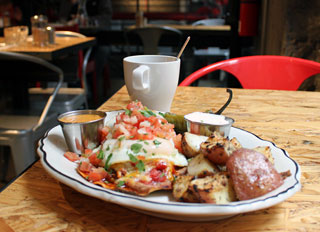 Back in 2003 when the so-called Loft District was emerging just east of Broad Street between Callowhill and Spring Garden Streets, an eager young couple named Michael and Jeniphur opened a quirky little bruncherie called Cafe Lift in an old loft building on 13th Street. Ten years later, the Pasquarellos still have Cafe Lift and have added two kids, a house, the bar Prohibition Taproom up the block and soon the pizzeria Bufad at 13th and Spring Garden. Lots of brunch spots have followed Cafe Lift into the city, but Lift still knocks 'em out of the park. Don't miss the huevos rancheros ($9.50), one of downtown's best belly fillers.
Cafe Lift, 428 N. 13th St., 215-922-3031. Open 9 a.m. to 3 p.m. Tuesday to Sunday.