On the radar for this weekend:
Saturday, Oct. 27 is the Academy of Natural Sciences' "Cuisine From the Collections," a $100-a-head cocktail party whose food and drink is inspired by the dead stuff on display, e.g. bugs, fungi, buffalo.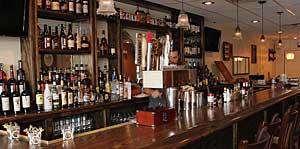 Saturday, Oct. 27 marks the debut of Lloyd, a whiskey specialist at 529 E. Girard Ave. in Fishtown. In fact, Fishtown is worth a look-see. Five blocks over, there's the new BBQ outlets Fette Sau and Bubba's Texas BBQ joining the crowd (Johnny Brenda's, Kraftwork, Interstate, East Girard Gastropub, Barcade), while a ways up Frankford Avenue are recent-comers Pizza Brain and Little Baby's Ice Cream - which now offers a flavor featuring Goldenberg's Peanut Chews.