I'm not here to debate or even question the propriety of serving kosher meat on a Reuben sandwich - only to explain the utter deliciousness of the pastrami and turkey at Hershel's East Side Deli at Reading Terminal Market.
It's always been a top-tier sandwich, and at $9.95 for a huge Reuben, a great value. Owner Steve Safern recently switched to kosher product, and it may even be better.
Wash down this calorific treat with a diet Dr. Brown's soda, and you're all set.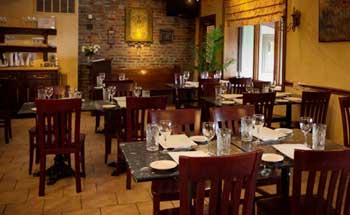 Creole on the Main Line. Creole specialist John Mims has returned to one of his early restaurant locations, and he's now at 232 Woodbine Ave. in Narberth with Carmine's Creole Act II. Mims, who operated at the spot from 2004 to 2006, later opened Daddy Mims in Phoenixville. At Act II, he offers much of the treats from a decade ago: his signature she-crab soup, jambalaya, and red-wine-braised beef short ribs; most entrees are $24 and under. It's open for dinner only nightly. It's BYOB and there's a $5-per-table corkage. Phone is 610-660-0160, but it's walk-in only. At his former Daddy Mims in Phoenixville, Mims and friend Dominic Gammaro have just opened Dominic's Restaurant Italiano (150 Church St.), a pasta house decorated like an old church. (Photo: Dallyn Pavey)
What's new: Saturday, April 6 is the debut of iMunch (31st Street and Girard Avenue, 215-236-8624), a sweet little cafe behind the Bottom Dollar in Brewerytown ... Sunday nights just got more interesting in Chinatown, as mysterious bar Hop Sing Laundromat (1029 Race St.) has added happy hours from Sunday to Wednesday (5 to 8 p.m.). I'll have more info on this down the road, but what you need to know: Signature cocktails in the dark and sexy atmosphere for $9, and the bar's well list is better than many joints' top shelves. No reservations, no sneakers, no hats. ...I'll soon also have more on new ideas at Le Bec Fin, which for the first time in memory is opening regularly on Sunday as it debuts a $60 brunch from 11 a.m. to 3 p.m. with an intriguing bloody Mary bar. (See the menu here, and bloody Mary menu here.)