An Old City oldie has something new, while a few doors down, the neighborhood's newest restaurant debuts this weekend.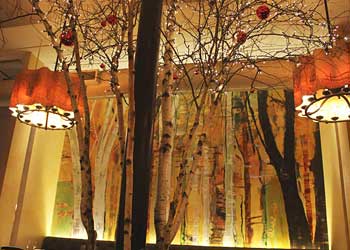 Fork rocks a fresh, new look. One of Ellen Yin's waiters, Anthony DeMelas, painted murals of trees. Wayne Aretz, Yin's boyfriend, and his father ventured out in the woods and snagged a tree to stand in the back of the dining room. "Woods to table," quipped chef Eli Kulp, who helped with the installation.
At 312 Market St., the doors soft-open tonight (Friday, Dec. 14) at Fire & Ice, a neon-y restaurant and club that took over for Patou. There's a bar-restaurant with padded walls and table seating in the front, while the two-plus-story back room has plenty of TVs, a gigantic bar, a DJ booth accessible by a spiral staircase, and a VIP section on the rear balcony. I'm told that the chef is under contract elsewhere and will not be announced till Jan. 1.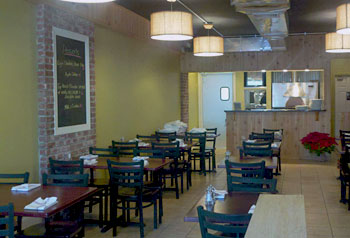 Medford is coming up. Former pro golfer Ryan Jordan, 28, is soft-opening Top Notch, his American BYOB in the former Scotch Bonnet (20 S. Main St., 609-654-6240). Dave Levecchia, whose resume includes the nearby Scaturros, cooks good ol' faves, like French onion soup, Coca Cola meatloaf, Nonna's sliders, and assorted pizzas. It's open for lunch and dinner Tuesday through Sunday. Dinner menu is here.